Internet video linchpin Metal Injection are hosting an exclusive new live video from Cascadian black metal clan WOLVES IN THE THRONE ROOM today. The clip is a live performance of the hymn "Ahrimanic Trance" from 2009's Black Cascade LP, filmed at a remote outdoor performance in Northfield, Vermont back in September.
Check out the "Ahrimanic Trance" live video and a detailed account of this special performance written by videographer/director David Hall of Handshake Inc. via Metal Injection RIGHT HERE.
WOLVES IN THE THRONE ROOM's final North American tour in support of their praised fourth LP, Celestial Lineage, is set to embark in less than two weeks. The band will have a special cassette version of Celestial Lineage as well as their 2009 EP Malevolent Grain on tour with them for the tour, limited to 500 copies.
Following massive touring from late Summer straight through to the beginning of Winter, WOLVES IN THE THRONE ROOM will embark on the final stateside live actions in support of Celestial Lineage with the anticipated upcoming two-week North American West Coast tour over the latter half of January. This special run of performances will see the WITTR clan performing with a diverse array of incredible acts including Master Musicians of Bukkake, Mount Eerie, Ash Borer, Worm Oroboros, Chelsea Wolfe and more, with crust/punk icons Tragedy recently being added to the Portland stop of the tour. Check out the newly updated routing for the tour below, including newly announced performances and venue changes.
WOLVES IN THE THRONE ROOM Winter West Coast Tour:
1/15/2012 The Venue – Vancouver, BC w/ Druden
1/16/2012 Shakedown – Bellingham, WA w/ Mount Eerie, Druden
1/17/2012 The Crocodile – Seattle, WA w/ Master Musicians of Bukkake
1/19/2012 Capitol Theatre – Olympia, WA w/ Master Musicians of Bukkake, Broken Water [*new venue]
1/21/2012 Nocturnum – Eureka, CA w/ Ash Borer
1/23/2012 Slim's – San Francisco, CA w/ Worm Oroboros, Ash Borer
1/24/2012 Catalyst Atrium – Santa Cruz, CA
1/26/2012 Echoplex – Los Angeles, CA w/ Chelsea Wolfe
1/27/2012 Che Cafe – San Diego, CA
1/28/2012 Cafe Coda – Chico, CA
1/30/2012 Branx – Portland, OR w/ Druden, Tragedy
Celestial Lineage, released via Southern Lord in September, showcases the Weaver brothers' most magisterial black metal to date, elevating WOLVES IN THE THRONE ROOM to the highest ranks of contemporary extreme music acts and beyond. In 2011 the band was featured as main cover subjects for Terrorizer, Zero Tolerance and more, as well as being prominently featured in The New Yorker, NPR, Pitchfork (#6 metal album of 2011), Invisible Oranges (#1 album of 2011) hundreds of regional papers and countless blogs and webzines. Undeniably one of the most well received metal albums of 2011, Celestial Lineage is the final installment in a triad of albums – beginning with 2007's organic opus Two Hunters, segued by 2009's more aggressive Black Cascade.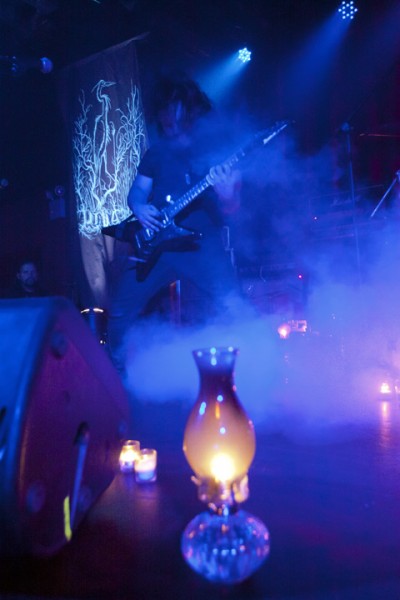 http://www.wittr.com
http://www.facebook.com/pages/Wolves-In-The-Throne-Room/48294546133?sk
http://www.southernlord.com
http://blog.southernlord.com
http://twitter.com/twatterlord