[photo by Afton Larsen]
As Pacific Northwest black metal clan, WOLVES IN THE THRONE ROOM, re-releases their debut album, Diadem Of Twelve Stars next week, the band announces several updates to their North American tour this September, including their participation in Basilica SoundScape in New York.
Concurrent with the recent tenth anniversary of WOLVES IN THE THRONE ROOM's first LP, Diadem Of Twelve Stars, Metal Injection issued, "The album is widely viewed as a key album in reimagining the atmosphere surrounding the black metal genre," dubbing it, "a pivotal album in the landscape of United States black metal." Invisible Oranges also commemorated the anniversary, their feature praising in part, "What makes Diadem so important, you may ask? Simple. For many of us, it was the first of its kind… There is a tangibility to the song structures on Diadem that allows listeners to immerse themselves in a primordial world, unmarred by human touch while also reaching out to human sensibilities."
Diadem Of Twelve Stars sees new life through the band's own Artemisia Records next Friday, June 17th, on 2xLP, CD, cassette, and digital formats. Preorders can be placed HERE.
Since announcing their impending North American tour in September, which includes a set at the massive Pop Montreal Festival, two of the three WOLVES IN THE THRONE ROOM NYC shows as well as the Chicago show are now sold out, and the Philadelphia show has been relocated to a larger venue. Additionally, the band has announced Sabbath Assembly as direct support for several shows, and Feral as direct support on several others.
Adding another special highlight to the tour, WOLVES IN THE THRONE ROOM has been confirmed to take part in Basilica SoundScape 2016 in September. Basilica SoundScape is a two-day festival comprised of the some of the most forward thinking musicians and visual artists working today, taking place in Hudson, New York, where WITTR will join the likes of Explosions In The Sky, Angel Olsen, Cobalt, Youth Code, and more. The event is organized by Basilica Hudson, a non-profit multidisciplinary arts center supporting the creation, production, and presentation of arts and culture while fostering sustainable community. Founded in 2010 by musician Melissa Auf der Maur and filmmaker Tony Stone, Basilica Hudson makes its home in a spectacular solar-powered reclaimed 1880s industrial factory. Weekend destination events comprise the core of Basilica Hudson's music, performance, film, food, and literary programming, alongside regular film screenings series, art exhibitions, and other community gatherings.
WOLVES IN THE THRONE ROOM's 2006 debut album, Diadem Of 12 Stars was written almost exclusively in a windowless, black room over the long dark nights of Winter 2005, seeing the band re-imagining black metal as an ode to rain storms, wood smoke and the wild energies of the Pacific Northwest, creating a unique, melancholic atmosphere. Diadem Of 12 Stars was recorded live to tape in Oakland by Tim Green. Joined in the studio by Jamie Myers (Hammers Of Misfortune, Sabbath Assembly) and Dino Sommese (Asunder. Dystopia), every song was rendered in one or two takes and the album was mixed without the aid of a computer. Originally released on a small DIY label and unavailable physically for many years, this reissued version has been carefully remastered by Jason Ward at Chicago Mastering Service. The band redeveloped every photograph from the original negatives, creating richer, high quality prints in order to present the artwork as originally envisioned.
WOLVES IN THE THRONE ROOM Tour Dates:
9/11/2016 Marlin Room @ Webster Hall – New York, NY [info]
9/12/2016 Saint Vitus Bar – Brooklyn, NY [SOLD OUT]
9/13/2016 Saint Vitus Bar – Brooklyn, NY w/ Sabbath Assembly [SOLD OUT]
9/14/2016 The Foundry – Philadelphia, PA w/ Sabbath Assembly [info] [NEW VENUE]
9/15/2016 DC9 – Washington, DC
9/16/2016 Basilica SoundScape – Hudson, NY [info]
9/17/2016 Strange Matter – Richmond, VA
9/18/2016 The Earl – Atlanta, GA
9/19/2016 Sisters In Christ – New Orleans, LA
9/20/2016 Barracuda – Austin, TX w/ Sabbath Assembly
9/21/2016 Dada – Dallas, TX w/ Sabbath Assembly
9/22/2016 Riot Room – Lawrence, KS
9/23/2016 Empty Bottle – Chicago, IL [SOLD OUT]
9/24/2016 Lee's Palace – Toronto, ON
9/25/2016 Pop Montreal – Montreal, QC [info]
9/26/2016 Space Gallery – Portland, ME w/ Feral
9/27/2016 Cuisine En Locale – Somerville, MA w/ Feral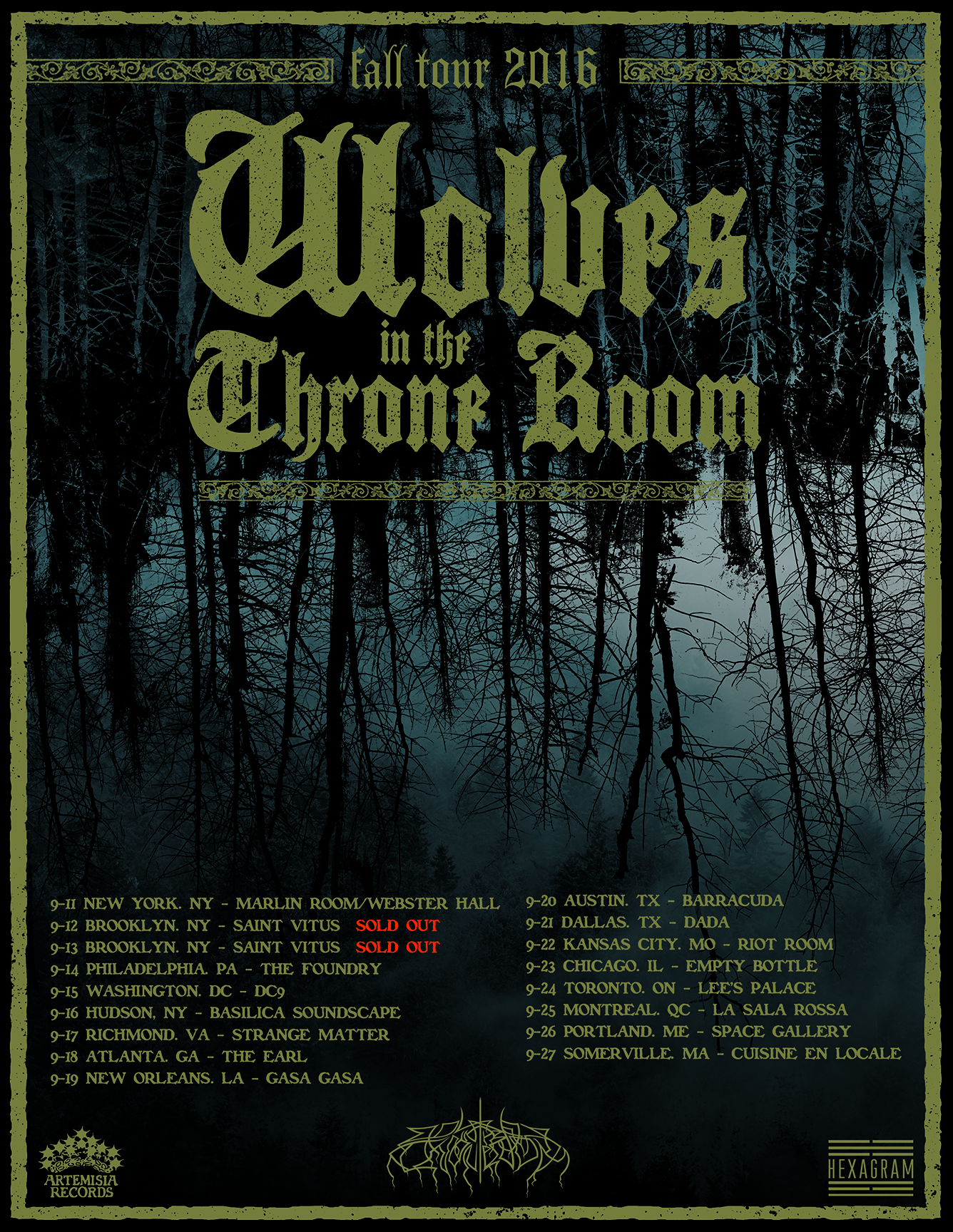 http://www.wittr.com
http://www.facebook.com/wolvesinthethroneroom
http://artemisiarecords.bandcamp.com