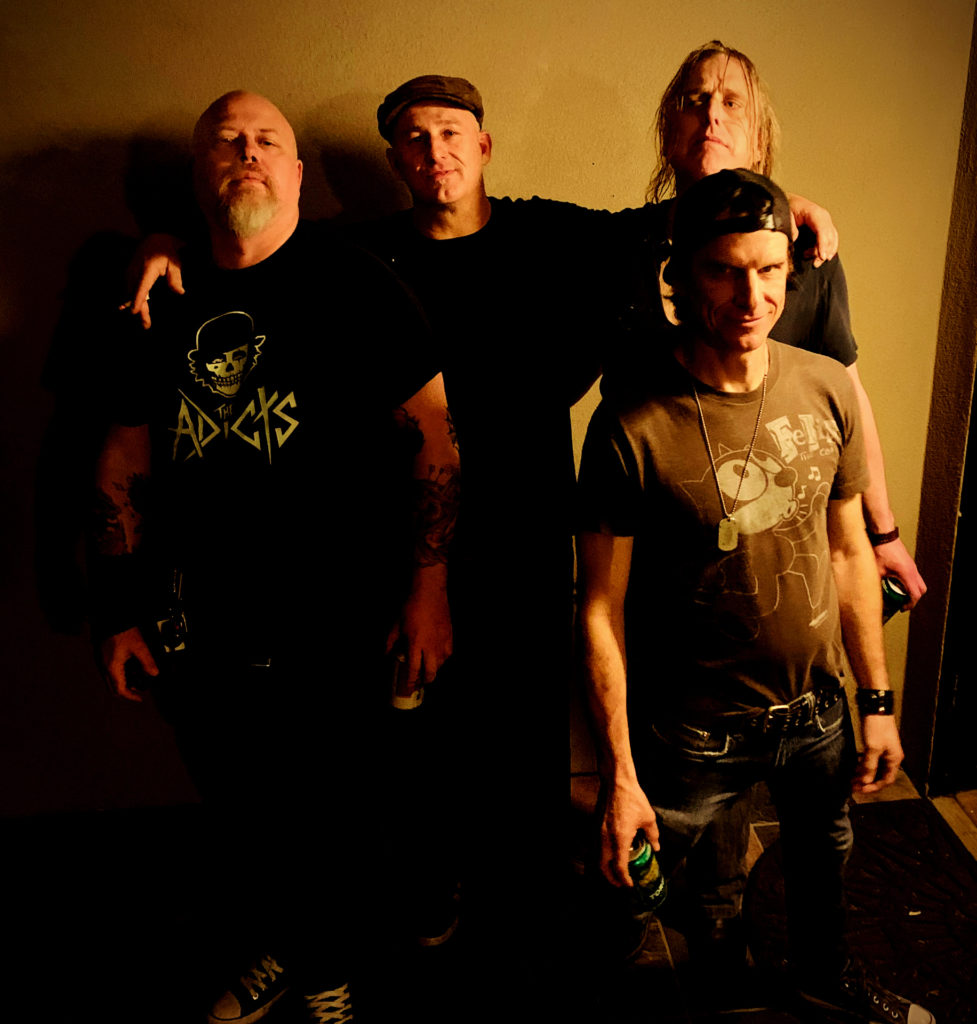 Initially released digitally in 2019 via alt-rock icon Tad Doyle's Incineration Ceremony Recordings, Oakland, California-based punk/garage rock unit WOLVES IN ARGYLE is pleased to announce the CD release of their debut full-length, Dangereux.
Formed from the ashes of Seattle punk Icons, The Gits and Oakland's notorious street punk band The Oozzies in 2015, WOLVES IN ARGYLE blurs the lines between punk, grunge, desert rock, and 1990s Sub Pop alt-rock. Produced by Tad Doyle (Tad, Hog Molly, Brothers Of The Sonic Cloth) and mastered by Jack Endino (Nirvana, Soundgarden, Screaming Trees, Mudhoney) at Doyle's own Witch Ape Studio, Dangereux is thirty-two-minute white-knuckle ride, recorded "hot," and reminiscent of the production value of albums such as Nirvana's Nevermind and Husker Du's Land Speed Record.
View the band's previously released videos for "Letters Never Sent," "Northern Lies," and THE Dangereux title track BELOW with a new clip to be unveiled in the coming weeks.
Stream Dangereux in its entirety at THIS LOCATION.
Dangereux is available on CD through RevolverUSA/Midhaven Mailorder at THIS LOCATION and digitally HERE. Stay tuned for a vinyl edition to be released late this Summer.
Five years ago, Dave Holmes (The Oozzies, Shootin' Lucy, Brother Cain) found himself to be a stranger to himself and to his surroundings. He was in a foreign land, cut off from his friends, his family, and his home. Emotionally and psychologically gutted, he had followed his heart to dire consequences.
As a singer, songwriter, guitarist, and lifelong punk rocker, Holmes found that the only uplift was writing to process these painfully complex times. The new songs flowing out of him were urgent and transcended established punk rock conventions – they were primal songs, songs of survival. With a clutch of fresh material, and in an impulsive act of self-preservation, he hopped on a plane back to his Bay Area home.
Shortly after arriving back, Holmes summoned a pack of like-spirited musicians in drummer Steve Moriarty (The Gits, The Pinkos, Evil Stig with Joan Jett), bassist Joe "Fucko" Garcia (Naked Aggression, Strychnine, Trouble Maker), and lead guitarists Josh Phillips (White Trash Debutantes, Fire In The Asylum) and Sven Soderlund (Mordred, Laaz Rockit), to form WOLVES IN ARGYLE. The band now features recent recruit Hans Hunt (Memphis Murder Men, Del Bombers) taking the place of Garcia and plan to hit stages as soon as times allow.
"…[the band] takes elements of dirty Seattle grunge and blends it with stoner rock, punk and other strands of alternative rock…catchy and gritty sound, with biting guitars and explosive drums." — Decibel Magazine
"With an aroma of desert rock, garage mold and spilt beer, the band concocts a witches brew of leather-clad weirdo culture and acid green aesthetics to formulate a novel three-chord adventure." — Selective Memory
"The sound is heavy but has the commercial potential that Nirvana enjoyed in the nineties…" –MadeinShoreditch.UK
"WOLVES IN ARGYLE awaken a snarling and groaning beast of a tune that thrashes, crashed and has a Viking energy about it" — Listen With Monger
WOLVES IN ARGYLE:
Dave Holmes – vocals, guitar
Steve Moriarty – drums, vocals
Josh Phillips – guitars, vocals
Hans Hunt – bass, vocals
Sven Soderlund – additional lead guitars
http://wolvesinargyle.com/band
http://www.facebook.com/Wolvesinargyle/
http://www.youtube.com/wolvesinargyle
http://www.instagram.com/wolvesinargyle/
http://twitter.com/wolvesinargyle
http://incineration-ceremony.bandcamp.com
http://www.facebook.com/Incinerationceremony