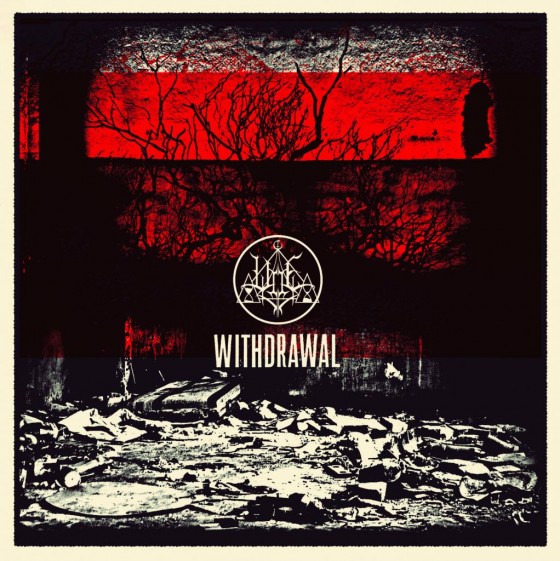 Pitchfork has premiered the song "Carried By Waves to Remorseless Shores of the Truth," from WOE's forthcoming new album titled Withdrawal. The song, written by vocalist/guitarist Chris Grigg, examines the darkness and antisocial inclinations of mankind. It is one of seven new songs featured on the album set for North American release on April 23.
Recorded at studios in New York and New Jersey during the latter months of 2012, Withdrawal is a robust and penetrating album. It benefits from 18-months of live performances; something impossible in the band's early years. "WOE as a band is all-around stronger than WOE as a solo project," shares Grigg who founded the band as a solo endeavor in 2007. "Withdrawal presents WOE at its strongest; the full potential of its sum parts realized with the fat trimmed. Working alone has its benefits," he confirms, "but working as a band allows everyone to operate at their peak at all times. Being able to play live is also crucial. This was music meant to be seen and felt in person. I'm grateful for the opportunity the full band set up allows us that I did not have when I was operating alone."
"A predator lives inside of every man," is a verse from the song's closing passage. It is a narrative that carries throughout the album. Grigg says, "the conflict between how we want to behave and how our nature pushes us to behave has always fascinated me. 'Carried By Waves to Remorseless Shores of the Truth' confronts this head-on and explores the fine line between the day-to-day exploitation we somehow think of as normal and extraordinary acts that we do not accept."
The Onions's A.V. Club calls WOE, "one of the best young American black metal bands willing to play around with the boundaries of the genre." MetalSucks says, "sincere and relentlessly creative, WOE put a new spin on an old method. This is the sound of black metal to come." Popdose adds, "WOE burns the black metal rule book to create something wholly unique and desirable."
To listen to "Carried By Waves to Remorseless Shores of the Truth" click HERE.
Withdrawal is the third studio album from WOE. The album was produced by Grigg and mastered by Colin Marston. It reunites the band, currently including guitarist Ben Brand, bassist/vocalist Grzesiek Czapla, drummer Ruston Grosse, and Grigg, with artist and long-time friend Justin Miller. WOE is expected to announce tour dates in support of Withdrawal in the coming weeks.
To preorder the CD or limited edition vinyl pressing of Withdrawal visit Candlelight Records US webstore HERE.
http://withdrawal.woeunholy.com
http://www.facebook.com/woeunholy
http:/www.candlelightrecordsusa.com