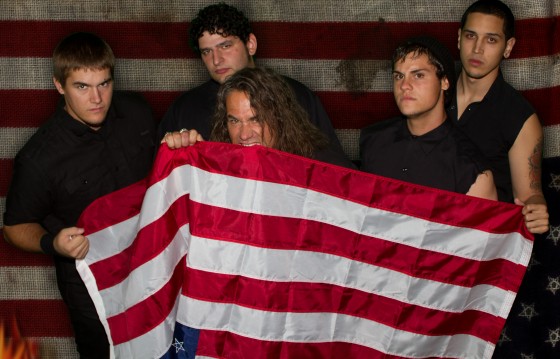 Heroes Of Origin, the blazing debut from thrash act HATRIOT — founded by original Exodus and Testament vocalist Steve "Zetro" Souza, alongside his sons Cody and Nick and guitarists Kosta Varvatakis and Miguel Esparza — is out today in North America via Massacre Records! Surging with nearly forty-five minutes of old-school Bay Area thrash tradition, yet with a crushing, cutting-edge tone, the ten tracks on Heroes Of Origin were produced by Juan Urteaga at Trident Studios (Testament, Heathen, Exodus, Skinlab), the cover art and booklet designed by Mark Devito (Motörhead, Laaz Rockit, Ruffians, Exodus).
Heavy metal broadcasting portal This Is Not A Scene is streaming all of Heroes Of Origin today in commemoration of its release. Get bulldozed HERE!
Having proven his metal allegiance by fronting such acts as Exodus, Legacy (Testament), Dublin Death Patrol, Tenet, AC/DZ, and more, Steve "Zetro" Souza has once again steps into the thrash metal world with HATRIOT, taking his musical roots back in time to the 1980s when metal was fast, furious, and yet still melodic. Souza has a vocal style that few singers possess, boasting a powerful sting yet at the same time delivering in a way where fans can fully understand the lyrics, a trademark trait that made him one of the premier singers in the genre. Still residing in the evolutionary birthplace of thrash metal, HATRIOT is out to crush and destroy everything in its path. Unsatisfied with the newer trends in the metal scene, the band produces quality old-school metal with a proven formula with the perfect chemistry and hits the stage light a freight train!
"This is the very sound – that raging slaughter of burnt offerings; that over the wall toxic overdose – that all old school 80s thrashers have been anticipating. Every element is present: that biting and harsh tempo of the damned, incredible solos, intense, yet thought-provoking lyrics which deal with violence and corruption, Sousa's unique Bon Scott meets a deranged Paul Bailoff's scowl and howl, and top-notch production. 9/10" – Metal Temple
"Zetro has assembled thrash metal for the masses here. The entire album is phenomenal It is destined to become a part of the classics he has been a part of! 5/5" – Thrash Head
"This CD from start to end is why we become music fans… a must have, if there ever was one. 10/10" – Wicked Channel
"HATRIOT is already a force to be reckoned with in the Thrash scene. Their time as a band might be short, but their ability to craft energetic, fierce, and catchy music is already quite developed and remarkable. 8.5/10" – The Metal Observer
"…hits hard, and drives the rage home with relentless aggression…The full record simply extrapolates the blistering attack over 10 full tracks. 8.6/10" – Metalhoic
"…crank the fuck out of this! From brutal start to anthemic finish, the energy just never lets up.4/5 – CD of the month" – The Right To Rock
"…an old-school thrash free-for-all; high speed, leathery vocals, and an appreciable focus on anthem-writing." – About.com
"… they destroy all hope you have for today's society, and leave you begging for more audible punishment after just one spin. 8.5/10" – Apoch's Metal Review
http://www.hatriotmetal.com
https://www.facebook.com/hatriot
http://www.reverbnation.com/hatriot
http://www.massacre-records.com
https://www.facebook.com/massacrerecordseurope