"…an emotionally exhausting, musically intense listen, and though it's still early days, is sure to be one of 2017's black metal highlights." – Broken Amp
In less than two weeks, US black metal collective WOE will unveil their long-anticipated Hope Attrition full-length via Vendetta Records. Featuring Grigg alongside longtime contributing bassist Grzesiek Czapla, guitarist Matt Mewton, and drummer Lev Weinstein, Hope Attrition is a dark, mournful work that draws from WOE's darkest black metal influences while drawing out dormant death metal undertones, bolstered by the crushing production of renowned engineer Stephen DeAcutis (Evoken, Dim Mak) at Sound Spa Studios in Edison, New Jersey. Hope Attrition is a personal commentary on the chaos of the modern world that only WOE can offer.
In advance of its release, Noisey is currently streaming the record in full before you can buy it issuing, "While past WOE records have dealt with Satan, religion, and, later, depression and emotional turmoil, Hope Attrition trains a laser focus on human evil — including the likes of racist tangerine-in-chief Donald Trump, who provided inspiration for 'Drowning In Greatness,' a howling screed against 'a man who bore a movement / like a drill into the head of peace.' The rest of the album makes no bones about the band's disgust for fascism and white supremacy, especially in the magisterial fury of 'No Blood Has Honor.' Explicitly anti-fascist black metal is not new, but as the divisions rending the rest of American society continue to grow, the equally fractured metal community needs bands like this to rally behind. Black metal fans are lucky to have WOE in our corner."
Witness Hope Attrition in full at THIS LOCATION.
Hope Attrition will see release on March 17th on CD, vinyl, cassette, and digital formats. Physical editions come swathed in the artwork of artist Justin Miller who's handled artwork for all past WOE releases.
Preorders are available at the official WOE BandCamp page at THIS LOCATION.
In a recent investigation of the record, The Sludgelord notes, "This is music that is deeply rooted in darkness that still somehow manages to be transcendent and uplifting. If you liked the incredible promise presented by A Spell For The Death Of Man, this album exceeds it in every way." Sbvterranean writes, "The songwriting is clearly Grigg's, in the vein of Dissection, Sacaramentum, and maybe a little Emperor, but holy shit do the vocals sound pissed. Replacing his mostly high register shrieks, Grigg finds himself hitting lows that would sit comfortably on a death metal album, but work stunningly well here." Two Guys Metal Reviews points out, "It's easy to fall in love with what WOE do on Hope Attrition. This is a band who blaze forth time and time again, each song a veritable sally into the darkest parts of the human psyche. The power of the melodies and the burning magic of the most frostbitten riffs will keep your head spinning." Echoes And Dust concurs, "The guitars are searing in their exactitude yet unfurl with such beauty. The drumming is tight, impressive, and a perfect driving compliment to the force of the melodies. The vocals growl and shriek, giving a perfect balance of styles. Lead riffs pepper the driving force of the songs adding extra melodic focus and interest. The solos are also what give way to a sense of optimistic release, they are very well written and somehow perfectly compliment the songs without sounding out of place. This leads me to believe that there is much more than depression, horror, and destruction behind the motives to these songs….A true gem in the world of American black metal and another ripe, red tomato in the garden of this Brooklyn band's discography." Adds Broken Amp, "WOE demonstrate with Hope Attrition that there's still plenty to be said for embracing (whilst subtly twisting) the core sound, and playing it with enough passion and talent. This is an emotionally exhausting, musically intense listen, and though it's still early days, is sure to be one of 2017's black metal highlights."
WOE will bring their warring odes to Europe with German black metal unit Ultha for a stretch of festival dates including an appearance at Roadburn on April 22nd with future onstage assaults both stateside and abroad in the plotting stages.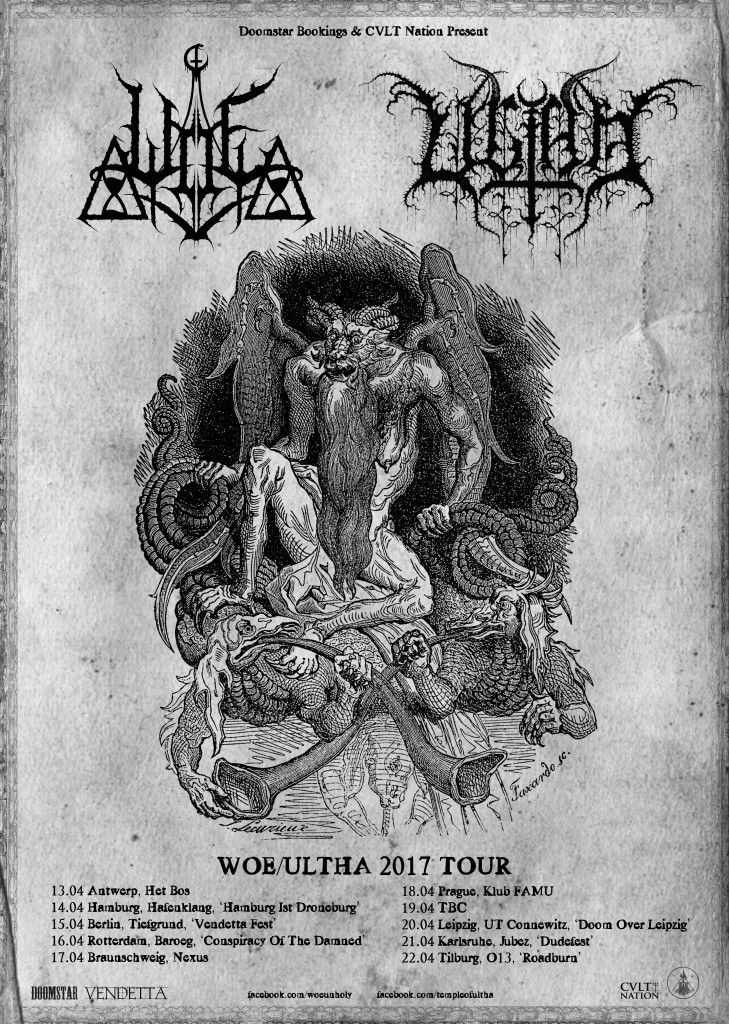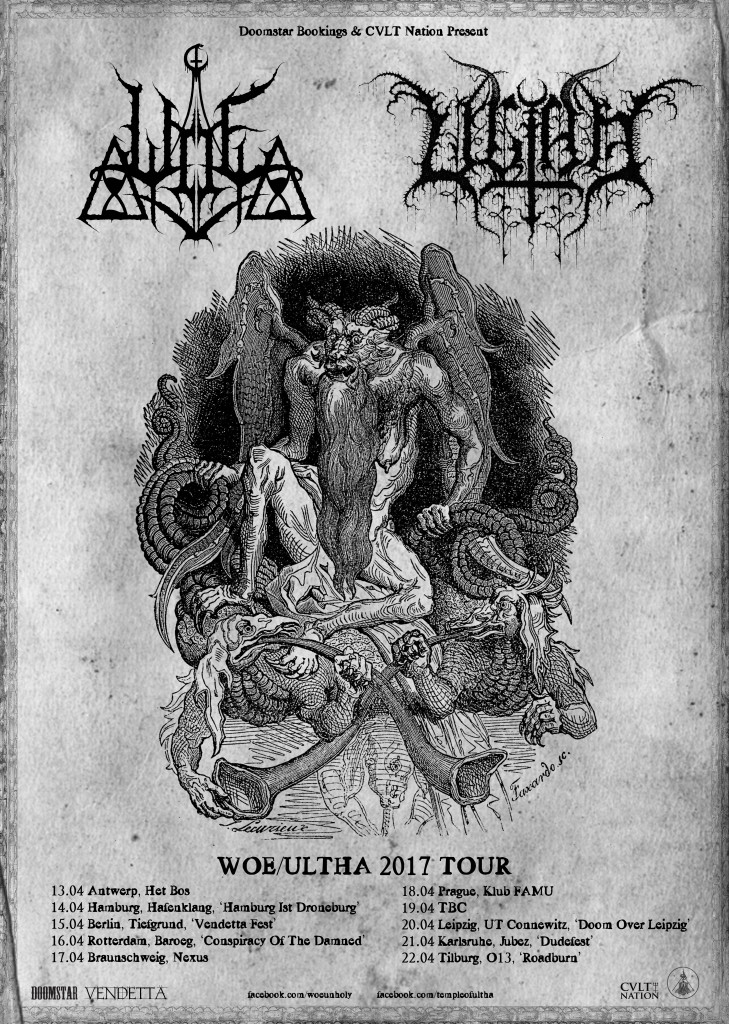 WOE w/ Ultha:
4/13/2017 4/13/2017 Het Bos – Antwerpen, BE
4/14/2017 Hamburg Is Droneburg Festival @ Hafenklang – Hamburg, DE [info]
4/15/2017 Vendetta Fest @ Tiefgrund – Berlin, DE [info]
4/16/2017 Conspiracy Of The Damned Festival @ Baroeg – Rotterdam, NL [info]
4/17/2017 Nexus – Braunschweig, DE [info]
4/18/2017 Club Famu – Prag, CZ [info]
4/19/2017 Escape – Vienna, AU [info]
4/20/2017 Doom Over Leipzig Festival @ UT Connewitz – Leipzig, DE [info]
4/21/2017 Dudefest Festival @ Jubez – Karlsruhe, DE [info]
4/22/2017 Roadburn Festival @ O13 – Tilburg, NL [info]
WOE was formed in 2007 as a black metal solo project of multi-instrumentalist Chris Grigg. After catching the underground's attention with a strong demo of ugly, raw black metal, the first full-length, A Spell For The Death Of Man, was unleashed in 2008. The album presented the first glimpse of modern WOE: faithful to the traditions established by the black metal classics but a willingness to inject a very American perspective by way of punk and hardcore influences. It found critical acclaim both in the underground and beyond.
Demand for live performances encouraged the assembly of a full band, which was put together with veterans of the Philadelpahia scene. After two years of live work, they signed a contract with longrunning metal label Candlelight Records and released Quietly, Undramatically in 2010. The first recording to feature a full band, the album continued the direction established by A Spell For The Death Of Man but pushed further outwards, showing WOE's willingness to experiment with an expansive "post-black metal" sound while not completely ignoring their roots. The risks paid off, as the album received an enormous response and propelled the band to new levels of recognition. Performances at Scion Rock Fest in California and a brief tour opening for the infamous Mayhem followed.
After three years and a relocation from Philadelphia to Brooklyn, the band released Withdrawal on Candlelight in 2013 to more rave reviews. Their strongest, most abrasive material to date, it drew from the dynamics of Quietly, Undramatically while descending back towards the controlled chaos that were central to the WOE's ideals. The band toured heavily in support but were ultimately forced to put the project to focus on responsibilities outside of music.
http://www.facebook.com/woeunholy
http://www.woeunholy.com
http://www.woeunholy.bandcamp.com
http://www.vendettarecords.bigcartel.com
http://www.vendetta-records.bandcamp.com
http://www.vendettarecords.de