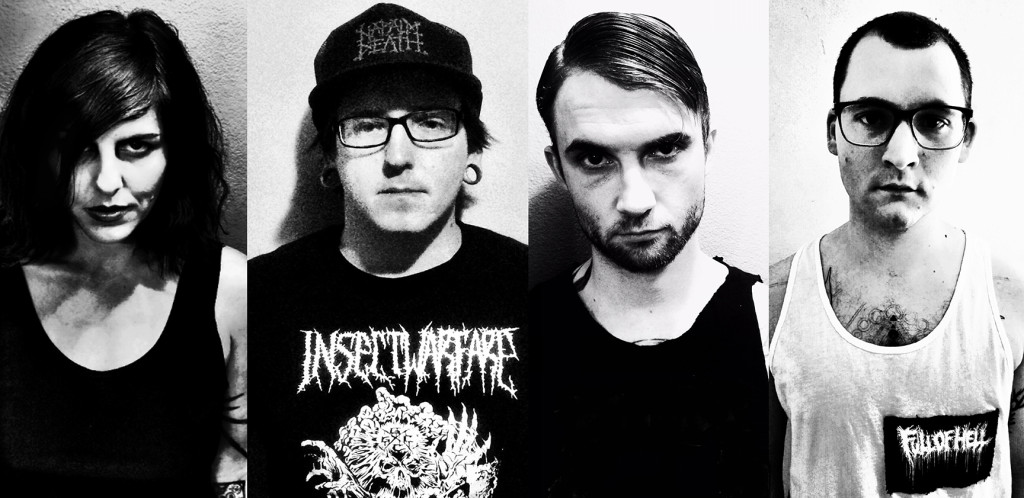 Following a long stretch of radio silence, Portland, Oregon-based grindcore band TRANSIENT announces a revamped lineup, and plans of returning to both the stage and the studio in the months ahead.
Following the 2013 release of their self-titled debut LP through Six Weeks Records and an extensive US tour, TRANSIENT took some time to realign their lineup and attack. Having replaced two members in recent months, vocalist Krysta Curry (formerly Martinez, also of Landmine Marathon) and guitarist Adam Wilson now welcome bassist Brandon Curry, and drummer, Justin Rodda, both new members also hailing from Endorphins Lost, who released their debut LP through Six Weeks in late 2016.
Issues TRANSIENT on the status of the band, "We are really proud of the years that we've spent on this project. We love everyone who has helped bring the band to life at one time or another and continue to wish them all the best in their variegated endeavors. This Summer, TRANSIENT will emerge from hiding with new music and faces. Justin and Brandon bring with them tremendous abilities and will add a new depth and ferocity to our sound. Those that have had the privilege of watching them perform live know exactly how much infectious energy they'll bring. We're excited for what the future holds."
TRANSIENT has also booked Earhammer Studios for the first week of September, where the band will work with Greg Wilkinson to record the follow-up to their debut LP. Shows in Seattle, Portland, and Oakland are being booked surrounding the recording sessions. TRANSIENT will continue working on their new material, and will make their live reemergence at Northwest Terror Fest in June, joining Warning, Cephalic Carnage, Wolves In The Throne Room, Yob, Samothrace, and dozens more. Additional widespread touring from the band is imminent.
TRANSIENT Live:
6/16/2017 Barboza – Seattle, WA @ Northwest Terror Fest [tickets]
TRANSIENT's debut bears sixteen-tracks of unrelenting, high-energy, antagonistic grindcore mayhem. Pitchfork hyped the band's, "…no frills, there's buried bursts of the Gothenberg death metal sound buried towards the end. Also given their home base, there's a hint of crustiness…" Blow The Scene offered, "TRANSIENT make their mark as a force to be reckoned with amongst grindcore's elite… an unrelenting concoction of poignant grindcore combined with crusty metallic leanings, and Cvlt Nation claimed, "There's breakdowns which put together elements of hardcore with some tinges of metal. This fusion of these working parts together is what makes TRANSIENT's attack sound alive."
Stream Transient and find the remaining physical copies of the LP HERE.
TRANSIENT:
Krysta Curry (Martinez) – Vocals
Adam Wilson – Guitar
Brandon Curry – Bass
Justin Rodda – Drums
http://www.transientbrutality.com
http://transientbrutality.bandcamp.com
http://www.facebook.com/transientbrutality