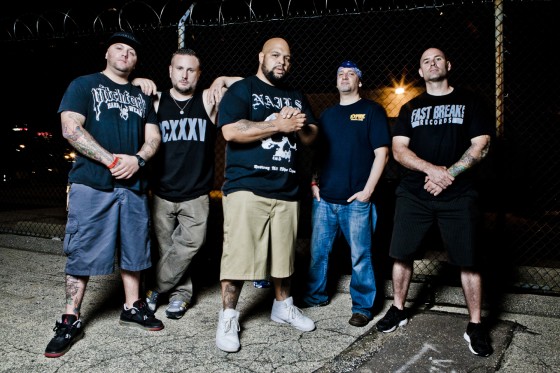 Late this June, Fast Break! Records will release the fifth full-length from Eastern Pennsylvania's hardcore champions, WISDOM IN CHAINS, and today, an extensive video on the creation of The God Rhythm has been released through New Noise Magazine. The nearly eleven-minute trailer includes bits of several new songs and the insight into their conception, interviews with all five members of the band, a breakdown of the cover art's meaning, samples of several tracks from the new album, live footage, and a look into what the future holds for WIC as they take their new anthems to their rabid worldwide fanbase in support of The God Rhythm.
WISDOM IN CHAINS' anxiously anticipated fifth studio full-length, The God Rhythm, will see release on CD, LP and digital formats on June 30th through Southeastern Pennsylvania-based Fast Break! Records. With a continued evolution of awareness and intelligence into the genre while destroying clichés, relentlessly crossing boundaries and claiming those new territories, The God Rhythm effectively ushers in a new era for the band. Mixing a hardline return and development of infectious oi!/punk-inspired hooks and courses, while maintaining their traditional hardcore roots, WISDOM IN CHAINS has clearly has pushed the envelope of their previous works beyond all previous thresholds, and the result is the band's most challenging album yet. The music for The God Rhythm was recorded by Len Carmichael — drums and bass Trax East and guitars at Carmichael Sound — and the vocals recorded at Mountainside Studios by Rich Rescigno, and the album's tattoo-style artwork by Chris Jones bears obvious and obfuscated meanings, which carry through the entire layout by Jonathan Buske.
Get the scoop on WISDOM IN CHAINS' incoming The God Rhythm through New Noise Magazine RIGHT HERE.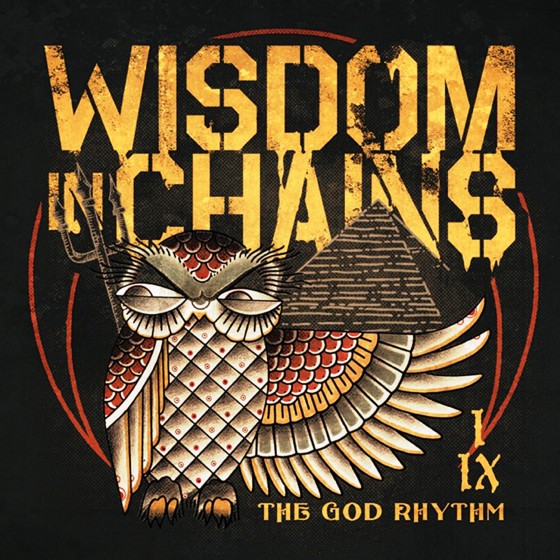 The God Rhythm Track Listing:
1. People Die
2. When We Were Young
3. Resonate
4. How Far Will You Go
5. Songs to My Killer
6. Thorn In Your Side
7. Mathematics
8. Fatherless
9. Best of Me
10. The God Rhythm
11. Violent Americans
12. Joey Ramone
13. Skinhead Gang
14. Outro
WISDOM IN CHAINS continues to tour in advance of The God Rhythm's release, and will storm the New England Metal & Hardcore Festival in Worcester, Massachusetts this Saturday, April 18th. On May 17th, they'll raid the second day of New York City's annual Black N' Blue Bowl. A record release show for the new LP has been scheduled to go down on June 27th in Reading, Pennsylvania, and July will see WIC back at Philadelphia's massive This Is Hardcore festival. Much more is in store for the band in coming months.
WISDOM IN CHAINS Tour Dates:
4/18/2015 The Palladium – Worcester, MA @ New England Metal & Hardcore Fest [info]
5/17/2015 Webster Hall – New York, NY @ Black N' Blue Bowl [info]
6/27/2015 Club Reverb – Reading, PA * record release show
7/23/2015 The Electric Factory – Philadelphia, PA @ This Is Hardcore [info]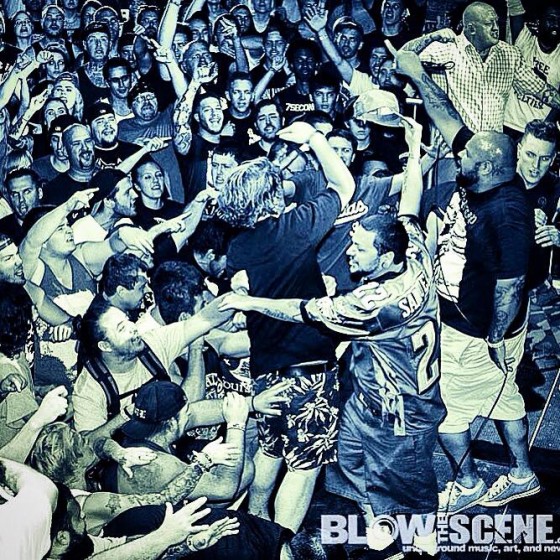 http://www.facebook.com/WisdomInChainsPAHC
http://www.oninstagram.com/wisdominchains
http://twitter.com/wisdominchains
http://www.fastbreakrecords.com
http://www.facebook.com/FastBreakEnt
http://twitter.com/fastbreakpa