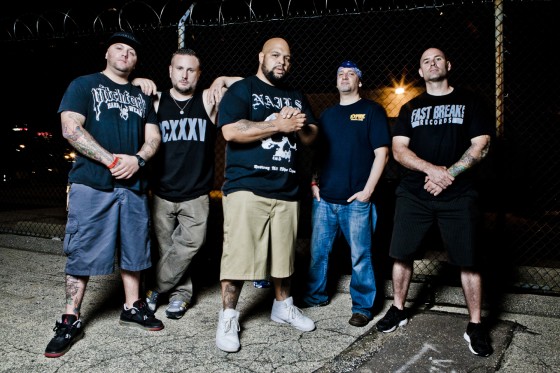 Fast Break! Records is proud to announce the upcoming release of Stroudsburg, Pennsylvania-based powerhouse, WISDOM IN CHAINS, as the quintet completes their bruising fifth full-length recording for release late this Spring.
Boasting a hearty crossover of punk, hardcore and metal influences, WISDOM IN CHAINS has been crushing through the competition since their 2001 formation, initially formed as somewhat of an international side project among members of PAHC legends Krutch and Holland bruisers Dare Devil. Yet, the concept slowly took on a life of its own, and by 2005 WISDOM IN CHAINS had solidified a US lineup that was more a hardcore supergroup than a new band in the scene. The Pennsylvania underground officially had its new voice, and the band's second studio album, Die Young, was the soundtrack that crowned the band as the current kings of Pennsylvania Hardcore, where they still remain undisputed nearly fifteen years later. Running the gamut of profile labels like Eulogy Recordings and I Scream Records, the band's do-or-die blue collar work ethic paid off as they rose through the ranks and were soon doing main support tours with NY royalty Sick Of It All and Madball to name a few. By 2010, WISDOM IN CHAINS was headlining tours across Europe and has since become a key fixture on every US Hardcore Festival.
Mid-2015 will see the rise of WISDOM IN CHAINS' anxiously anticipated fifth studio full-length, The God Rhythm, backed by Southeastern Pennsylvania-based Fast Break! Records. The God Rhythm injects a continued evolution of awareness and intelligence into the genre, all while destroying clichés, relentlessly crossing boundaries and claiming those new territories, effectively ushering in a new era for the band. Mixing a hardline return and development of infectious oi!/punk-inspired hooks and courses, while maintaining their traditional hardcore roots, WISDOM IN CHAINS has clearly has pushed the envelope of their previous works beyond all previous thresholds, and the result is the band's finest work to date. The God Rhythm is also the first recording with new drummer Luke Rota from the Bronx (ex-Roger Miret and The Disasters, Stigma), who joins the rest of the crew, vocalist Mad Joe Black bassist Evan, and Richie Krutch on and Mav on guitars.
The God Rhythm will see release on CD, LP and digital formats on June 30th. Stand by for an extensive behind-the-scenes trailer on the album's creation, audio from the record, preorder options, an official video and more in the coming weeks.
Continuing their hard-touring legacy, WISDOM IN CHAINS conquered Brick By Brick and Southeast Beast festivals in recent weeks and has a lot more about to go down. This Saturday, April 11th they'll co-headline The Big Show with labelmates Lionheart in Lakewood, Ohio joined by a host of other acts. April 18th will see the band at the sixteenth New England Metal & Hardcore Festival in Worcester, Massachusetts, that day joining the likes of Testament, Exodus, Nuclear Assault, Nails, Indecision, Incendiary, Suburban Scum, Incantation, God's Hate and many more. On May 17th, WISDOM IN CHAINS raids the second day of New York City's annual Black N' Blue Bowl with Burn, Crumbsuckers, Sick Of It All, Rival Mob, Fury Of Five, Expire, Dave Smalley, 100 Demons, King Nine and more. And July will see WIC back at Philadelphia's massive This Is Hardcore festival, this year alongside All Out War, American Nightmare, Bane, Biohazard, Chokehold, Cro-Mags, The Exploited, The Misfits, Morning Again, Nails, Negative Approach, Twitching Tongues, Xibalba, labelmates Lifeless and countless others. A June record release show for The God Rhythm and much more touring is in store.
WISDOM IN CHAINS Tour Dates:
4/11/2015 The Foundry – Lakewood, OH @ The Big Show [info]
4/18/2015 The Palladium – Worcester, MA @ New England Metal & Hardcore Fest [info]
5/16/2015 Webster Hall – New York, NY @ Black N' Blue Bowl [info]
7/23/2015 The Electric Factory – Philadelphia, PA @ This Is Hardcore [info]
http://www.facebook.com/WisdomInChainsPAHC
http://www.oninstagram.com/wisdominchains
http://twitter.com/wisdominchains
http://www.fastbreakrecords.com
http://www.facebook.com/FastBreakEnt
http://twitter.com/fastbreakpa