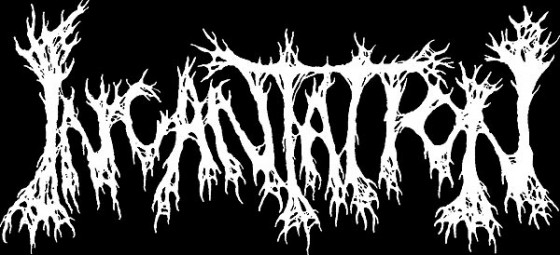 Iconic death metal legion, INCANTATION, will continue to raze stages throughout North America in support of their Dirges Of Elysium full-length. The latest bout of live assaults will begin on April 17th in Hempstead, New York at El Relax Lounge. The following day, INCANTATION will head to Worcester, Massachusetts to play this year's edition of the New England Metal & Hardcore Festival at the Palladium. From there, the band will bring their audio malevolence to stages in Pittsburgh, Brooklyn, Syracuse and Buffalo. The onstage abrasions continue the following month when INCANTATION ravages their way through seven more cities before bringing their brutality to the Maryland Death Fest Pre-Party on May 20th in Baltimore. In June, INCANTATION will summon the dead at the Farmageddon Festival FOA in Vancouver and in August the band will take part in the Wolves Of Apocalypse Festival in Denver. The band's latest bout of onstage obliteration follows their recent West Coast takeover and first ever performance in Hawaii this Winter with additional 2015 live devourement in the conspiring stages.
INCANTATION released Dirges Of Elysium last year via Listenable Records. Crowned, "one of the most influential death metal bands of all time," by Metal Injection, who further elaborated of the record, "With all the evil-sounding riffs, squealing pinch-harmonics and crushing dirges scattered throughout, this is the sound that made INCANTATION legends. This is some profoundly dark and creepy stuff," the record continues to raise the brows of death metallers old and new. Sputnik Music dubbed Dirges Of Elysium, "a breath of fresh air for INCANTATION, and another fine addition to their discography, " Metal Forces gushed, "It's all ungodly but all so bloody brilliant, and with 'Charnel Grounds' smoldering from the stench of charcoaled flesh and the blustering bluster of 'Dominant Ethos' dragging us into the mud-clogged shredder that is 'Elysium (Eternity Is Nigh),' I hold up my severed stumps in surrender for another harangue of hate from one of death metal's most criminally underrated bands," while Exclaim added, "INCANTATION preserve their archetypal ominous atmosphere, while the production gives the band a more modern edge, making Dirges Of Elysium a consistent yet fresh release from the influential band."
Comments the band in a collective statement, "The response to the Dirges Of Elysium album and tour has just been amazing! We still have a lot of touring left to go for this release. We are looking forward to seeing all you deathbangers on the road!"
INCANTATION:
4/17/2015 El Relax Lounge – Hempstead, NY
4/18/2015 New England Metal/Hardcore Festival – Worcester, MA
4/23/2015 Smiling Moose – Pittsburgh, PA w/ FaithXtractor
4/24/2015 Saint Vitus Bar – Brooklyn, NY w/ FaithXtractor
4/25/2015 Lost Horizon – Syracuse, NY w/ FaithXtractor
4/26/2015 Broadway Joes – Buffalo, NY
5/13/2015 The Foundry – Lakewood, OH w/ Funerus, FaithXtractor
5/14/2015 Madison Theater – Cincinnati, OH w/ Funerus, FaithXtractor
5/15/2015 Expo Five – Louisville, KY w/ Funerus
5/16/2015 The End – Nashville, TN w/ Funerus
5/17/2015 The Masquerade – Atlanta, GA w/ Funerus
5/18/2015 The Motlight – Asheville, NC w/ Funerus
5/19/2015 Kung Fu Necktie – Philadelphia, PA w/ Funerus
5/20/2015 Maryland Death Fest Pre-Party – Baltimore MD
6/13/2015 Farmageddon Festival FOA – Vancouver, BC
8/15/2015 Wolves of Apocalypse Festival- Summit Music Hall – Denver, CO
New INCANTATION developments to be announced in the weeks to come. In the meantime, visit the INCANTATION merch store at THIS LOCATION. And if you missed it, check out the band's video for "Impalement Of Divinity" below.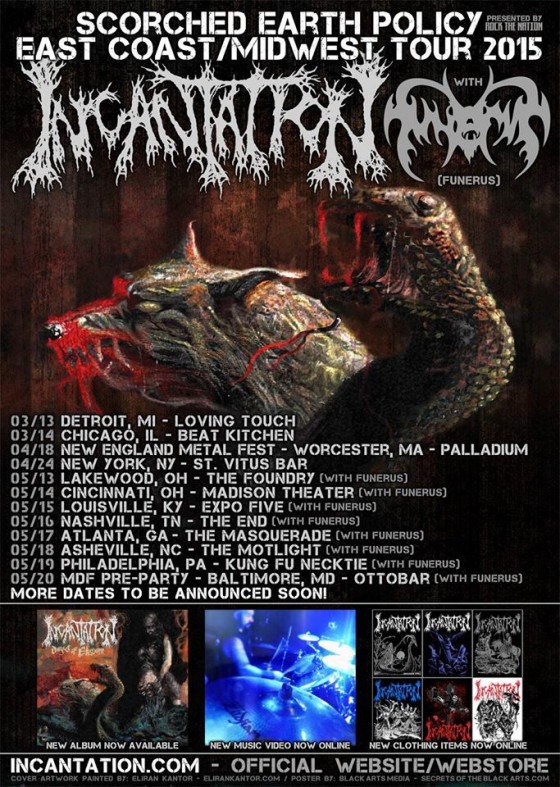 http://www.incantation.com
http://www.facebook.com/IncantationOfficial