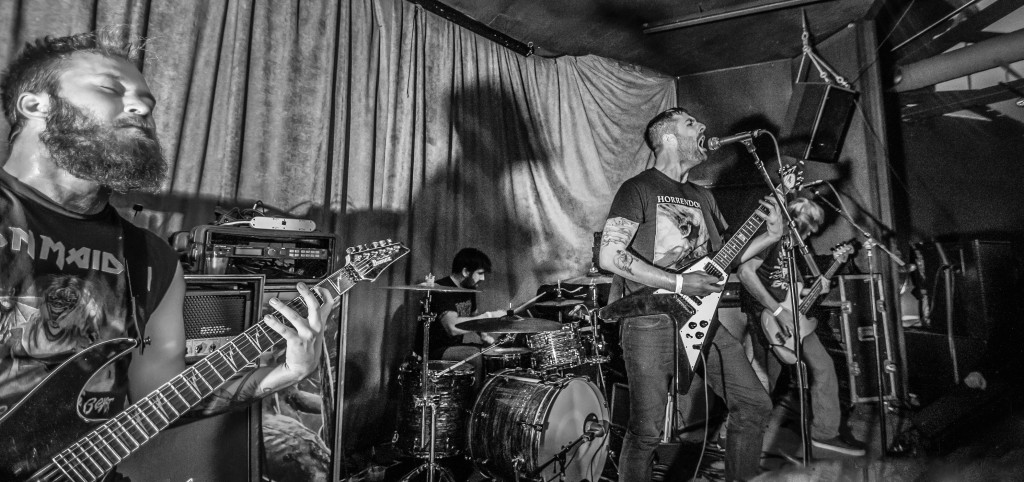 [photo by Joe Ellis]
Stream and share WILDERNESS DREAM's "No Light" at Metal Injection RIGHT HERE.
San Francisco thrash/hardcore outfit WILDERNESS DREAM has leaked a new single from their crushing Paralysis Rise EP, nearing release via Creator-Destructor Records next week. The track is unveiled through an exclusive stream of the bludgeoning "No Light," which has been debuted through Metal Injection.
With unhinged vocal sincerity, blistering twin guitar assault, and undeniably crushing and thunderous rhythm section, WILDERNESS DREAM's sound and identity has naturally evolved into a more blackened and ominous thrash-metal assault. Recorded in February through April of 2017 with Scott Goodrich at Nu-Tone Studios in Pittsburgh, California, Paralysis Rise pays homage to the death metal pioneers and legends of the '90s while injecting the band's own special vicious brand of intensity, creating a truly unique second release from one of the West Coast's most exciting up-and-coming heavy bands.
"There are really not enough good things I can say about the new WILDERNESS DREAM song we're premiering today, issues Metal Injection of "No Light." "It's everything I'd ever want to hear in a mid-paced crusher of a track without all the frivolous padding that makes the song unnecessarily long. The vocals strike the perfect balance between completely pissed off and totally brutal, all the riffs are memorable, and the guitar solo at the end is just flat out killer."
Hear WILDERNESS DREAM's "No Light" only at Metal Injection at THIS LOCATION.
Hear previously-released Paralysis Rise singles "The Awakening" at MetalSucks HERE and "The Observer" at Decibel RIGHT HERE.
Paralysis Rise will see release on 12″ vinyl and digital platforms next Friday, July 14th via Creator-Destructor Records; preorder packages are now posted at THIS LOCATION.
WILDERNESS DREAM is currently booking live dates supporting the Paralysis Rise EP, including a West Coast tour alongside Viral taking place the first week of August which sees the band playing San Francisco, Fullerton, Phoenix, San Diego, and Fresno. Additional regional shows are being booked, with widespread tour dates to be confirmed.
WILDERNESS DREAM:
8/02/2017 El Rio – San Francisco, CA w/ Viral
8/03/2017 Programme – Fullerton, CA w/ Viral
8/04/2017 PV Lounge – Phoenix, AZ w/ Viral
8/05/2017 Til Two Club – San Diego, CA w/ Viral
8/06/2017 Strummer's – Fresno, CA w/ Viral
9/23/2017 Eli's Mile High Club – Oakland, CA
Clocking in at just under twenty minutes, the seven new songs that comprise WILDERNESS DREAM's new assault retain the same intensity and urgency that characterized the band's self-titled debut, while boasting similar misanthropic, nihilistic lyrical content. However, the listener will quickly notice that the band has eliminated most remaining melodies and lingering punk influences and replaced them with a doubled-down violent dose of dissonant, razor-sharp riffs, and unpredictable, chaotic song structures. Tracks like "Spiritual Predator" and "The Observer" see the band at their most blistering speeds yet, thundering through every chainsaw-driven riff and tortured lyric without looking back, leaving the listener zero time to take a breath. At the same time, songs like "Venom," "Ghosts," and "No Light" see WILDERNESS DREAM bringing the tempos down to more stomping, punishing grooves, rounding out the EP with numerous unique and refreshing moments of sonic domination.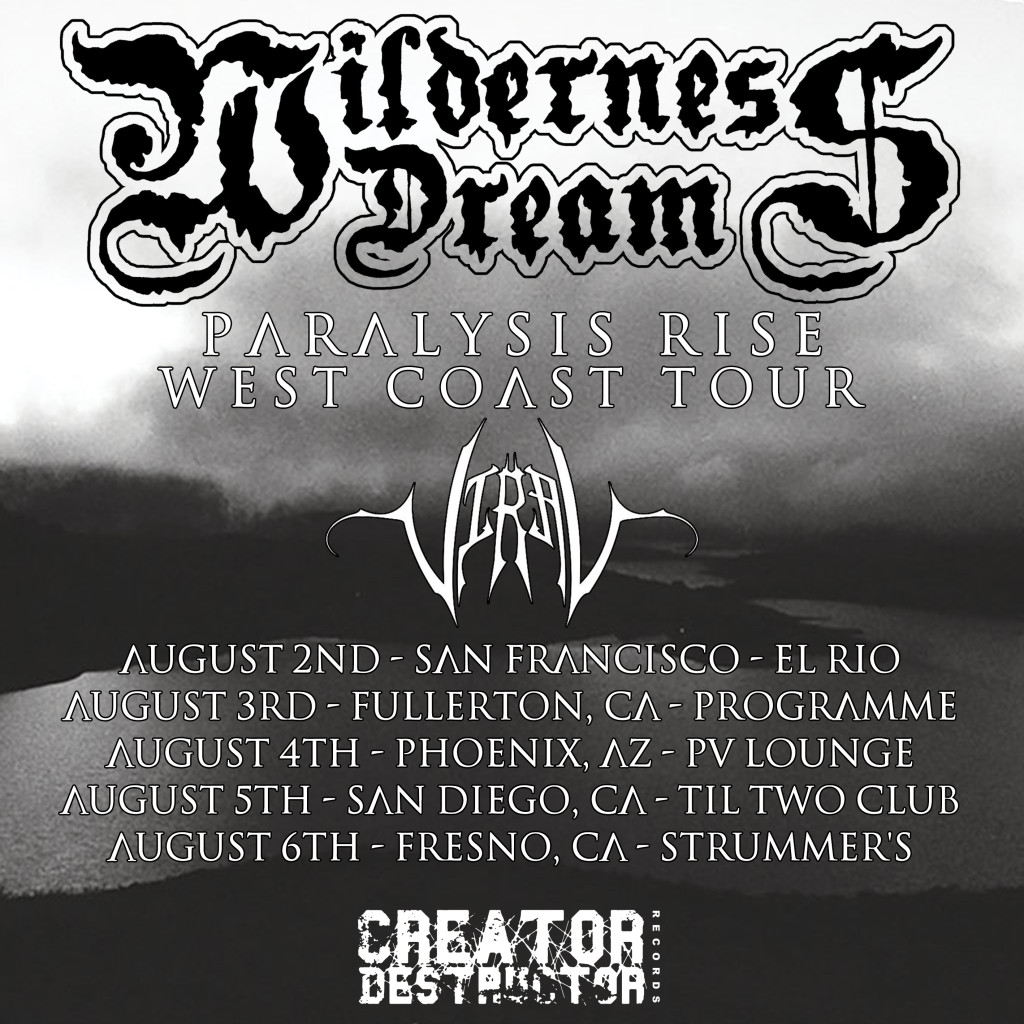 http://www.facebook.com/wildernessdream
http://www.wildernessdream.bandcamp.com
http://www.creator-destructor.com
https://www.facebook.com/creatordestructorrecords
http://www.twitter.com/CD_Records
http://www.creator-destructor.bandcamp.com