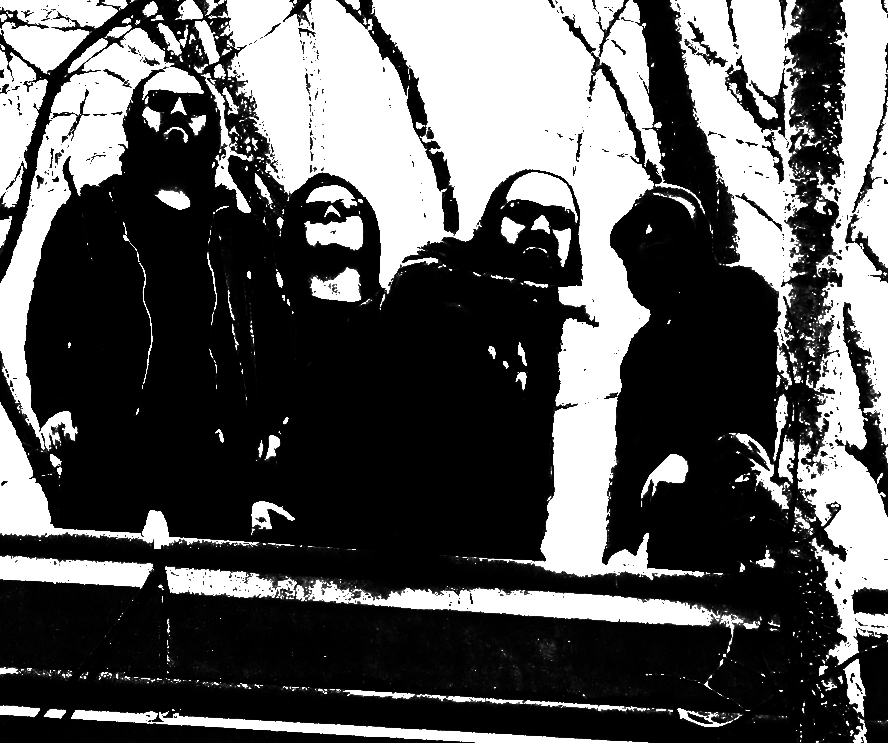 "Utilizing cacophonous production and unrelenting instrumentals, ONE MASTER harness a piercing auditory assault on the title track of their new record, Lycanthropic Burrowing." – Decibel
Next week, occult black metal practitioners ONE MASTER will unleash the rabid fruits of their Lycanthropic Burrowing full-length. Set for release via Eternal Death Records, the unhallowed offering was recorded, mixed, and mastered by Will Killingsworth at Dead Air Studios, comes shrouded in the commanding artwork of Dave Fogg of Fog Palace, and delivers thirty-five unrepentant minutes of cursed and dismal fury.
Decibel Magazine today offers up the record's title track for communal intoxication at THIS LOCATION.
"This song is about pushing oneself to understand the dark part of the psyche," issues of the band of the new hymn, "moving as close as possible but stopping before tumbling into uncontrollable madness."
In case you missed it, be sure to check out previously released single, "Death Resurrection," still streaming courtesy of Metal Injection at THIS LOCATION.
Lycanthropic Burrowing will drop on July 14th on CD, digital, and limited vinyl formats. Preorders are currently available at the official Eternal Death Bandcamp page where you can also sample "Will Of The Shadow" at THIS LOCATION.
In conjunction with the release, ONE MASTER will take on a West Coast mini-tour from July 15th through July 22nd. The band will also appear at the Red River Family Fest in Austin this September alongside Panzergod, Yellow Eyes, and more with future live abrasions in the conspiring stages. See confirmed dates below.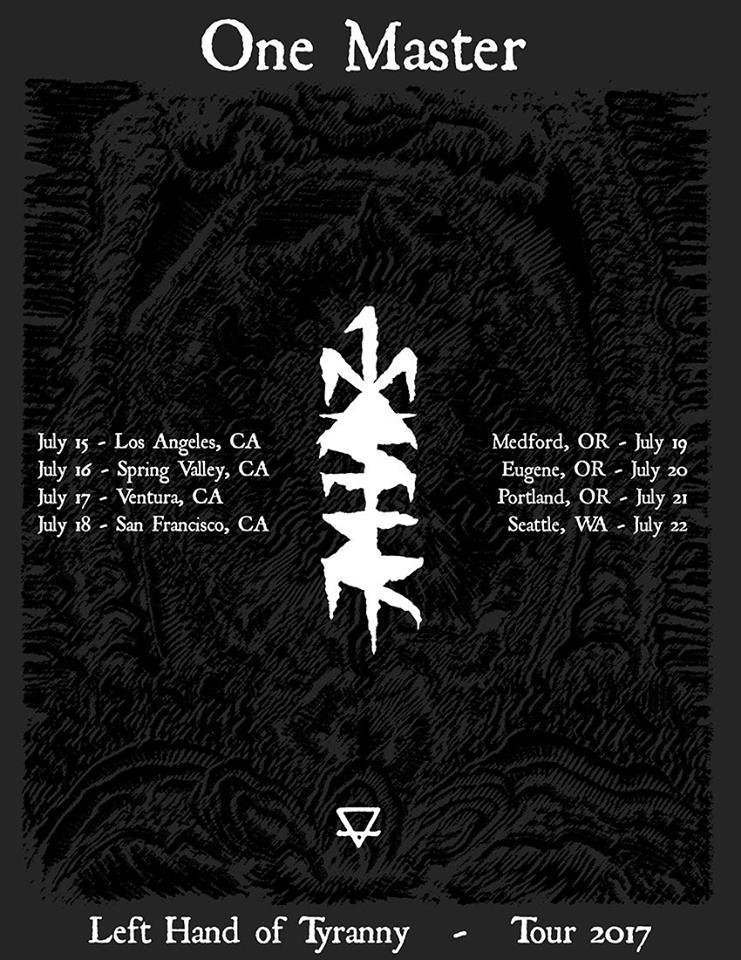 ONE MASTER [events page]:
7/15/2017 5 Star Bar – Los Angeles, CA
7/16/2017 The Bancroft – Spring Valley, CA [info]
7/17/2017 Los Compadres – Oxnard, CA
7/18/2017 Elbo Room – San Francisco, CA [info]
7/19/2017 The Bamboo Room At King Wah's – Medford, OR [info]
7/20/2017 Old Nick's Pub – Eugene, OR
7/21/2017 Twilight Café And Bar -Portland, OR [info]
7/22/2017 Highline Bar – Seattle, WA [info]
9/22-23/2017 Red River Family Fest @ Barracuda – Austin, TX [info]
For the past fifteen years, ONE MASTER has been conjuring raw and aggressive black metal in the dark corners of the US underground. Lycanthropic Burrowing serves as the follow-up to the band's acclaimed Reclusive Blasphemy offering, which ranked among the best metal records of 2015 by Loudwire, MetalSucks, and Metal Insider. From the militaristic oppression of "Will Of The Shadow" to the haunting ritualism of the closing title track, the expertly-produced Lycanthropic Burrowing is an audio document of a band ascending towards the elite tier of US black metal occupied by bands such as Nightbringer and Leviathan.
"…a powerful crescendo. Piercing tremolo rings across the length of the track, soaring high above a punishing barrage of drums and low-end that stretches for over seven minutes. The fervent intensity of 'Death Resurrection' is an ideal example of what has made ONE MASTER so ruthless over the last 15 years." – Metal Injection on the track "Death Resurrection"
"The songs are raw and aggressive, played in the classic, orthodox style. It's as misanthropic and furious as you would expect, delivering scathing black metal that is not for the weak or unwary… A triumphant return for ONE MASTER; long may they reign." – Wonderbox Metal
"As far as I can recall, this is my first encounter with the band's music, despite the fact that this is their fourth album, but clearly won't be the last – because 'Will Of The Shadow' is a real grabber. The intro is marked by a majestic, ritualistic kind of ominous grace, but the music becomes a cyclonic fury, laced with bursts of pulse-pounding thrash riffing." – No Clean Singing on "Will Of The Shadow"
"As dark and unsettling as the album can be, Lycanthropic Burrowing is a distinctly rewarding listen (enjoyable is not quite the right word for something this dark). There is more than enough here to keep listeners coming back for more, and if this album is not recognized as one of 2017's best, it would be a genuine shame." – The Sound Not The Word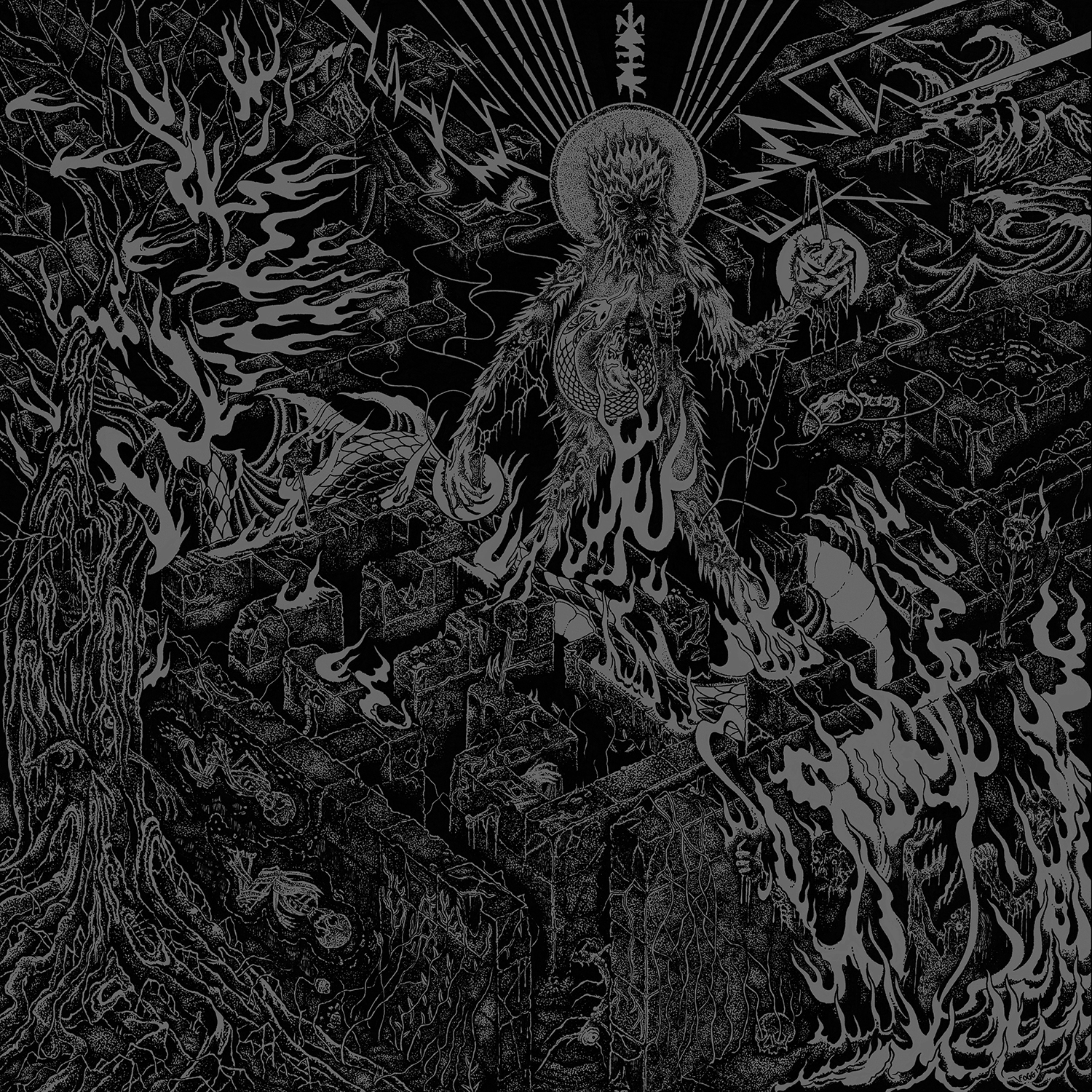 http://www.one-master.net
http://www.facebook.com/onemasterUSA/
http://www.eternal-death.com
http://www.eternaldeath.bandcamp.com
http://www.eternaldeath.storenvy.com
http://www.facebook.com/eternaldeathUSA