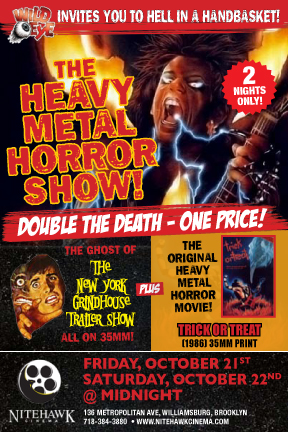 This Halloween, Wild Eye invites you to bang your head against the movie screen with a rare, 35mm screening of 1986's heavy metal classic Trick Or Treat plus a slash n' grind trailer show!
Prepare to get caught in a 35mm mosh pit as Wild Eye Releasing presents The Heavy Metal Horror Show! Appearing at Brooklyn's own Nitehawk Cinema for two nights only: Friday, October 21st and Saturday, October 22nd, starting at Midnight.
Headlining the bill is the 1986 head banging horror classic, Trick Or Treat, directed by Charles Martin Smith. Experience the mysterious death and backwards record-induced return of rock n' roll superstar Sammi Curr (Tony Fields) as he haunts his biggest fan Skippy, er, we mean Eddie (Mark Price). Watch as Curr shreds till everyone on screen is literally dead, with special guest appearances by Ozzy Osbourne and Gene Simmons.
And as if that isn't enough to satiate your sick minds, make sure to show up early to catch opening act The Ghost Of The New York Grindhouse Trailer Show performing a full hour of spine tingling horror and exploitation trailers from the '60s and '70s that will raise your hair, but without that can of Aquanet.
So cancel your Dungeons & Dragons game and raise your devil-horns as we bring heavy metal to the silver screen in its purest form, with the entire evening's events being screened from original 35mm prints and the volume turned up to 11.
Avoid price-gouging scalpers and get your tickets now! Advance tickets are available at the Nitehawk Cinema box office and here.
http://www.wildeyereleasing.com
http://www.nitehawkcinema.com