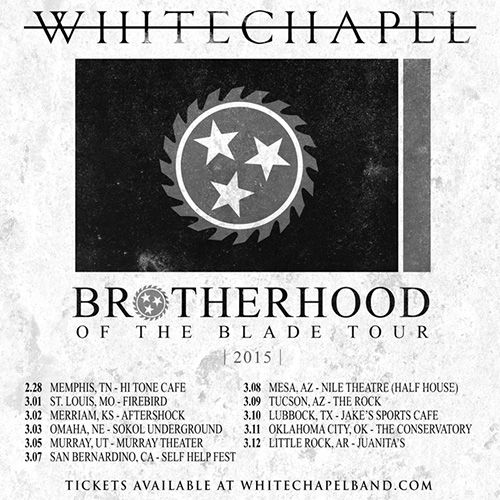 Top 10 Billboard charting metal collective, WHITECHAPEL, will return to the road again tomorrow for the Brotherhood Of The Blade Tour. The journey will take the Tennessee natives from Memphis through the Midwest and includes an appearance at Self Help Fest in San Bernardino, California March 7th alongside The Devil Wears Prada, Pierce The Veil, Stick to Your Guns, The Ghost Inside, and more. For tickets and information, visit selfhelpfest.com.
In conjunction with the tour's kick off, WHITECHAPEL have unveiled a video for "Let Me Burn," from their critically-lauded Our Endless War full-length issued last year via Metal Blade Records. For "Let Me Burn," the band collaborated with director Mitch Massie (Cattle Decapitation, The Dillinger Escape Plan et al) who brought the track's lyrics to to life in gloriously gory fashion; this video is not for those with a weak constitution.
WHITECHAPEL vocalist Phil Bozeman explains: "The basis of the video is about a man, his wife and daughter. The story depicts the degradation of the man and him going insane. He kills his wife and eventually douses himself in gasoline and begs his daughter to strike the match. But the whole point of the story is that the man has everything he wants and needs, but has no control over his mind and suffers with clinical insanity/schizophrenia and regrets everything he has done." Guitarist Alex Wade adds: "It's our first time trying a story based video versus a performance video with us playing and we're really happy with how it came out. Phil's idea for the concept of the video mixed with Mitch Massie's directing developed a very dark and sinister feel that represents the song well."
Check out the video, currently hosted by Bloody Disgusting, at THIS LOCATION.
WHITECHAPEL:
2/28/2015 Hi Tone Café – Memphis, TN
3/01/2015 Firebird – St. Louis, MO
3/02/2015 Aftershock – Merriam, KS
3/03/2015 Sokol Underground – Omaha, NE
3/05/2015 Murray Theater – Murray, UT
3/07/2015 NOS Events Center (Self Help Fest) – San Bernardino, CA
3/08/2015 Nile Theatre – Mesa, AZ
3/09/2015 The Rock – Tucson, AZ
3/10/2015 Jakes Sports Cafe – Lubbock, TX
3/11/2015 The Conservatory – Oklahoma City, OK
3/12/2015 Juanita's – Little Rock, AR
WHITECHAPEL will be touring in support of their Our Endless War full-length issued in April via Metal Blade Records. Their most streamlined, atmospheric, and emotionally powerful release to date, the album debuted at #10 on the Billboard Top 200 Chart, #2 on the Billboard Top Independent Albums Chart, #1 on the Billboard Hard Music Albums Chart (Current) and #2 on the Billboard Rock Albums Chart. Check out videos for "Worship The Digital Age" and "Our Endless War" at youtube.com/metalbladerecords.
"…fantastic…definitely one of WHITECHAPEL's best albums." – Metal Injection
http://www.whitechapelband.com
http://www.metalblade.com/whitechapel
http://www.facebook.com/whitechapelmetal