[photo by Robert Fortenberry]
Northern Virginia's progressive hard rock/metal trio, IRIS DIVINE, has released another new single from their impending debut full-length release, Karma Sown, which will hit the streets worldwide via Sensory Records on March 31st. The opening track from Karma Sown, "The Everlasting Sea" thunders with almost six-and-a-half minutes of sonic enormity, displaying the outfit's heavier metal influences as well as the more serene and beautiful elements of IRIS DIVINE's vibrant sound. This new anthem is now available for streaming through an exclusive premiere at PureGrainAudio, who also just published a gear feature with bassist Brian Dobbs.
Explore the depths of "The Everlasting Sea" HERE and the extensive gear interview on IRIS DIVINE's sound HERE, both courtesy of PureGrainAudio.
The band also previously released Karma Sown's third track, "A Suicide Aware," at THIS LOCATION.
Sensory Records will release Karma Sown worldwide on CD and digitally on March 31st, 2015. Additional album details, audio teasers, preorder links and much more will be released over the coming weeks, including 2015 tour dates for IRIS DIVINE.
IRIS DIVINE Live:
5/03/2015 Empire – West Springfield, VA w/ Haken
With a brand of emotional, progressive hard rock/metal not quite like anything else out there, IRIS DIVINE is musically rooted in the raw energy and rhythmic interplay of Rush and King's X. Fans of dark, guitar-driven rock bands from Alice In Chains, Deftones to the contemporary metal riffing of Lamb of God and Pantera will connect to the heavy core of the band's modern sound. Add to that progressive complexity and moody synths inspired by Dream Theater and Porcupine Tree, and a liberal dose of memorable hooks and melodies, to understand some elements of the band's sound. And yet, the band has a distinct identity, not quite sounding like any of the aforementioned bands, and with an emotional urgency that pulls subtly from alternative and other influences. Embodied by vocalist/guitarist Navid Rashid, drummer/programmer Kris Combs and bassist Brian Dobbs, IRIS DIVINE's glorious debut full-length, Karma Sown, is a triumph of a debut album, immediate and memorable but revealing layers and depth upon repeated listens. The record was produced by IRIS DIVINE, engineered by Drew Mazurek and Farhad Hossain, mixed by Drew Mazurek, and mastered by Brian J. Anthony, and its cover art conceived by Kris Combs and executed by Visual Decay.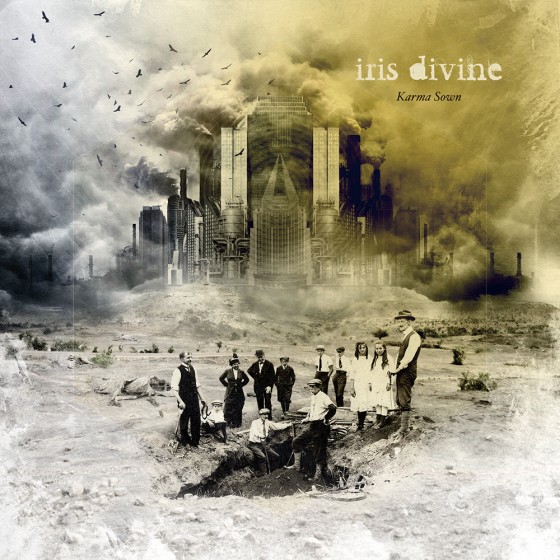 http://www.irisdivine.bandcamp.com
http://www.facebook.com/irisdivine
https://twitter.com/irisdivineband
http://www.lasersedgegroup.com/labels/sensory-records
http://www.facebook.com/TheLasersEdge