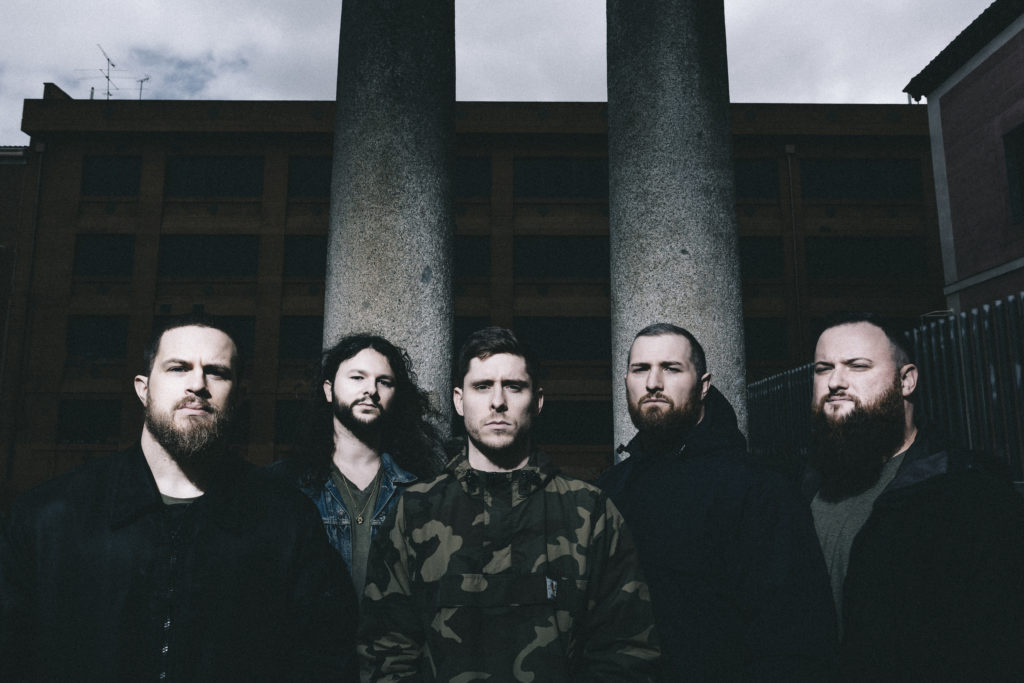 WHITECHAPEL will kick off their 10 Years Of Exile US tour next week. Commemorating the tenth anniversary of their critically-lauded This Is Exile full-length, the tour — which stretches from November 1st through December 16th — will see the band perform the record in its entirety alongside other songs from their catalog. Support will be provided by Chelsea Grin, Oceano, and Slaughter To Prevail. WHITECHAPEL's 10 Years Of Exile tour serves as the final bout of shows before returning to the studio to finish recording their upcoming new full-length, due in the Spring of 2019 via Metal Blade Records. See all confirmed dates below.
WHITECHAPEL w/ Chelsea Grin, Oceano, Slaughter To Prevail:
11/01/2018 Rex Theater – Pittsburgh, PA
11/02/2018 Westcott Theater – Syracuse, NY
11/03/2018 One Centre Square – Easton, PA
11/04/2018 Fete Ballroom – Providence, RI
11/05/2018 Webster Theater – Hartford, CT
11/07/2018 Canal Club – Richmond, VA
11/08/2018 V Club – Huntington, WV
11/09/2018 Oddbodys – Dayton, OH
11/10/2018 The Firmament – Greenville, SC
11/12/2018 Georgia Theater – Athens, GA
11/13/2018 The Abbey – Orlando, FL
11/16/2018 Civic Music Hall – Toledo, OH
11/17/2018 The Rave II – Milwaukee, WI
11/18/2018 Piere's – Ft. Wayne, IN
11/20/2018 Delmar Hall – St. Louis, MO
11/21/2018 Royal Grove – Lincoln, NE
11/23/2018 Wave – Wichita, KS
11/24/2018 Sunshine Studios – Colorado Springs, CO
11/25/2018 Aggie Theater – Ft. Collins, CO
11/27/2018 The Depot – Salt Lake City, UT
11/28/2018 The Pin – Spokane, WA
11/29/2018 Showbox At The Market – Seattle, WA
11/30/2018 Diamondz Event Center – Jerome, ID
12/01/2018 Bossanova Ballroom – Portland, OR
12/02/2018 Domino Room – Bend, OR
12/04/2018 Senator Theater – Chico, CA
12/05/2018 The Catalyst – Santa Cruz, CA
12/06/2018 Bryder's – Bakersfield, CA
12/07/2018 Fonda Theater – Los Angeles, CA
12/08/2018 House Of Blues – San Diego, CA
12/09/2018 The Rock – Tucson, AZ
12/12/2018 Come And Take It Live – Austin, TX
12/13/2018 Cain's Ballroom – Tulsa, OK
12/14/2018 Growler's – Memphis, TN
12/15/2018 Zydeco – Birmingham, AL
12/16/2018 The Mill & Mine – Knoxville, TN
WHITECHAPEL's latest album, Mark Of The Blade, was released in 2016 via Metal Blade. Crowned an, "exciting milestone," by Alternative Press and a, "21st century album that reinvents the sound of heavy," by Popmatters, the record was produced by Mark Lewis (The Black Dahlia Murder, Cannibal Corpse) and is currently available to preview and purchase at metalblade.com/whitechapel.
http://www.whitechapelband.com
http://www.metalblade.com/whitechapel
http://www.facebook.com/whitechapelmetal
http://www.twitter.com/whitechapelband
http://www.instagram.com/whitechapelband