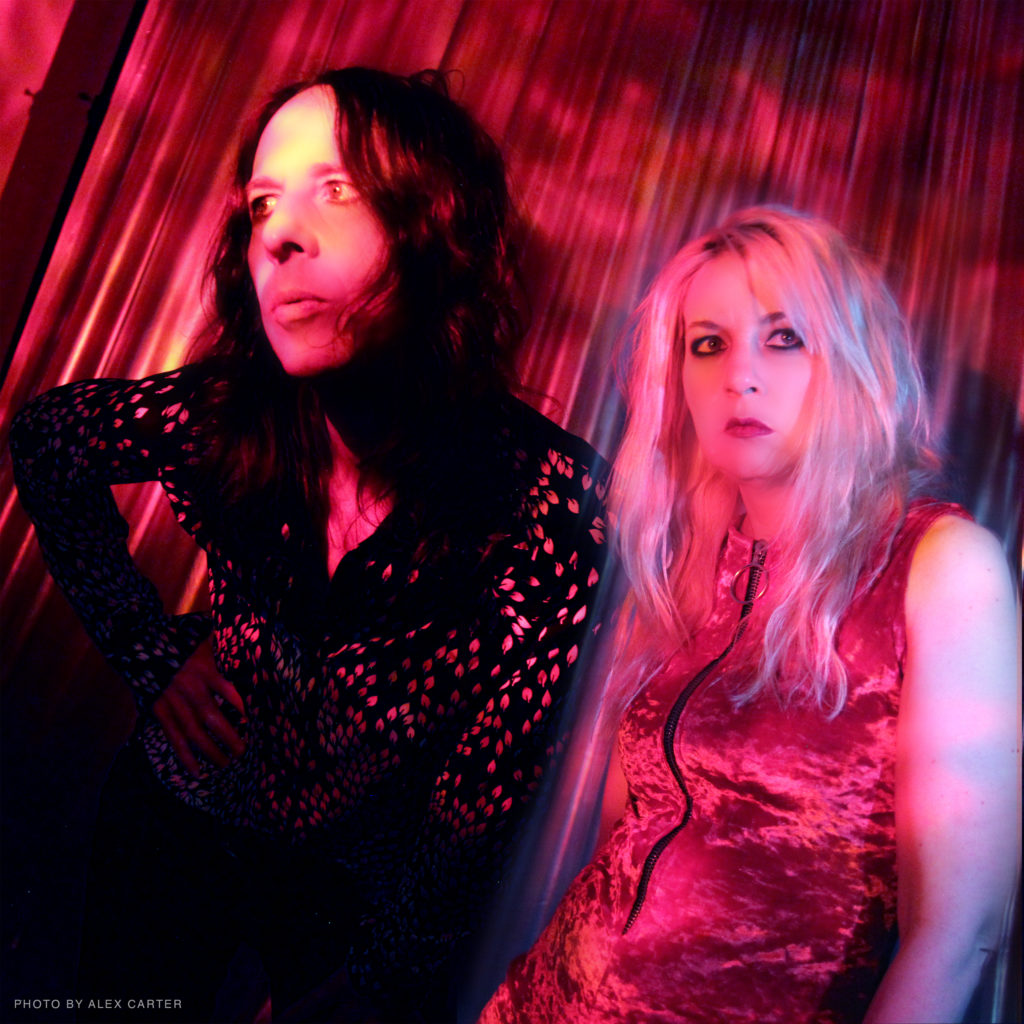 New York City explosive fuzz duo WHITE HILLS will release their long-anticipated new album The Revenge Of Heads On Fire on September 16th. This will be the first physical release on the band's newly launched record label Heads On Fire Industries, distributed exclusively by Cargo Records UK.
"A screaming head on fire penetrated my chest, jolting me from the universal plane back to earth." Guitarist, vocalist, and sonic alchemist Dave W.'s vivid fever dream ignited The Revenge Of Heads On Fire which harnesses the energy of ferocious, hedonistic rock with blissful passages of dark ambience. Exploring themes of mortality, transformation and rebirth, the band reveals a spiritual depth unparalleled in previous works. The roar of fire, swirling of oceans and hallucinogenic visions can be heard throughout the seventy-five-minute journey. From the intrepid prelude "The Instrumental Head" to the closing punk blaze of "Eternity," the album ebbs and flows, smoldering and seething in the middle with the twenty-one-minute mammoth opus "Don't Be Afraid".
The Revenge Of Heads On Fire consummates Dave W.'s prototype for the 2007's Heads On Fire, released on Rocket Recordings and later picked up by Thrill Jockey. Six rediscovered songs accompany re-mixed versions of the original material, fulfilling the master arch of the pyre lit long ago. Recorded during the band's tumultuous early years, the music vibrates with the energy and volatility of a sonic boom. PopMatters crowned the record, "Pure psychotropic madness," while All Music gushed, "'Don't Be Afraid' alone makes Heads On Fire an essential listen for fans of contemporary psychedelia."
Poised to subvert convention and amplify innovation, the band's own Heads On Fire Industries will focus on sonic exploration. The name, inspired by the myth of Viking warriors setting their helmets on fire to astonish their enemies, aptly describes the passion, determination, and creative madness that WHITE HILLS has invoked throughout their career. "Having our own label has always been a dream," Dave W, a rabid vinyl collector, notes. Adds Ego Sensation, "Creating music is a tiny peaceful revolution, and when shared with others it can gain momentum and give humanity a chance to raise our collective consciousness. With this label, we will nudge the borders of possibility."
In advance of the official unveiling of The Revenge Of Heads On Fire, today the band reveals their video for the record's first single, "Silent Violence," now playing at New Noise Magazine. Brazen and guitar heavy, this unhinged raw power ripper is anchored by an infectious hook and a meditative vocal mantra. "It's got a down and dirty Stooges vibe to it- unhinged and sultry like a wild night of debauchery," says Ego Sensation. Directed by the band's own Ego Sensation, the imagery was composed from the album's saturated artwork by Rocket Recordings' Chris Reeder and outtakes from an intoxicated photo shoot.
Watch the blazing, hallucinatory video that highlights the psych-punk elements of the track courtesy of New Noise Magazine at THIS LOCATION.
The Revenge Of Heads On Fire will be released on CD, LP, and digital formats. Find preorders at the official WHITE HILLS Bandcamp page HERE.
The Revenge Of Heads On Fire Track Listing:
The Instrumental Head
Radiate
Inoke Tupo
Oceans Of Sound
Speed Toilet
Is This The Road
VTDS
Don't Be Afraid
Vision Of The Past, Present & Future
Silent Violence
Eternity
Additionally, WHITE HILLS will return to the road next month on a North American tour with Iowa-based stoner doom duo Telekinetic Yeti. The journey will commence on July 19th in Charlotte, North Carolina and run through August 29th in Minneapolis, Minnesota. See all confirmed dates below.
WHITE HILLS w/ Telekinetic Yeti:
7/19/2022 Snug Harbor – Charlotte, NC
7/20/2022 Champion Brewing – Charlottesville, VA (Free Show)
7/21/2022 123 Pleasant St – Morgantown, WV
7/23/2022 Richmond Music Hall – Richmond, VA
7/24/2022 Silk City – Philadelphia, PA
7/25/2022 Knitting Factory – Brooklyn, NY
7/26/2022 Crafthouse – Pittsburgh, PA
7/27/2022 Bug Jar – Rochester, NY
7/28/2022 Smalls – Detroit, MI
7/31/2022 Southgate House – Newport, KY
8/01/2022 Empty Bottle – Chicago, IL
8/03/2022 Lyric Room – Green Bay, WI
8/04/2022 Wildwood – Iowa City, IA
8/05/2022 Reverb – Omaha, NE
8/07/2022 Globe Hall – Denver, CO
8/08/2022 Aces High – Salt Lake City, UT
8/10/2022 Substation – Seattle, WA
8/11/2022 Shakedown – Bellingham, WA
8/12/2022 Rickshaw Theatre – Vancouver, BC
8/13/2022 Bossanova Ballroom – Portland, OR
8/14/2022 Cafe Colonial – Sacramento, CA
8/16/2022 Bottom Of The Hill – San Francisco, CA
8/17/2022 Gigi's – Ventura, CA
8/18/2022 Knucklehead – Los Angeles, CA
8/19/2022 Yucca Taproom – Tempe, AZ
8/20/2022 Albuquerque, NM
8/21/2022 89th St – Oklahoma City, OK
8/25/2022 Record Bar – Kansas City, MO
8/26/2022 Red Flag – St. Louis, MO
8/27/2022 Skylark – Rock Island, IL
8/28/2022 The Lift – Dubuque, IA
8/29/2022 7th St Entry – Minneapolis, MN
Rising to prominence after their performance in Jim Jarmusch's 2014 vampire romanceOnly Lovers Left Alive, WHITE HILLS have garnered a cult reputation as a fierce, genre-bending band. They stand among the most prolific bands of their generation having released twelve studio albums as well as numerous collaborations, EPs, and singles. The music made by core members Dave W. and Ego Sensation is risky and cutting edge, rooted in punk ethos and no-wave aesthetics. Their last album, Splintered Metal Sky, was hailed by The Quietus as the Best Psyche Rock of 2020.
WHITE HILLS:
Dave W. – guitar, vocals, synth
Ego Sensation – drums, bass, vocals
http://whitehillsband.com
http://whitehills.bandcamp.com/music
http://www.facebook.com/WHITEHILLSBand
http://www.twitter.com/whitehillsmusic
http://instagram.com/whitehillsmusic
http://whitehills.bandcamp.com/music
http://www.youtube.com/whitehillsband
http://www.tiktok.com/@whitehillsband
http://www.patreon.com/whitehills