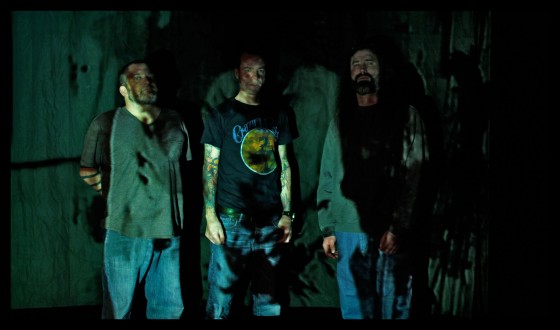 Ear One Productions and Lounge SevenZeroEight Photography are casting for the second video from WHEN THE DEADBOLT BREAKS new album Drifting Toward The Edge of the Earth.
This May, American psychedelic doom masters, WHEN THE DEADBOLT BREAKS, will be teaming up with videographer Charlie Winthal once again to begin shooting the newest video for their double album masterpiece, Drifting Toward The Edge of the Earth, released in October via Ear One Productions. Following the underground success of their first video for "Sleeps in Burning Hills" [viewable HERE], also directed by Winthal, the band is gearing up to make the follow-up a true visual spectacle, for the track, "The Woods Are Full Of Killers."
Over the years, WHEN THE DEADBOLT BREAKS guitarist/vocalist Aaron Lewis has made a name for himself as a much sought after photographer through his Lounge SevenZeroEight Photography, his works having been featured in galleries, numerous magazines as well as graced many albums' artwork and covers. Ear One is fully behind this video again leaving full creative control to the co-directors. Singer/guitarist Aaron Lewis states; "The video idea coincides with a photo shoot I plan to do. It will be dark, and terrifying". Shooting begins in mid May. There will be a live video release along with a gallery showing of three epic photographic journeys shot by Lounge SevenZeroEight to be announced shortly.
Lounge SevenZeroEight Photography is seeking four female models to appear in the video and the accompanying photo shoot. The video is a horror themed jaunt, and there is some nudity. The video shoot is being scheduled for mid May, at a location in Connecticut. Interested parties contact: LoungeSevenZeroEight@gmail.com. Please include a full body shot of yourself and any links to any modeling websites you have been featured on. Title the email "708 Video Shoot"
WHEN THE DEADBOLT BREAKS' nearly two-hour-long 2xCD Drifting Towards The Edge Of The Earth takes the listener on an extensive, engulfing voyage through the cosmos and annals of sludge/doom; devastating amplification boasts everything the talented members can create; mournful segues, booming classic rock ballad riffs, mystical and melodic interludes and straightforward, thunderous riffage coalesce into an exceptionally diverse album fans of Sleep, YOB, Ufomammut, Samothrace, Ramesses, frontman Aaron Lewis' previous act, Cable, should not miss.
https://www.facebook.com/WhentheDeadboltBreaks
http://whenthedeadboltbreaks.bandcamp.com
http://www.earoneproductions.com
https://www.facebook.com/earoneproductions