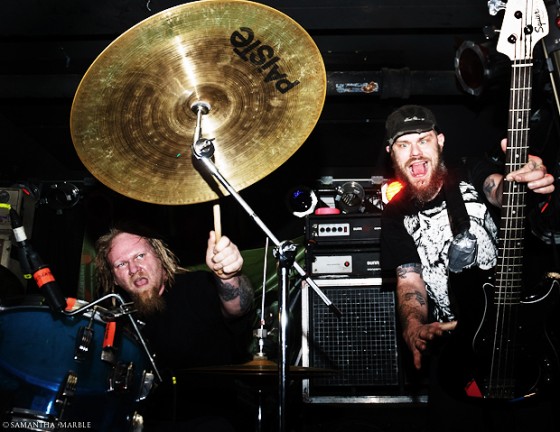 After a few weeks off, following nearly three years of semi-constant touring, Cape Fear's sludge-slingers WEEDEATER decided they have been off the road long enough, and that it's time to go reap some more hard-partying souls.
Set for the band to celebrate 4:20 on the road mid-tour, the newest endeavor will burn its way through a pile of East US cities in the second half of April, from New England to the tip of Florida. WEEDEATER have commissioned ASG and Cough to be their pummeling backup for the entire tour, with sixteen dates locked-down and more likely to be confirmed in the weeks ahead.
WEEDEATER's unfuckwithably fun and unyielding crushing bourbon-soaked live shows are not to be missed, be it your first or thirtieth time, so do what you can to check out one of these gigs. Check out the tour poster, WEEDEATER videos and more RIGHT HERE.
WEEDEATER headlining tour with ASG & Cough:
4/12/2012 Jimbo's Rock Club – Charleston, SC
4/13/2012 Will's Pub – Orlando, FL
4/14/2012 Churchill's – Miami, FL
4/15/2012 The Atlantic – Gainesville, FL
4/17/2012 Hideaway – Johnson City, TN
4/18/2012 The Lexington Ave Brewery – Asheville, NC
4/19/2012 V Club – Huntington, WV
4/20/2012 Ace of Cups – Columbus, OH
4/21/2012 Cosmic Charlie's – Lexington, KY
4/22/2012 Smiling Moose – Pittsburgh, PA
4/23/2012 The Haunt – Ithaca, NY
4/24/2012 Cherry Street Station – New Haven, CT
4/25/2012 Armageddon Shop – Providence, RI
4/26/2012 Mojo's Main – Newark, DE
4/27/2012 Outer Banks Brewing Station – Kill Devil Hills, NC
4/28/2012 Casbah – Durham, NC
Scion A/V Presents: Weedeater – Mancoon…Turkey Warlock from Scion A/V on Vimeo.
http://www.weedmetal.com
http://www.facebook.com/weedmetal
http://www.myspace.com/weedeater
http://www.tonedeaftouring.com
http://www.southernlord.com
http://blog.southernlord.com
http://www.myspace.com/southernlordrecordings
http://twitter.com/twatterlord