"Reaping Death" the latest single from Swedish black metal battalion WATAIN, was certified gold in Sweden for sales in excess of 10,000 copies. Earlier this week, the band was awarded their gold record in Stockholm in the presence of press and various guests. Said frontman Erik Danielsson at the presentation: "'Reaping Death' is a song written as a tribute to the first murderer and Satanist, Cain. Through the murder of his brother Abel, he was the first to break the shackles of creation and went against the will of God. Therefore, he was pushed away and found his way to his true father, the serpent in the Garden of Eden, also known as Satan. To openly praise Cain, his origin, his works and his offspring is something that never would have been possible, say 300 years ago. 300 years ago they tied people such as us up and burned them alive. Now we are awarded gold discs and praise in the media. This is an encouraging proof that this road is leading to hell.
"Through black metal," he continued, "we now have a forum, in which we, without being persecuted and tortured, can celebrate the ancient ruin forces, revolutions and the gods of total liberation, and thus give them additional force. This gold disc is proof that the genre as such is one to be reckoned with, and with fire, fanaticism and passion as the driving force, we intend to take it even further, deep down in still unexplored abysses.We also would like to thank Sound Pollution, Season of Mist, Sweden Rock and 'Boss' at Black Mark."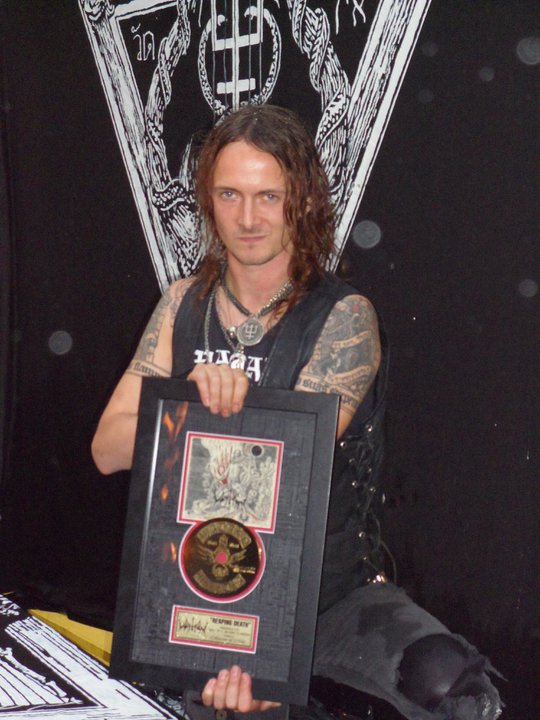 "Reaping Death" comes off WATAIN's Lawless Darkness full-length released via Season Of Mist this past June. Lawless Darkness was recorded at Necromorbus Studio (Deathspell Omega, Funeral Mist, Ondskapt, Nominon, Unanimated) in Alvik, Sweden and features cover art by Zbigniew M. Bielak.
http://www.myspace.com/watainofficial
http://season-of-mist.com