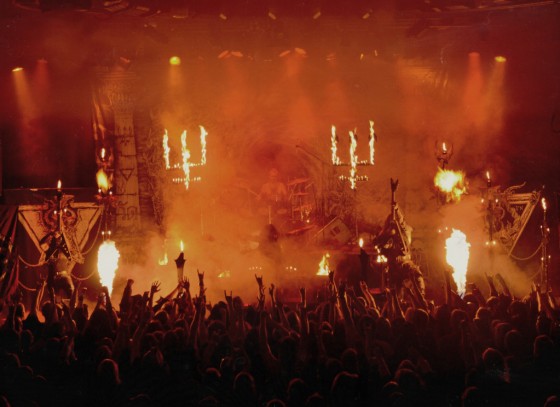 Swedish black metal heathens WATAIN are set to unleash a new DVD upon the masses. Titled Opus Diaboli, the production commemorates the band's 13 years of chaos by providing a visual and audio documentation of their ceremonial anniversary concert performance in Stockholm and the long years of physical, intellectual and spiritual work leading up to it. Opus Diaboli is an epic 90-minute journey into the forbidden realms of wild-hearted Satanic metal and the manifestation of a unique band that has truly chosen a path few have ever dared to tread upon.
Comments the band in a collective statement: "This movie was first meant to be the recording of our 13-year anniversary concert, but as everything with WATAIN, it took on a life of its own and become one of our most ambitious projects to date. It is a very personal and emotional piece of work and is certainly not for the faint of heart. But for those who wish to explore the glimmering abyss of WATAIN further, this will be a rewarding release for sure. The box version of Opus Diaboli [available exclusively through the band's own WOLFWEAR.NET] contains an exclusive photobook. It was an overwhelming experience going through the massive archives in search of photos that best sum up the storm of passionate turmoil that has marked the WATAIN journey, especially since we wanted to stay away from live photos and focus more on moments off stage. The results were however very satisfying and offer a rare and spicy mixture of photos of which most have never been published previously. We are also proud to announce that this will be the first release on our own label 'His Master's Noise,' a name originating from Bathory who had it in mind for their own label back in the early 1980s. Just like with our merch store WOLFWEAR.NET from which the limited box set will be available, this time we have chosen to stand by our own and do things our way."
Opus Diaboli DVD: A four-panel digipack including the DVD, two audio CDs featuring the full concert plus a 16-page booklet with historical photos and flyers.
Opus Diaboli Box: Limited 12″ box including the DVD, two audio CDs and two LPs featuring the full concert plus an exclusive 64-page booklet with historical photos and flyers.
Opus Diaboli will be unleashed in North America on June 5, 2012.
As previously announced, WATAIN will take part in the inaugural Decibel Magazine Tour alongside Behemoth, The Devil's Blood and In Solitude. The live ceremonies will commence next week on April 11 in Ohio and bloody 26 stages including a stop in Oklahoma City where the trek will merge with the U.S. Torture Tour featuring Cannibal Corpse, Exhumed, Abysmal Dawn, and Arkaik for an evening of audio devastation.
Decibel Magazine Tour 2012
Behemoth, Watain, The Devil's Blood and In Solitude
4/11/2012 Al Rosa – Columbus, OH [TICKETS] * new venue
4/12/2012 Mr. Smalls – Pittsburgh, PA [TICKETS]
4/13/2012 Bottom Lounge – Chicago, IL [TICKETS]
4/14/2012 Station Four – St. Paul, MN [TICKETS]
4/16/2012 Granada Theater – Lawrence, KS [TICKETS]
4/17/2012 Summit Theatre – Denver, CO [TICKETS]
4/18/2012 The Complex – Salt Lake City, UT [TICKETS]
4/20/2012 El Corazon – Seattle, WA [TICKETS]
4/21/2012 Rickshaw – Vancouver, BC [TICKETS]
4/22/2012 Hawthorne Theater – Portland, OR [TICKETS]
4/23/2012 Slim's – San Francisco, CA [TICKETS]
4/25/2012 House of Blues – Los Angeles, CA [TICKETS]
4/26/2012 Nile Theater – Phoenix, AZ [TICKETS]
4/27/2012 Sunshine Theater – Albuquerque, NM [TICKETS]
4/28/2012 Oklahoma City, OK – The Diamond Ballroom w/ Cannibal Corpse, Exhumed [TICKETS]
4/29/2012 White Rabbit – San Antonio, TX [TICKETS]
5/01/2012 Orpheum – Tampa, FL [TICKETS]
5/02/2012 Masquerade – Atlanta, GA [TICKETS]
5/04/2012 Amos Southend – Charlotte, NC [TICKETS]
5/05/2012 Ram's Head – Baltimore, MD [TICKETS]
5/06/2012 Trocadero Theatre – Philadelphia, PA [TICKETS]
5/08/2012 Opera House – Toronto, ON [TICKETS]
5/09/2012 Club Soda – Montreal, QC [TICKETS]
5/10/2012 Imperial – Quebec City, QC [TICKETS]
5/11/2012 Palladium – Worcester, MA [TICKETS]
5/12/2012 Irving Plaza – New York, NY [TICKETS]
http://www.templeofwatain.com/opusdiaboli
http://www.wolfwear.net