Frontman Mathieu Rondeau of Canadian thrash trio WARSENAL will host Gimme Radio's guest DJ special TONIGHT, Wednesday March 18th. Rondeau will be typing along in the chat with listeners. See details below.
WARSENAL: Gimme Radio Guest DJ Airdates:
Premieres Wednesday, March 18th at 7:00pm EST/4:00pm PST
Reairing Monday, March 23rd at 11:00am EST/8:00 am PST Don't miss it!
Visit http://www.gimmeradio.com.
WARSENAL released their Feast Your Eyes full-length via Svart Records late last year. The record boasts the band's most forward-thinking assortment of speed/thrash metal rippers to date. In a year-end review of the record, Metal Injection crowns Feast Your Eyes, "a tenacious maelstrom of shredding," adding "Frontman Mathieu Rondeau wields his guitar with the same manic mastery of a young Dave Mustaine, or Tony Portaro from Whiplash." Grizzly Butts writes, "Feast Your Eyes shreds, in fact it feels like it never fuckin' stops shredding to the point of creating a thrillingly delirious extension of speed metal that reaches the misanthropic fervor of Coroner (or, Vektor) as often as it calls outright for banging your head against the stage." Adds Dead Rhetoric, "Feast Your Eyes could conjure up imagery and visions of 1983-1986 all over again – before the movement became commercialized, watered down, and label influence/economics became to some more important than musical integrity."
Stream Feast Your Eyes at THIS LOCATION. View the band's previously released videos for "Forever Lost" and "Doomed From Birth" below.
Feast Your Eyes is available on CD, LP, and digital formats. For physical orders in the US go to THIS LOCATION and in Europe go to THIS LOCATION.
"…a tenacious maelstrom of shredding. Frontman Mathieu Rondeau wields his guitar with the same manic mastery of a young Dave Mustaine, or Tony Portaro from Whiplash." – Metal Injection
"Feast Your Eyes shreds, in fact it feels like it never fuckin' stops shredding to the point of creating a thrillingly delirious extension of speed metal that reaches the misanthropic fervor of Coroner (or, Vektor) as often as it calls outright for banging your head against the stage." – Grizzly Butts
"This is a fun, powerful and stripped-down thrash metal record that wants nothing to do with your pizza thrash. Instead, WARSENAL deal in vicious riffs and hard-hitting vocals that take just as much from Possessed as they do Voivod. It makes for a fun listen that goes consistently and unrepentantly straight for the throat." – Two Guys Metal Reviews
"They have the chops and the tradition to get heads banging along with enough lunacy to keep listeners on their toes." – Indy Metal Vault
"The album as a whole is an odd amalgamation of tempo changes, piercing aggression, and technical prowess–each member is the master of their own craft and uses their aptitude to build upon one another and create miniature epics." – Metal Temple
"…one of the rowdiest albums I've heard this year, and their thrash chops definitely are not to be questioned. As long as the band keeps compiling killer material like they did here, they'll be gashing people and spilling blood for years." – Meat Mead Metal
"Shredding solos over breakneck rhythms, bass, and drums; gritty, aggressive vocals and lyrics; clever, catchy, and hook-laden composing…all are on full display on these nine remarkable tracks. In short, Feast Your Eyes is fucking sick." – Hated One Metal Reviews
"Feast Your Eyes could conjure up imagery and visions of 1983-1986 all over again – before the movement became commercialized, watered down, and label influence/ economics became to some more important than musical integrity." – Dead Rhetoric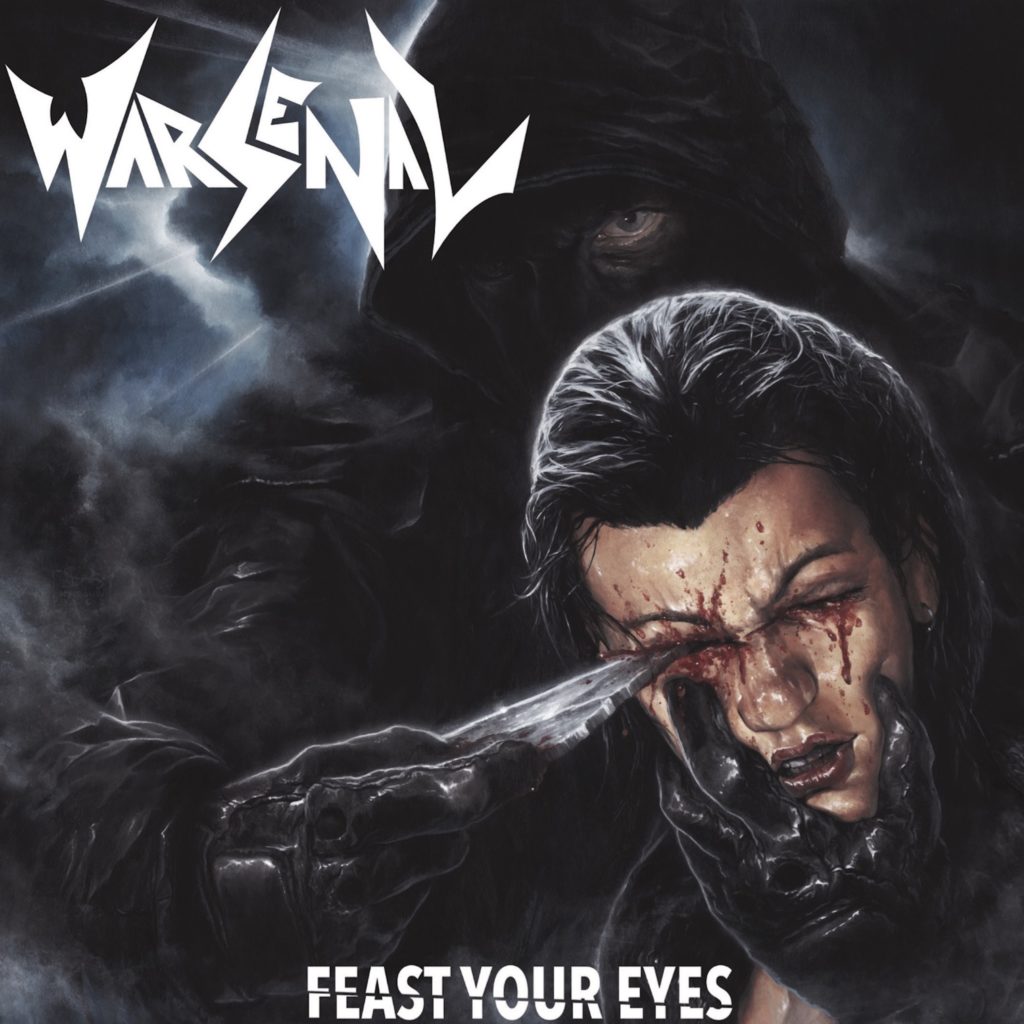 http://www.warsenalband.com/
http://www.facebook.com/WarsenalOfficial
http://warsenal.bandcamp.com/releases
http://www.instagram.com/warsenalband/
http://twitter.com/Warsenalband
http://www.svartrecords.com
http://www.facebook.com/svartrecords
http://www.twitter.com/svartrecords