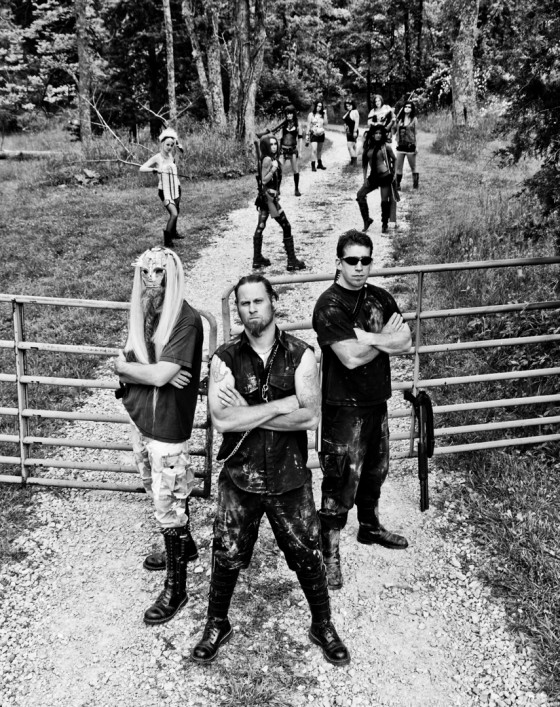 WARFATHER, the apocalyptic death metal mercenary outfit formed and fronted by ex-Morbid Angel devastator Steve Tucker, is preparing to release their Orchestrating The Apocalypse debut set to inundate North and South America on January 21st and in Europe on February 24th via Greyhaze Records.
The product of several years of envisioning, constructing and executing, all culminated into a dozen mechanically devastating battle anthems, WARFATHER's Orchestrating The Apocalypse contains over forty minutes of debilitating death structures, off-time and angular sweeps and belittling blastbeats, showcasing Tucker handling vocals and guitars, having recruited a crew of metal militia from around the globe to execute his cruel new musical insurrection to fruition.
Invisible Oranges is propagating the WARFATHER initiative, housing an exclusive broadcast of "The Shifting Poles" now AT THIS LOCATION.
Decibel also recently unveiled the album's "My Queen Shall Not Be Mourned" RIGHT HERE.
Over a decade after his departure from Morbid Angel, and over two years since his participation as a vocalist and writer in the well-received Nader Sadek project, Steve Tucker's WARFATHER clan united at Cincinnati-based TME Studios to record Orchestrating The Apocalypse with Tucker handling recording duties, the final product mastered by Maor Appelbaum. The album brutalizes in a relentless style that builds on the work laid on the three Tucker-fronted Morbid Angel albums — Formulas Fatal To The Flesh, Gateways To Annihilation and Heretic — delivering an intense, debilitating performance while infusing unique even bizarre atmospheric elements.
WARFATHER will declare live offensives and more as 2014 progresses; stand by for further transmissions. Preorders for Orchestrating The Apocalypse are available via Greyhaze Records and Earsplit Distro now.
https://www.facebook.com/pages/WarFather/240931366011521
https://www.facebook.com/pages/Steven-Tucker/153640528038846
http://www.greyhazerecords.com
http://www.facebook.com/greyhazerecords