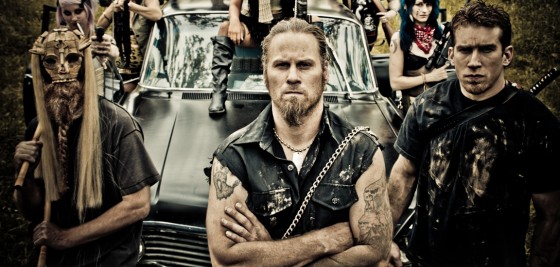 After months of secrecy spent in the crypts finalizing the details on their debut recordings, today death metal horde, WARFATHER, finally declares their battle plans.
The new full-time project fronted by ex-Morbid Angel bassist/vocalist Steve Tucker, WARFATHER was initially announced in mid-2012, but has remained otherwise virtually a mystery until now. As the finishing touches are currently being handled on their debut album, now confirmed to bear the title, Orchestrating The Apocalypse, this band sees Tucker back to fronting a death metal outfit after over a decade since his departure from Morbid Angel, and over two years since his participation as a vocalist and writer in the well-received Nader Sadek project. On the impending attack, Tucker states, "I am stoked about WARFATHER and our first album! WARFATHER is more than just a metal band; it is a belief system and a meeting of the minds, the ones that can see what is truly happening in the times we are living in. Orchestrating The Apocalypse is a warning to the eyes that choose to be blind, and a call to arms to the minds that do feel the coming changes. It is pure blackened, apocalyptic death metal. Fuck religion, fuck the government! This is their apocalypse. Our time is NOW!"
Orchestrating The Apocalypse brutalizes in a relentless style that builds on the work laid on the three Tucker-fronted Morbid Angel albums — Formulas Fatal To The Flesh, Gateways To Annihilation and Heretic — resounding with over forty minutes of pure American death metal. WARFATHER delivers an intense, debilitating performance that should no doubt please fans of Morbid Angel, Nile, and Behemoth, while also sporadically infusing unique even bizarre atmospheric elements, elevating the album to a cutting-edge status. The album was recorded and mixed at Cincinnati-based TME studios by Steve Tucker and mastered by Maor Applebaum at Maor Applebaum Mastering, and is now confirmed for release via Greyhaze Records on January 21, 2014 in North America, with a European release date to be announced in the coming weeks.
Be on the lookout for new music from Orchestrating The Apocalypse and more on WARFATHER in the coming days. For now take in the track listing and cover artwork by Ken Coleman.
Orchestrating The Apocalypse Track Listing:
1. XII
2. Legions
3. My Queen Shall Not Be Mourned
4. Taunting The Deity
5. The Shifting Poles
6. Waltz Of The Solstice
7. Summoning The Warfathers
8. Ageless Merciless
9. The Chaos Of
10. Gods And Machines
11. Ashes and Runes
12. We Are The Wolves
WARFATHER lineup:
Steve Tucker – guitar, vocals
Avgvstvs: bass
Armatura: guitars
Deimos: drums
https://www.facebook.com/pages/WarFather/240931366011521
https://www.facebook.com/pages/Steven-Tucker/153640528038846
http://www.greyhazerecords.com
http://www.facebook.com/greyhazerecords