[photo by Mark Maya]
Brooding southern doom-punk quartet, WAILIN STORMS, has released the first single from their impending One Foot In The Flesh Grave debut LP, which is on course for arrival via Magic Bullet Records in November.
Cvlt Nation premieres the first single from One Foot In The Flesh Grave, offering an exclusive early listen to "Don't Forget The Sun," their accompanying write-up including, "So what happens when a band cooks up a bunch of songs that defy genres and is able to channel their influences through the lens of honesty? This is just the case with WAILIN STORMS, whose soon to be released album One Foot In The Flesh Grave sounds like a morbid plate of hot grits covered in zombie blood. This band knows how to write songs that channel the Gothic past of the south while still keeping the ghost of Robert Johnson happy. Have a dark fucking open mind – let the WAILIN STORMS blow right in, and you will not be disappointed!"
Let the grim flow of WAILIN STORMS' "Don't Forget The Sun" drown you via Cvlt Nation RIGHT HERE.
A trailer for One Foot In The Flesh Grave is playing RIGHT HERE.
Magic Bullet Records will issue One Foot In The Flesh Grave on all digital platforms as well as both red and clear vinyl pressings on November 20th. Vinyl preorders are pending, but digital preorders are available HERE.
WAILIN STORMS continues to support One Foot In The Flesh Grave heavily in advance of its street date, with a hometown show in Durham alongside Fleshwounds on October 23rd, a performance at The Fest 14 in Gainesville, joining Andrew W.K., Cult Leader, Government Issue, Iron Reagan, Lagwagon, Modern Life Is War, Title Fight, Young Widows and dozens more, and other shows currently solidified. The band will be selling brand new merch and the vinyl version of the album early at these shows.
WAILIN STORMS Tour Dates:
10/23/2015 Pinhook – Durham, NC w/ Fleshwounds
10/29/2015 Caledonia – Athens, GA w/ Vincas
10/30/2015 The Fest – Gainesville, FL
10/31/2015 Morningwood LA – Savannah, GA w/ Anxiety Junkies, No Sun, Generation Pill
11/01/2015 Reggie's – Wilmington, NC
11/03/2015 Local 506 – Chapel Hill, NC w/ Meat Wave
12/03/2015 Tir La Nog – Raleigh, NC @ Local Band-Local Beer w/ Wyrms, Dead Girls
Led by ominous, blues-driven vocals reminiscent of Samhain and early Danzig, Durham, North Carolina-based WAILIN STORMS merges doom punk and harrowing rock into something fans of TSOL, Social Distortion, Murder City Devils, Laughing Hyenas, Hot Water Music, Pussy Galore and Clockcleaner alike will find themselves immersed in. Following 2011's Bone Colored Moon and 2014's Shiver EPs, the band now prepares to unveil their sprawling full-length recording. Recorded and mixed at Warrior Sound, by Al Jacob and mastered by Carl Saff, One Foot In The Flesh Grave serves as a warning shot to all things safe, prescribed, and banal; these seven songs of deep, dark, swampy and catchy-as-all-hell new material serve as hymns for the ongoing funeral procession of everyday life. Crossing its path bestows the karmic powers of a black cat in reverse. Completed with artwork by Bruno Guerreiro of Decibel Magazine, One Foot In The Flesh Grave will help make WAILIN STORMS a household name to all as the album makes its grim rising this harvest season.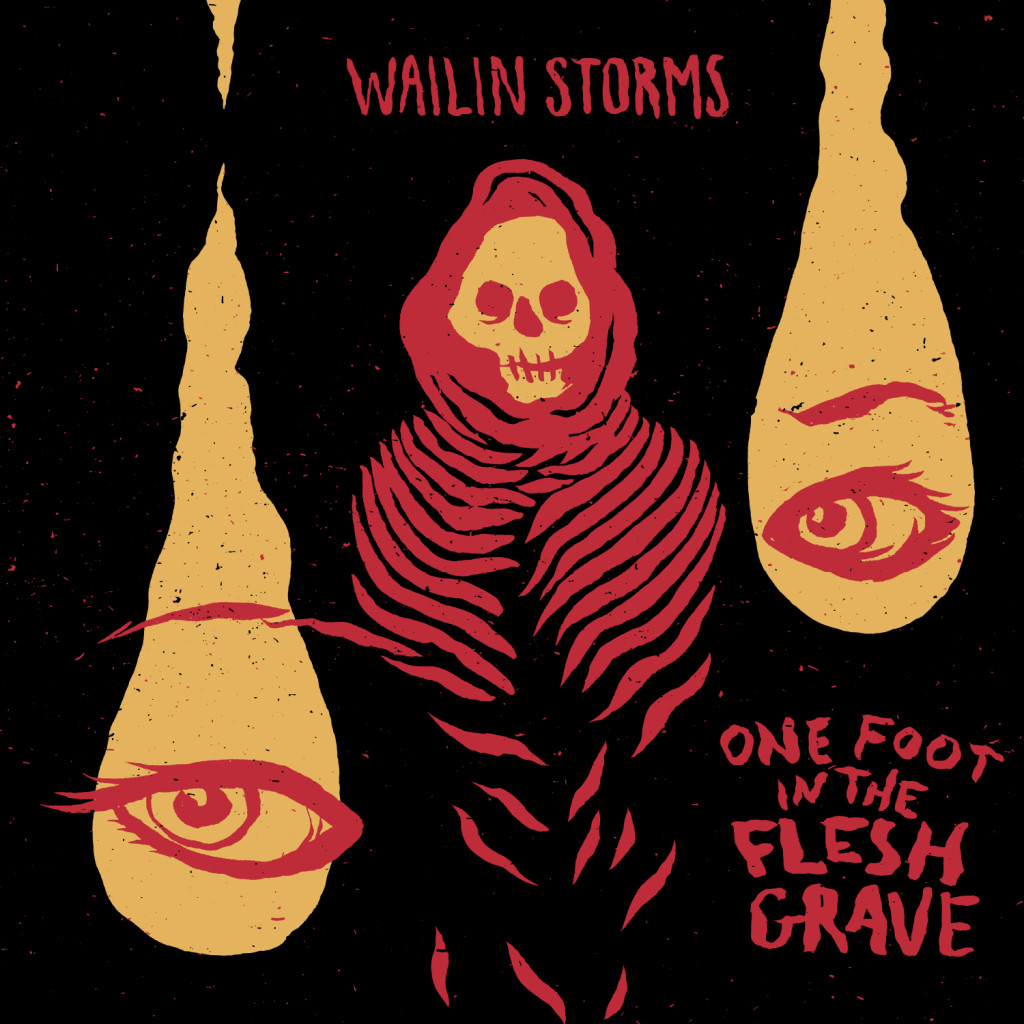 http://www.wailinstorms.com
http://wailinstorms.tumblr.com
http://wailinstorms.bandcamp.com
http://www.facebook.com/wailinstorms
http://www.magicbulletrecords.com
http://www.facebook.com/magicbulletrecords