Athens-based metal unit W.E.B. today unveils their stunning new full-length, Colosseum, in its entirety. The premiere comes in advance of the record's official release this Friday, November 19th via Metal Blade Records.
Uniting the brutal with the catchy and drenching it in orchestrations that only serve to expand its epic scale, Colosseum is a thrilling, gripping listen with each of its nine tracks playing an important part in the album as a whole, making it clear that W.E.B. stands toe-to-toe with anyone in their genre.
Stream Colosseum in full at THIS LOCATION. 
View the band's previously released visualizer for first single "Dominus Maleficarum" at THIS LOCATION as well as their video for "Dark Web"  at THIS LOCATION.
W.E.B.'s Colosseum will be available on CD, Fruit Punch-colored LP, and digital formats. Find preordering options HERE.
Since forming in 2002, Greece's W.E.B. have steadily forged a path to becoming one of the premier European symphonic extreme metal bands expressing darkness and death through adrenaline and poetry. An output that's both candid and theatrical, W.E.B. is here to move you, provoke you, and invite you on a journey through ravendark and starless nights. With four albums already under their collective belt, 2021's fifth full-length, Colosseum, which was recorded, mixed, and mastered in Sound Abuse Production Studio in Athens by Psychon and produced by the band's own Sakis Prekas, is inarguably the band's greatest and most direct work to date.
In titling the record Colosseum, W.E.B. draw comparisons with the past and present, in typically brutal style. "The Colosseum was the famous gigantic arena in Rome to give the people 'food and spectacle,' whereas what it truly did was to quench the mob's thirst for blood and violence and keep their minds away from thinking; kind of an ancient TV-brainwash machine," notes Sakis. "People nowadays seem to be thirsty for blood more than ever. They seek violence in almost everything. You can see it in social media, in the streets – even a simple fight between kids in a schoolyard attracts the other kids, not to separate but to watch. Humans miss the Colosseum and what it gave to their violent nature, even though they will never admit it. The title Colosseum is the irony of giving them what they secretly desire. Maybe then they will start to understand what they see in their mirror and hopefully it will bother them."
W.E.B.:
Sakis Prekas – guitars, vocals
Hel Pyre – bass, vocals
Sextus A. Maximus – lead guitars
Nikitas Mandolas – drums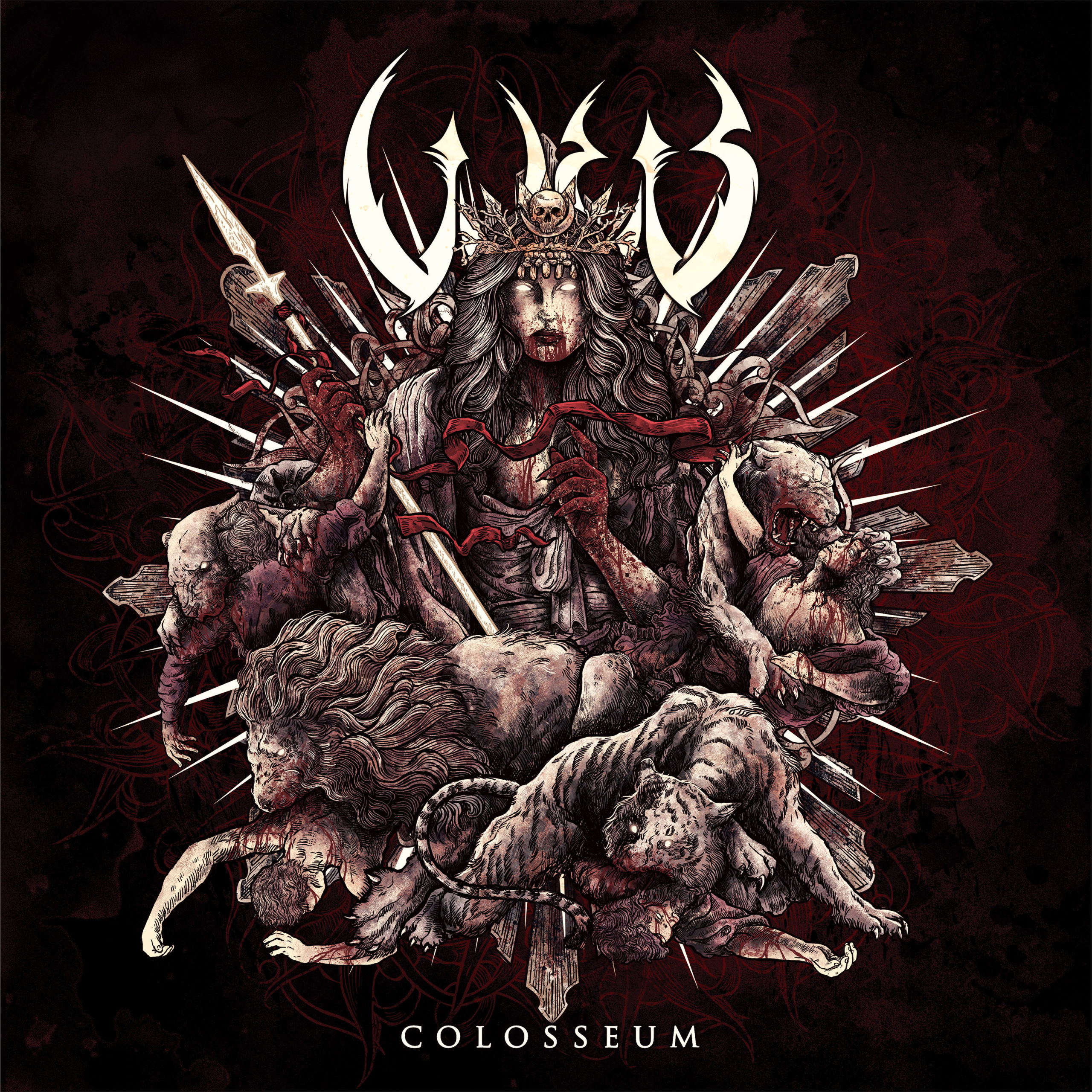 [Cover art by John Toussas]
http://webmetalband.com
http://www.facebook.com/webdarkness
http://twitter.com/webdarkmetal
http://www.youtube.com/c/WEBbandOfficial
http://webdarkmetal.bandcamp.com/
http://www.metalblade.com
http://www.facebook.com/metalbladerecords
http://www.instagram.com/metalbladerecords
http://twitter.com/MetalBlade