photos by Ian Mann
VOIDCEREMONY presents At The Periphery Of Human Realms. Based out of California but uniting members from multiple continents, the band is formed by guitarist/vocalist Garrett Johnson, guitarist Phil Tougas (Atramentus, Chthe'ilist, First Fragment), bassist Damon Good (Mournful Congregation, Stargazer), and drummer Charlie Koryn (Ascended Dead, Incantation).
VOIDCEREMONY reaches well beyond the confines of the typical to create a methodically accelerating chaos, an orchestral maelstrom of esoteric profundity. And while nowadays "technical death metal" has become synonymous with banal machine-like acrobatics for its own sake, the band instead maintains a principled continuum of arcane alchemy and increasing internal entropy.
An intermission of sorts between their 2020 debut LP, Entropic Reflections Continuum: Dimensional Unravel, and the in-progress eventual second LP, At The Periphery Of Human Realms acts as brief sketch of where VOIDCEREMONY's creative minds continue to roam. And, while the first track, referencing the debut LP in title, is likely to later appear in altered form, the other tracks are to remain frozen in time on this promo.
With Good's bass recorded in Australia and Tougas' guitars recorded in Quebec, these elements were reamped where the majority of the album was recorded by Charlie Koryn at Ramona Music Center Studio and Underworld Studio with artwork by Shoggoth Kinetics and layout by Labelskum
Stream VOIDCEREMONY's At The Periphery Of Human Realms at Bandcamp HERE and YouTube HERE.
At The Periphery Of Human Realms is out now on cassette and digital via 20 Buck Spin's webshop HERE and Bandcamp HERE as well as all other digital providers.
Watch for updates on the band's looming second album which continues to gestate.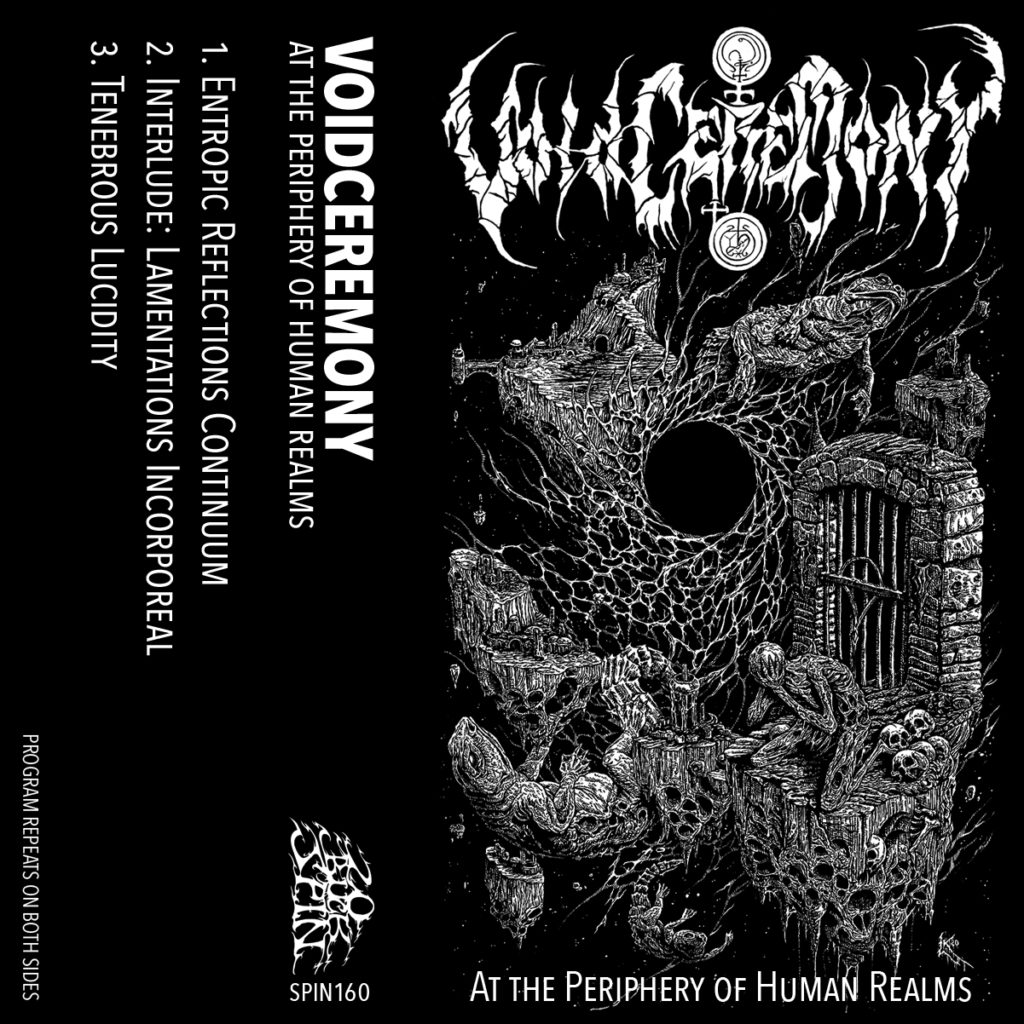 At The Periphery Of Human Realms Track Listing:
1. Entropic Reflections Continuum
2. Interlude: Lamentations Incorporeal
3. Tenebrous Lucidity
https://www.facebook.com/VoidCeremony
https://voidceremony.bandcamp.com
http://www.20buckspin.com
http://www.facebook.com/20buckspin
http://twitter.com/20buckspinlabel