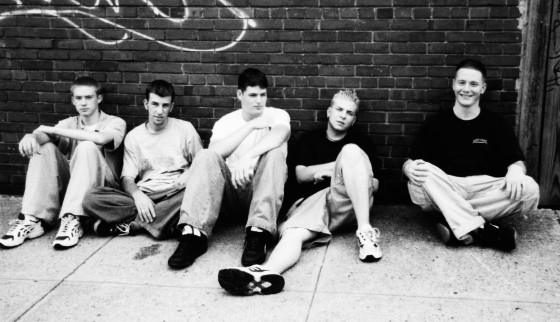 Ear One Productions confirms the upcoming release of Looking Back To The Way Things Were: Voice Of Reason 1995 – 2001, the entire discography from influential turn-of-the-century hardcore act, VOICE OF REASON, clocking in with seventy-two minutes of positive, West Coast-influenced youth crew songs, including demos, compilation and unreleased tracks, and their full-length album.
Having disbanded in 2001, throughout their short existence, VOICE OF REASON managed to release a slew of EPs, compilation tracks, and ultimately a full-length album via Triple Crown Records. Looking Back To The Way Things Were: Voice Of Reason 1995 – 2001 is a remastered collection of thirty-three tracks of the band's twenty-two-song discography, including multiple demo and comp versions of some songs. Connecticut-based Ear One Productions — who formed just over a year ago with the intent of specifically releasing music only from their home state — will release Looking Back To The Way Things Were… as a limited edition numbered digipak CD with a poster in a one-time run of 500 copies on June 3rd.
Ear One has created a new lyric video for the classic VOICE OF REASON anthem, "Still The Same," playing AT THIS LOCATION.
Preorders for the limited CD are now live HERE, and fans can also sign up for a free digital download of the discography HERE.
VOICE OF REASON was a popular melodic hardcore band formed in the mid-1990s. Founding members, guitarist Mike Sabia and vocalist Jay Reason, launched the band from the local Connecticut hardcore scene. An array of flyers from the mid-'90s to early 2000s boasts the band's name on an eclectic array of bills, ranging from Hatebreed and Warzone to New Found Glory and Saves The Day. In the band's early stages, they were often compared to 7 Seconds and Gorilla Biscuits. It was only appropriate that they would team up with NYC's legendary producer, Don Fury (Agnostic Front, Gorilla Biscuits, Sick Of It All), for their initial demo. In 1999, Fury mentioned "VOICE OF REASON have a quality that I look for in young bands – they believe in what they are doing, and they're not afraid to just be themselves." Don Fury would go on to receive producing credits for the majority of the band's output, and was often cited as helping them evolve their sound into a more melodic structure. It didn't take long for VOR to set themselves apart from their contemporaries with a driving edge that made them contenders within the post-hardcore scene as much as the scene that helped birth them.
VOICE OF REASON:
Jay Reason – lead vocals
Mike Sabia- lead guitar, backing vocals
Van Hartley – drums
Grant Ries – rhythm guitar, backing vocals
Patrick Brenna – bass
http://voiceofreasoncthc.com
http://www.earoneproductions.com
https://www.facebook.com/earoneproductions