On the tail of its initial digital materialization at the end of last Summer, the deluxe vinyl edition of MARK DEUTROM's third solo album, Brief Sensuality And Western Violence, is now on the verge of release.
The captivating third solo venture from ex-Melvins/Clown Alley guitarist, MARK DEUTROM, Brief Sensuality And Western Violence was released in September 2013, the nearly hour-long voyage across both ominous and peaceful territories through a variety of vocal approaches and instrumentation, bleeding together into the man's most organic and unreserved material to date. DEUTROM's cohorts at Austrian label Rock Is Hell have put the deluxe vinyl edition of Brief Sensuality And Western Violence into production for an expected mid-May delivery. Due to the length of the album, the material will span both one 12″ and one 7″ record configured together. States the artist of this setup: "The test pressings sound fantastic, and this one will put your stereo through a real workout."
There will be an offset version pressed on black and limited to 250 copies, and a hand-screened version on purple, limited to 100 copies. Both versions are being pressed in Europe and bear artwork the MARK D's wife, Jennifer Deutrom. The vinyl for Brief Sensuality And Western Violence is now available for preorder for North American fans through the MARK DEUTROM Bandcamp page RIGHT HERE, and via Rock Is Hell for international orders HERE.
"…a sublime slab of smoldering, cinematic fuzz-groove…" – Decibel Magazine
"…most coalesces the demon jazz and creeping intricacy that Deutrom has on offer… there's a cohesion in theme and a steadiness of atmosphere that speaks to Deutrom's mastery of the form." – The Obelisk
"This is a highly creative work, moving through a host of styles, using technology to great effect, and with great range and depth. 5/5" – Sea Of Tranquility
"Brief Sensuality and Western Violence explores music and the space between the notes, setting a specific mood and travelling through the vast expanse of storytelling through music… Occasionally, he utilizes complex time signatures to great advantage intentionally keeping you off-balance and somewhat unsettled." – Bloody Good Horror
"I could honestly listen to Deutrom's creamy powertones, crisp, jazzy lines and breathily expressive voice all bloody day, and, d'you know, I think I will. I'm pressing 'play' again and again…" – The Sleeping Shaman
"…it's carried off with a certain moxie, but also manages to be tasteful and non-invasive. This is an album which bridges a gap between the two disciplines, challenging listeners of both yet remaining accessible" – Metal Mouth.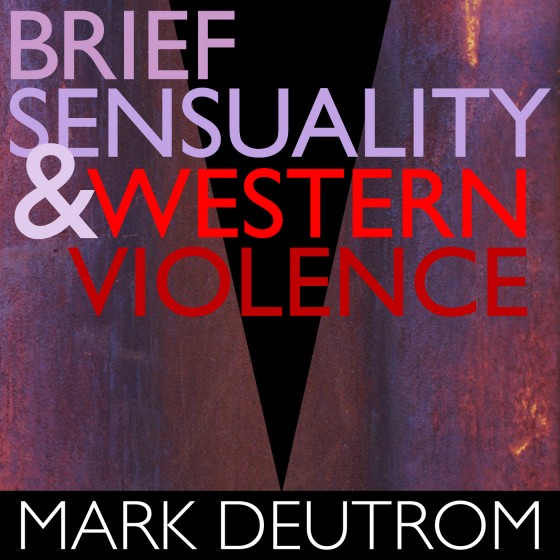 http://markdeutrom.bandcamp.com
http://soundcloud.com/mark-deutrom
http://markdeutrom.com
http://rockishell.bigcartel.com