Tokyo, Japan-based VIVISICK will issue their ravenous Nuked Identity full-length on vinyl next month via Tankcrimes.
The ten-track bruiser and follow-up to 2008's blazing Respect And Hate long player was tracked at Sonic Band Studio in Tokyo and boasts twenty-three-minutes of deliciously manic hardcore punk doused in boisterous sing-alongs, melody and wackiness for fans of The Stalin, Toy Dolls, 625 and traditional Japcore. The vinyl edition of Nuked Identity, which will come available in three color variations (splatter, clear and blue), was mastered by Dan Randall at Mammoth Sound and will be available via Tankcrimes Records on April 15th, 2016. For preorders go to THIS LOCATION. You can also check out the record in full via the Tankcrimes BandCamp HERE.
In advance of the vinyl release, VIVISICK will join forces with California power violence icons, Capitalist Casualties, for a near-week-long live takeover from April 5th through April 10th. See confirmed dates below.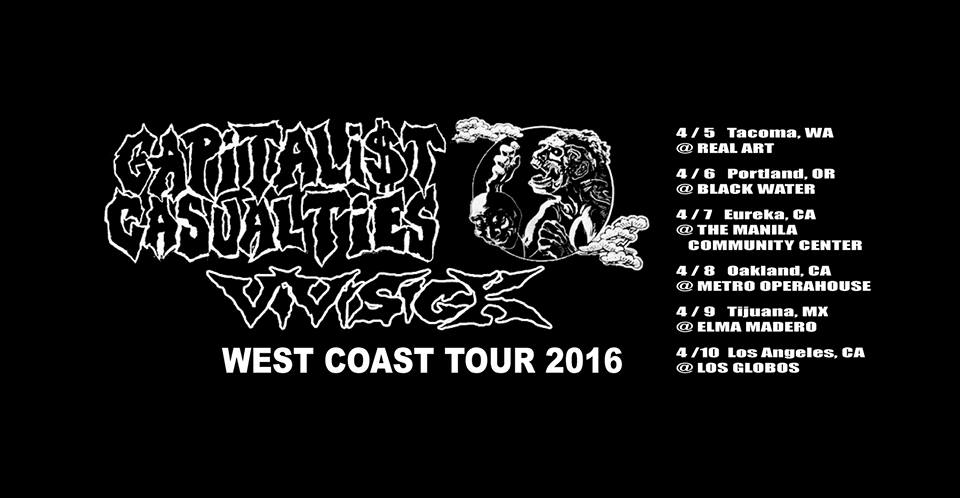 VIVISICK w/ Capitalist Casualties:
4/05/2016 Real Art – Tacoma, WA [tickets]
4/06/2016 Black Water – Portland, WA [tickets]
4/07/2016 MCRC – Eureka, CA [tickets]
4/08/2016 Metro – Oakland, CA w/ Ghoul [tickets]
4/09/2016 Elma Madero – Tijuana, MX [tickets]
4/10/2016 Los Globos – Los Angeles, CA [tickets]
"VIVISICK push forward after two decades with energetic, frantic hardcore punk. Never shying from a catchy chorus, the music is infectious…. Their live set encourages–no, demands crowd participation. This approach elevates the performance to the level of a movement, fevered and fueled by pure beliefs, disavowing gender, sexuality, age, class, and race. Nuked Identity is a punk manifesto that motivates its audience to shed their complacency." – New Noise Magazine
For further info contact liz@earsplitcompound.com.
http://www.vivisick.shouten.jp
http://www.facebook.com/vivisick
http://www.tankcrimes.com
http://www.facebook.com/tankcrimes