EYEHATEGOD
are back to flatten stages this Spring with two separate roadside takeovers. The first round will commence with a headlining tour set to kick off April 13th and run through May 3rd. The near-three week march features support from Fight Amp on select dates as well as special shows with Antiseen (April 15th) and Corrosion Of Conformity (April 16th). The band will take a short pause before heading back to the streets from May 29th through June 6th with hard punk icons Discharge with additional support provided by Toxic Holocaust. See all confirmed dates below.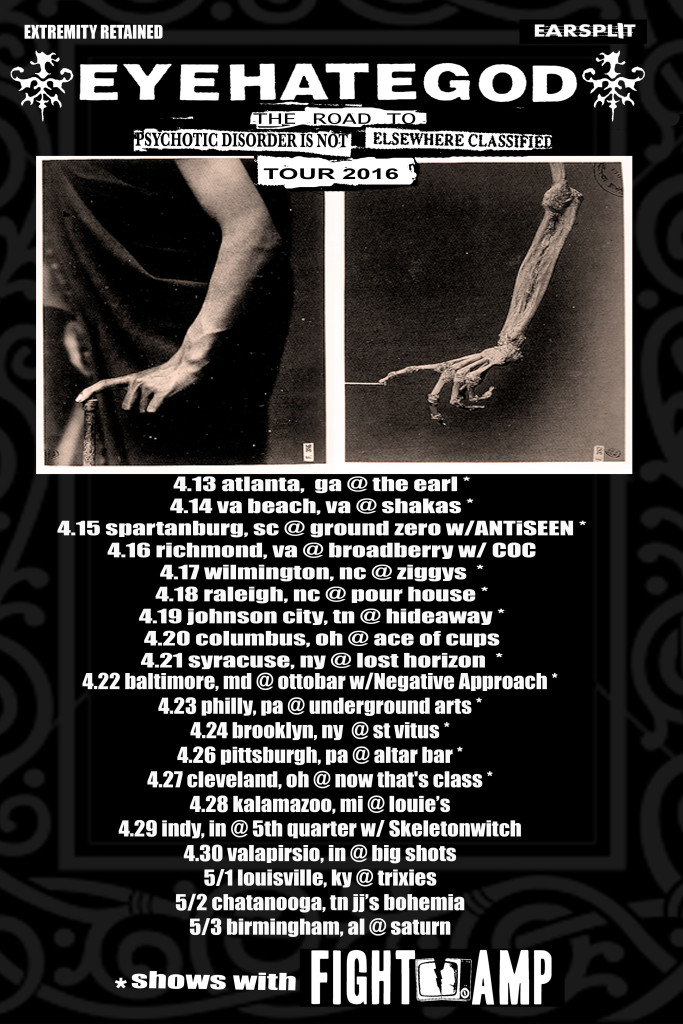 EYEHATEGOD:
4/13/2016 The Earl – Atlanta, GA * [Tickets]
4/14/2016 Shakas – Virginia Beach, VA * [Tickets]
4/15/2016 Ground Zero – Spartanburg, SC w/ Antiseen * [Tickets]
4/16/2016 Broadberry – Richmond, VA w/ Corrosion Of Conformity [Tickets]
4/17/2016 Ziggys – Wilmington, NC [Tickets] *
4/18/2016 Pour House – Raleigh NC [Tickets] *
4/19/2016 Hideaway – Johnson City, TN [Tickets] *
4/20/2016 Ace of Cups – Columbus, OH * [Tickets] *
4/21/2016 Lost Horizon – Syracuse NY [Tickets] *
4/22/2016 Ottobar – Baltimore MD [Tickets] w/ Negative Aproach*
4/23/2016 Underground Arts – Philadelphia, PA [Tickets] *
4/24/2016 St. Vitus – Brooklyn, NY [Tickets] *
4/26/2016 Altar Bar – Pittsburgh, PA [Tickets] *
4/27/2016 Now That's Class – Cleveland, OH [Tickets] *
4/28/2016 Louie's – Kalamazoo, MI [Tickets]
4/29/2016 5th Quarter – Indianapolis, IN [Tickets]
4/30/2016 Big Shots – Valparaiso, IN [Tickets]
5/01/2016 Trixies – Louisville, KY [Tickets]
5/02/2016 JJ's Bohemia – Chattanooga, TN [Tickets]
5/03/2016 Saturn – Birmingham, AL [Tickets]
* w/ Fight Amp
w/ Discharge, Toxic Holocaust:
5/29/2016 Brighton Music Hall – Boston, MA [Tickets]
5/30/2016 Webster Hall/Marlin Room – New York, NY w/ Ringworm [Tickets]
5/31/2016 Reggies – Chicago, IL w/ Ringworm [Tickets]
6/01/2016 Rickshaw Theater – Vancouver, BC [Tickets]
6/02/2016 Studio Seven – Seattle, WA [Tickets]
6/03/2016 Dante's – Portland, OR [Tickets]
6/04/2016 Slim's – San Francisco, CA [Tickets]
6/05/2016 Glass House – Pomona, CA [Tickets]
6/06/2016 The Roxy – Los Angeles, CA [Tickets]
EYEHATEGOD continues to cause mass hearing damage in support of their self-titled LP which dropped in 2014 via Housecore Records, breaking the band's decade-and-a-half gap since their prior full-length and marking the most successful release in the band's twenty-five-year lineage. Having helped define the NOLA sound with their signature down-tuned, blues-inflected guitars awash in furious distortion, underpinning the tormented screams of Mike IX Williams over a thundering rhythm section, EYEHATEGOD reemerged stronger and more determined than ever before. EyeHateGod personifies desperation and addiction in the various backwaters of forgotten America, punctuated by the "N'awlins" sound of rebellion and pollution resulting in triumph over adversity.
Orders for EyeHateGod in North America can be placed via Housecore Records HERE.
"…the record that EHG fans have been waiting for; a stomping and venomous set of eleven tracks that reignite the band's amazing propensity for down-trodden, electric blues and with their late drummer LaCaze behind the kit." – Noisey
"…the best material of their 25-year career." – Exclaim
"…their most entertaining release since 1996's Dopesick… urgent and raw, as if the band hasn't aged a day." – Consequence Of Sound
"EYEHATEGOD play to their ferociously metallic strengths while never compromising their identity as swampy sludge-rockers, and the result is an album that's equally impressive as it is brutal." – PopMatters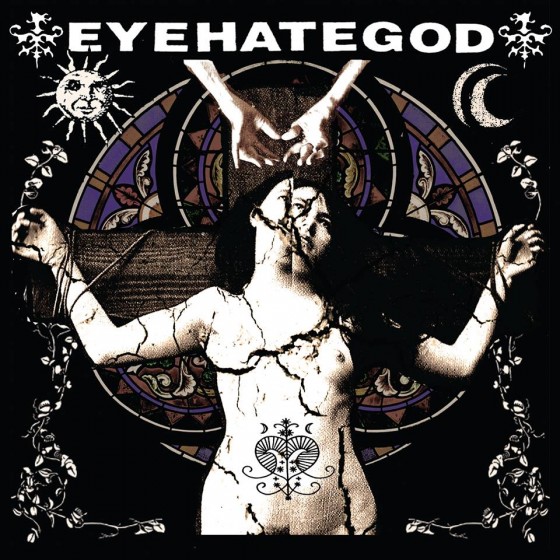 For all EYEHATEGOD coverage contact liz@earsplitcompound.com.

http://www.eyehategod.ee
http://www.facebook.com/OfficialEyeHateGod
http://www.thehousecorerecords.com

Following a short Winter slumber, the New Orleans ear bleeders in