Long Island hardcore pioneers VISION OF DISORDER have just released their newly-completed official video for the pummeling track "Hard Times." The fourth anthem from their lauded, fourth full-length The Cursed Remain Cursed, VOD enlisted the expertise of Tom J. Cronin to direct and construct the high-paced visual depiction of the song, filmed live at two vicious gigs in London and Manchester just days before the release of The Cursed Remain Cursed this past September.
Crowd-walk, stagedive and jaw-punch your way through "Hard Times" via Noisey, VICE Magazine's music channel, right here:
We are also now just days away from "Picking Up Change: Hardcore For Hurricane Relief." After witnessing the devastation brought on by Hurricane Sandy on October 29th, the band immediately reorganized their headlining show in Brooklyn this Saturday, November 24th to benefit victims of Sandy's wrath across the region. An event coordinated by VISION OF DISORDER alongside Candlelight Records, Earsplit PR and Metal Insider, officially, 100% of the ticket proceeds from VOD as well as supporting acts Yuppicide, Swarm of Arrows and Primitive Weapons will be donated to the Red Cross to aid residents whose lives were impacted by the storm. Show attendees are invited to bring supplies — nonperishable food, batteries, toilet paper, etc. — for area shelters and food banks, as donation bins will be posted outside of the venue. Supplies to aid pets and animals displaced by the storm will be donated to Last Resort Animal Rescue in New Jersey.
Those not in the area for this event who wish to help can make donations directly to the Red Cross via the Picking Up Change Firstgiving link.
Picking Up Change: Hardcore For Hurricane Relief
11/24/2012 Music Hall of Williamsburg – Brooklyn, NY
w/ VISION OF DISORDER, Primitive Weapons, Yuppicide, Swarm of Arrows
[TICKETS]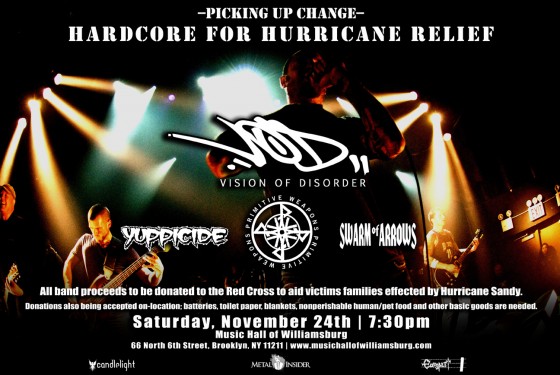 "…they still do it so fucking well… they've now figured how to meld hulking hooks with their blistering, angular riffs. And Tim Williams' long-revered vocal innovations are as impressive as ever." – Decibel
"Credit V.O.D. for taking such a long hiatus and coming back just as sharp and pissed-off as anyone could hope. The Cursed Remain Cursed marks a rock-solid return for the seminal metalcore act, and is a smart, sinister contribution to this year's field of extreme music." – Lambgoat
"…a welcome return… 4/5" – Revolver
"… the effort more than lives up to the high bar the band have previously set. Truly Vision Of Disorder's long-awaited return sees them emerging even more fearsome. 4/5" – The PRP
"…a criminally undervalued band… their first studio album since 2001, is the latest evidence of how great the band is. 4.5/5" – About.com
"…VOD completely embody what metalcore is all about, yet totally redefine it as well. 4.5/5" – The New Review
https://www.facebook.com/VisionOfDisorder
http://www.candlelightrecordsusa.com/
https://www.facebook.com/CandlelightRecordsUSA