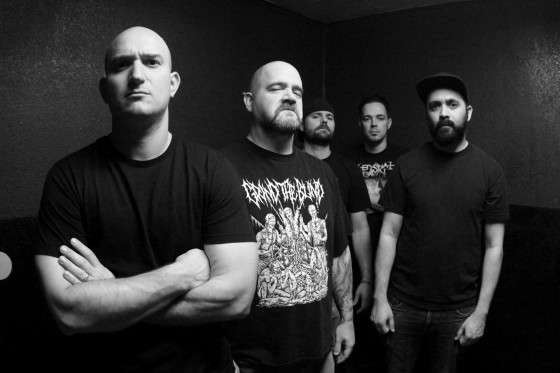 Following an entire decade without a new album, Phoenix-based melodic death metal kingpins, VEHEMENCE, return to full-time duty in 2015, having reactivated the band and completed their fourth full-length studio full-length, Forward Without Motion, which is now set for release this Autumn via Battleground Records.
Their first new album since 2004's Metal Blade Records–released Helping The World To See, VEHEMENCE returns to the death metal fold with a stunning new album that will surely see the band regaining their traction within the scene after their time off the grid. Forward Without Motion is the culmination of years of hard work and the collective desire to write the best songs and capture the best performances. Guitarist and founding member Bjorn Dannov perhaps says it most succinctly when describing the record, "I really believe this is our strongest album to date. With our previous albums, we were so inexperienced in the studio so I was never really happy with the final product, production-wise. This album I feel represents the songs well. We wanted to capture a tight performance, but not overly produced and sound replaced like a lot of modern metal albums. We still wanted to maintain an organic element to the sound, which I believe we achieved." Working on the songs off and on for several years between 2007 and 2011, VEHEMENCE began a methodical, painstaking tracking process for Forward Without Motion between 2012 and 2014, the album's guitars, bass, and vocals being recorded at the home studios of Dannov and guitarist Kyle Moeller, with the drums being recorded at Villain Studios in Phoenix. "Kyle did all the mixing, reamping, and mastering," Says Dannov. "It was really great to have those tools at our disposal, without having to worry about a budget or studio expenses."
When listening to Forward Without Motion, one will discover the refreshing sounds of a band creatively reborn and seasoned by experience. The album flows with a relentless, throat grabbing energy that never flags and begs for repeated spins. This cohesive power is nowhere more apparent than in the strength of the instrumental and vocal performances, which slash and hammer their way out of the speakers with a passion rarely found in the cold, mostly lifeless corpses that are most modern death metal recordings. When asked about the lyrical themes behind the songs and album title of the album, VEHEMENCE vocalist Nathan Gearhart remarks, "The lyrics of Forward Without Motion each tell a unique story dealing with pain, loss, sadness, and horror. Written over the course of twelve years, each piece stands alone in subject. The consistent theme of the lyrics as a whole denote humanity's dark side, and summarize our lives and impact on our world during our limited time. Nothing changes. Nothing gets better or worse. It's all the same. It's time without a number. We are all going to die leaving this world just as fucked as those before us, and future generations will continue this cycle." Gearhart also has much to say about the core ethos of the band when reflecting upon both the present and the years past, "Bjorn and I have been jamming together since 1996. Mark and Andy joined in '97-'98. VEHEMENCE is a band of brothers with no bigger intent other than getting together and creating together. Kyle is a great compliment to the core of the band, and his involvement along with the material and performance contributed by Jake Green are what helps to take us into our current chapter. Forward Without Motion is our life's work. I am so proud of what we have created, and I hope others enjoy our art as much as I do."
VEHEMENCE will release Forward Without Motion through Battleground Records on October 27th in various formats, including a 2xLP set on 180-gram black vinyl in gatefold packaging, a CD version, and across various digital platforms.
In conjunction with the release of Forward Without Motion, VEHEMENCE will be performing several shows in support of the album shortly before the street date. Additional information on the album, audio samples, an official video and more will be released throughout the Summer and early Autumn months.
http://www.facebook.com/vehemenceofficial
http://soundcloud.com/vehemenceofficial
http://twitter.com/vehemenceaz
http://www.youtube.com/vehemenceband
http://www.facebook.com/battlegroundrecords
http://battlegroundrecords.bigcartel.com
http://twitter.com/battlegroundrnr