[photo by Andre Loyning]
Norwegian Grammy Award-winning experimental rock cult, ÅRABROT, has just released the maiden single from their latest EP, You Bunch Of Idiots, through Vice Magazine's Noisey music blog, just weeks ahead of the record's release, and the band's touring return to North American shores.
You Bunch Of Idiots is the third in a trio of themed EPs from ÅRABROT, the first two of which — Murder As Art and I Modi — having already seen release via Fysisk Format, who now partners with the Eolian Empire for the band's first official US title. A ferocious blast of twisted noise rock and poetic rants, You Bunch Of Idiots drops six tracks of hook-laden noise rock with sludge, industrial, and rock 'n' roll flourishes, through it all spit-flecked spout-offs, hissing fits, and bellowing which draws you in and keeps you there. The EP was recorded and mixed by Milton von Krogh at Djura Missionshus, Djura, Sweden, and Taakeheimen Lydrike, Oslo, Norway, with vocal overdubs recorded by Karin Park at Djura Missionshus, Djura, Sweden, after which the platter was mastered by Jason Ward at Chicago Mastering. The excellent cover art was provided by Norwegian artist Johannes Høie, who has handled the prior two EPs in the series as well as other ÅRABROT merch.
Landing at the number four spot on You Bunch Of Idiots, "Mea Culpa" shows the disturbing underbelly of what ÅRABROT is so proficient in creating, seamlessly genre-bending extreme forms of music into an unclassifiable and mesmerizingly warped and unique sound. Noisey issues alongside the exclusive premiere of the track, "…here it seems that one man's bewilderment is another man's finger hovering over the detonator of a doomsday device while he entertains the idea of ending the world. That casual (and sometimes playful) disregard for humanity and all its conventions that persists throughout the EP comes to a head on its first single, 'Mea Culpa,' which Nernes penned while drinking alone in an old London pub on a dismal afternoon shortly before learning the full extent of his health condition…".
Transmit ÅRABROT's "Mea Culpa" at maximum volume courtesy of Noisey RIGHT HERE.
You Bunch Of Idiots is set for release via Eolian Empire and Fysisk Format as a 12″ vinyl EP including download card and all digital outlets on June 23rd. Preorders for the vinyl edition of the record are now available in North America via Eolian Empire HERE and via Fysisk Format HERE.
On the week of the EP's stateside release, ÅRABROT will invade North America for three weeks, touring in support of You Bunch Of Idiots. The band was slated to tour the West Coast US last year, and unfortunately had to cancel the trek due to main man Kjetil Nernes' bout with cancer. Having beaten the hideous disease, the band will now hit the US and Canada with direct support from UK sludge power duo, Ghold, with appearances from the likes of Dispirit and Lycus on several shows, and Pinkish Black on the final five dates.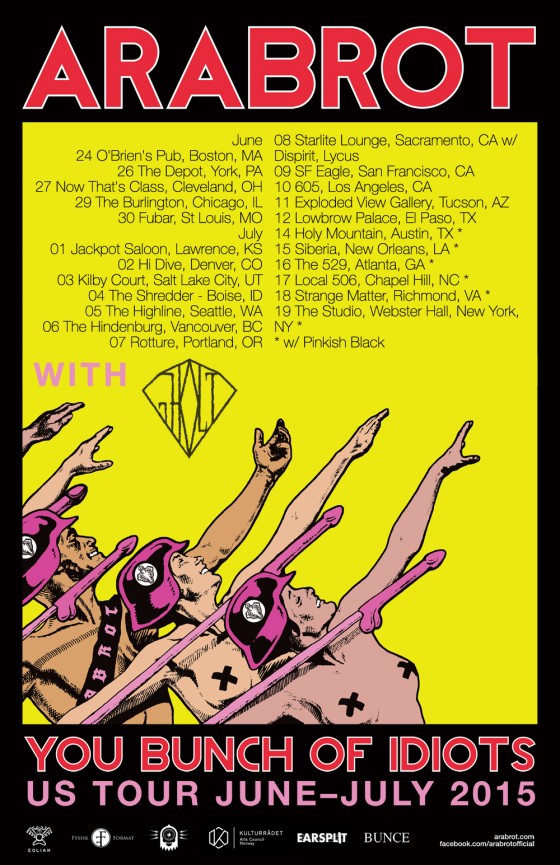 ÅRABROT North American Summer Tour w/ Ghold:
6/24/2015 O'Brien's Pub – Boston, MA
6/26/2015 The Depot – York, PA
6/27/2015 Now That's Class – Cleveland, OH
6/29/2015 The Burlington – Chicago, IL
6/30/2015 Fubar – St Louis, MO
7/01/2015 Jackpot Saloon – Lawrence, KS
7/02/2015 Hi Dive – Denver, CO
7/03/2015 Kilby Court – Salt Lake, City, UT
7/05/2015 The Highline – Seattle, WA
7/06/2015 The Hindenburg – Vancouver, BC
7/07/2015 Rotture – Portland, OR
7/08/2015 Starlite Lounge – Sacramento, CA w/ Dispirit, Lycus
7/09/2015 SF Eagle – San Francisco, CA
7/10/2015 605 E 4th Street – Los Angeles, CA
7/11/2015 Exploding Heart Gallery – Tucson, AZ
7/12/2015 Lowbrow Palace – El Paso, TX
7/14/2015 Holy Mountain – Austin, TX w/ Pinkish Black
7/15/2015 Siberia – New Orleans, LA w/ Pinkish Black
7/16/2015 The 529 – Atlanta, GA w/ Pinkish Black
7/17/2015 Local 506 – Chapel Hill, NC w/ Pinkish Black
7/18/2015 Strange Matter – Richmond, VA w/ Pinkish Black
7/19/2015 The Studio, Webster Hall – New York, NY w/ Pinkish Black
Led by songwriter, guitarist and vocalist Kjetil Nernes (songwriter, guitar, vocals), for fourteen years ÅRABROT has fearlessly trudged through the European underground, carving out a sonic territory of sludge, punk, metal, and art rock, all collapsed into something uniquely their own. Wearing perennial outsider status like a badge of honor, ÅRABROT laughs in the faces of the naysayers and proudly towers above them. While drawing from the likes of Dadaism, The Marquis De Sade, and transgressive art might be a recipe for pretentious tripe in the wrong hands, the outfit wraps it up with winks and grins, and — most importantly — rocks the hell out. One of Europe's premiere touring acts, their devastating power live cannot be underestimated, channeling stadium-level theatrics and volume for the underground club set.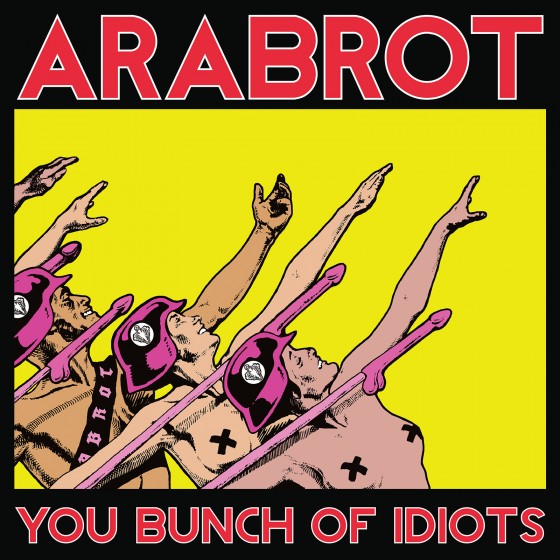 http://arabrot.com
http://facebook.com/arabrotofficial
http://eolianempire.com
http://www.fysiskformat.no
http://www.kulturradet.no