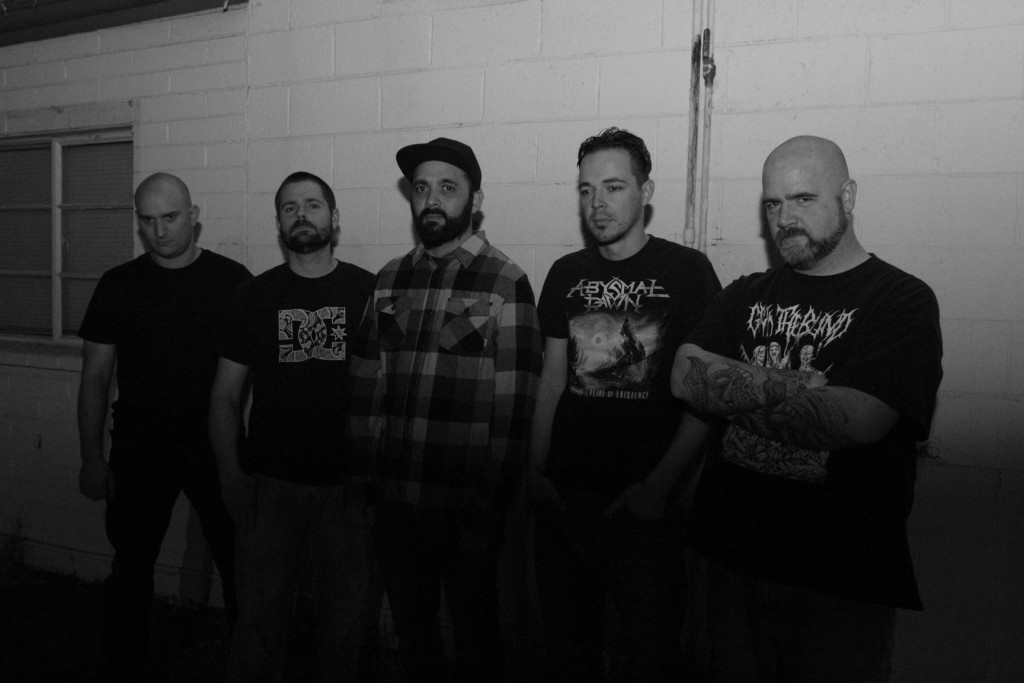 A new lyric video from Phoenix death metal quintet, VEHEMENCE, has just been released through a Revolver Magazine exclusive, the destructive visuals having been constructed for the latest single from their impending Forward Without Motion LP, "Murdered By The Earth."
Forward Without Motion closes a nearly twelve-year rift between releases for underground death metal heroes, VEHEMENCE, the resurrected outfit's first new recording since their Metal Blade released 2004 record, Helping The World To See. Battleground Records now prepares the band's most conquering material to date for release through Forward Without Motion, an album that sees their overall output more professionally crafted and delivered than ever, and while retaining their blazing leads and melodic aspects, shows a band hardened with age and seething with venomous energy.
VEHEMENCE now proudly demoralizes the public with "Murdered By The Earth," showcasing the longest track on the triumphant Forward Without Motion and a glorious example of the album's searing delivery. A well-crafted lyric video for the song has been constructed by Jonathan Chunglo, portraying the decades of war, oppression, hostility and conflict created by humans, for humans, and the irreversible damage we've caused to our home planet, both of which are rapidly advancing our inevitable demise.
See it first through Revolver Magazine's deployment of VEHEMENCE's "Murdered By The Earth" now at THIS LOCATION.
The band's vicious "It's All My Fault" track is playing at Decibel Magazine HERE and the official video for "I Don't Want To Look Inside" at Metal Injection RIGHT HERE.
VEHEMENCE's two Arizona record release shows for Forward Without Motion are rapidly approaching as they'll wreck Tucson on October 23rd, the exact day of the LP's release, and then raid Tempe the following night. Further regional and widespread tour dates from will be announced throughout the months ahead.
VEHEMENCE Forward Without Motion Release Shows:
10/23/2015 The Rock – Tucson, AZ w/ Magguts, Chronovorous, Defiled Existence, Dead Is He, Dirt Over Lime [info]
10/24/2015 Yucca Tap Room – Tempe, AZ w/ Sorrower, Lago, Through The Earth [info]
With nearly a full hour of new material, Forward Without Motion's guitars, bass, and vocals were recorded at the home studios of guitarists Bjorn Dannov and Kyle Moeller, the drums recorded at Villain Studios in Phoenix, and the album mixed and mastered by Kyle Moeller at Spoke Audio, its grim cover art created by Hal Rotter/Rotting Graphics (Atriarch, Inherit Disease, Barghest). With soaring melodies and sweltering leads surging through the crushing core of the the album, VEHEMENCE returns with utter malice, and the impressively captured Forward Without Motion stands out with fresh, invigorating vibrancy against a sea of needlessly technical digitally weakened clones in the modern death metal scene, undoubtedly a highlight of the genre in 2015.
On October 23rd, Forward Without Motion will see release via Battleground Records through all digital outlets, on digipak CD and as a 2xLP limited to 300 copies on 180-gram black vinyl and housed in gatefold sleeve including a digital download. The digital download bears two bonus tracks, re-recordings of the songs "I Take Your Life" and "Reconditioning The Flock", from the band's self-released 1999 debut album, The Thoughts From Which I Hide. Preorders are available for the digital HERE, the digipak CD HERE, and the 2xLP HERE.
http://www.facebook.com/vehemenceofficial
http://www.soundcloud.com/vehemenceofficial
http://www.twitter.com/vehemenceaz
http://www.youtube.com/vehemenceband
http://www.facebook.com/battlegroundrecords
http://www.battlegroundrnr.com
http://www.twitter.com/battlegroundrnr