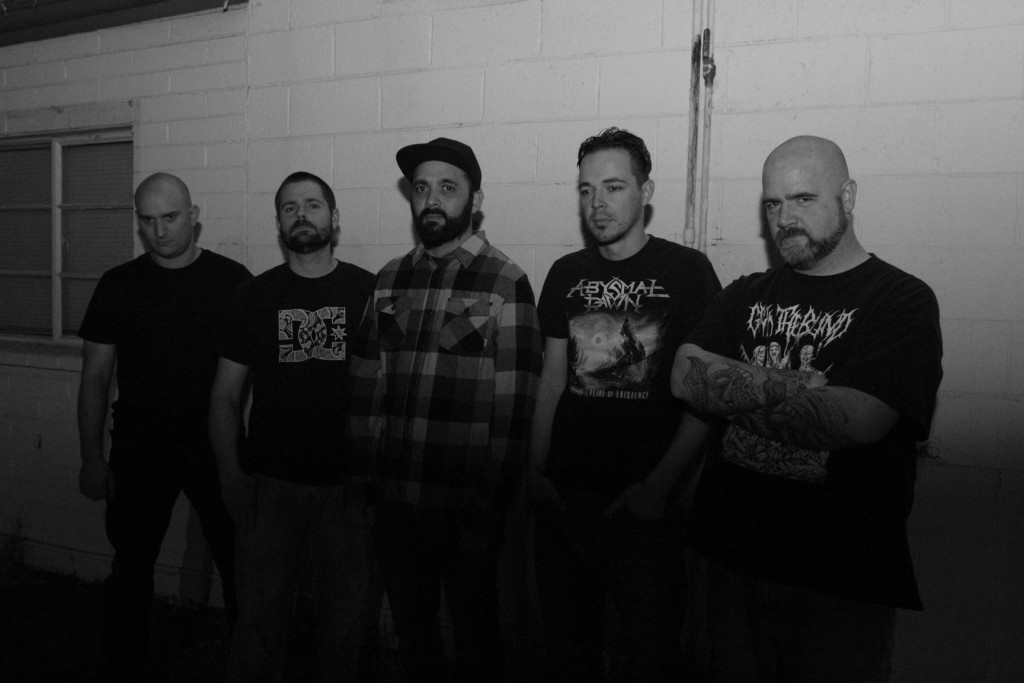 "…one of the best melodic death metal albums of this year." – No Clean Singing
This week, death metal fans around the smoldering globe bow in exultation as the return of Phoenix death metal battalion VEHEMENCE becomes a reality, through the release of their long-awaited album, Forward Without Motion, and the band returns to the stage in its honor. Taking part in this gory international gala, No Clean Singing is now offering an early listen to Forward Without Motion in its entirety.
The resurrected outfit's first new recording since their Metal Blade released Helping The World To See, VEHEMENCE not only closes a nearly twelve-year rift between releases in 2015, with Forward Without Motion the band comes storming forth with a searing and vengeful contemporary melodic death metal classic. Honest, organic, expansive and epic, the album stays true to the band's roots, but also shows a band hardened with age and seething with venomous energy while retaining their blazing leads and melodic aspects with more professionally crafted and delivered output than ever and nearly an hour of brand new material. The alignment of these traits truly makes Forward Without Motion stand completely apart from legions of soulless, mechanically engineered studio recordings of today's climate.
Issues the band to their loyal fanbase, "Thanks to everyone who has supported VEHEMENCE over the years. Especially the many years of inactivity. It is really humbling to all of us that we still have fans that give a shit and kept our band alive. Regarding this record… We really feel that this is the pinnacle of our career. We worked hard to get this album to you, and we hope you all enjoy it. Cheers!"
No Clean Singing is now streaming Forward Without Motion in full, ahead of its street date through Battleground Records this Friday, October 23rd. Having previously proven their VEHEMENCE fandom and knowledge with an incredible retrospective review of the band's prior albums, the site now offers of the brand new album, "The work shows, and the new album proves that VEHEMENCE haven't lost a step in decade that has passed since their last album. Like all of the band's previous releases, this new one is a dynamic, multi-faceted trip… Featuring amazing technical athleticism and melodic dual-guitar solos that are alone worth the price of admission, plus an array of hair-raising forms of vocal savagery, this is an album that's strong as steel from start to finish – one of the best melodic death metal albums of this year."
Celebrate the return of VEHEMENCE and unleash Forward Without Motion RIGHT HERE.
See the band's video for "I Don't Want To Look Inside" HERE and the lyric video for "Murdered By The Earth" HERE.
VEHEMENCE's two Arizona record release shows for Forward Without Motion take place this weekend. This Friday, October 23rd — the exact day of the LP's release — the band will play in Tucson, with a second show in Tempe the following night. Additional upcoming regional and widespread tour dates will be announced throughout the months ahead.
Forward Without Motion sees release via Battleground Records this week through all digital outlets, on digipak CD and as a 2xLP limited to 300 copies on 180-gram black vinyl and housed in gatefold sleeve including a digital download. The digital download bears two bonus tracks, re-recordings of the songs "I Take Your Life" and "Reconditioning The Flock", from the band's self-released 1999 debut album, The Thoughts From Which I Hide. Preorders are available for the digital HERE, the digipak CD HERE, and the 2xLP HERE.
VEHEMENCE Forward Without Motion Release Shows:
10/23/2015 The Rock – Tucson, AZ w/ Magguts, Chronovorous, Defiled Existence, Dead Is He, Dirt Over Lime [info]
10/24/2015 Yucca Tap Room – Tempe, AZ w/ Sorrower, Lago, Through The Earth [info]
http://www.facebook.com/vehemenceofficial
http://www.soundcloud.com/vehemenceofficial
http://www.twitter.com/vehemenceaz
http://www.youtube.com/vehemenceband
http://www.facebook.com/battlegroundrecords
http://www.battlegroundrnr.com
http://www.twitter.com/battlegroundrnr