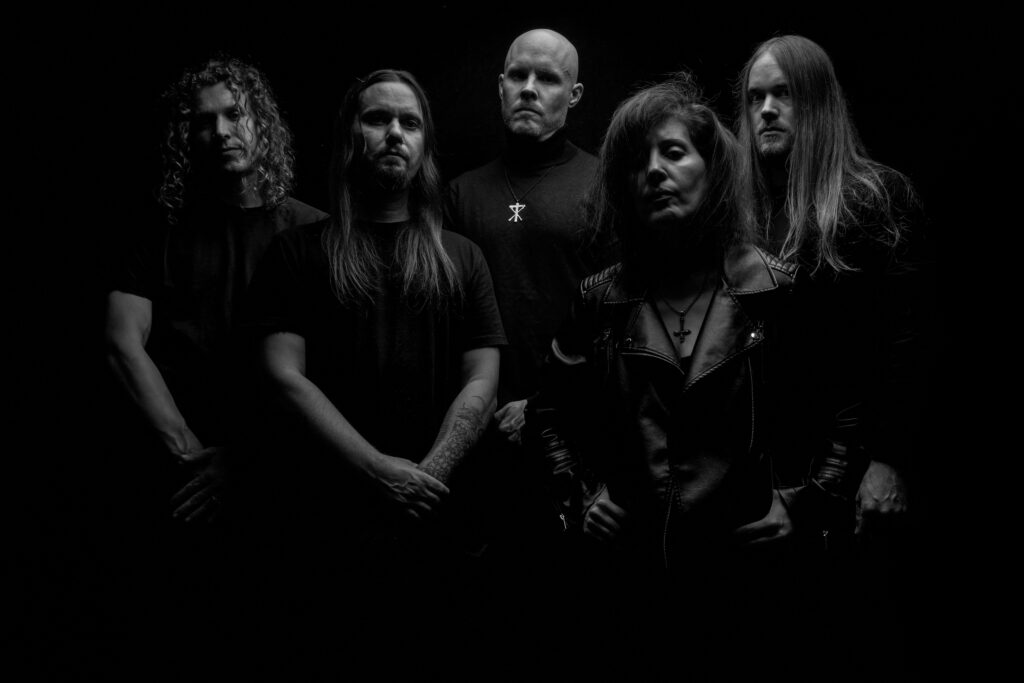 photos by Chris Johnston
"They've scarcely sounded uglier." – Decibel Magazine
20 Buck Spin is now streaming Inward To Gethsemane, the horrific fifth album from Oakland-based death metal quintet VASTUM, ahead of its official worldwide unveiling this Friday.
Four years and one pandemic on from Orificial Purge, VASTUM, the longest running band on the 20 Buck Spin roster, offers up its fifth bludgeoning document of psychic malaise and lost faith with Inward To Gethsemane. As before, the abject disgust unsparingly captured in VASTUM's unique approach continues to drape the music with an aura of discomfiting unease.
The cavernous density that VASTUM has made a core element of its discography remains as inhuman as ever, continuing to delve into darker atmospheres, yet never devolving into ambient murk; on the contrary it's always punishing and with a fearsome momentum. The distinctively harrowing dual lyrical/vocal attack of Daniel Butler and Leila Abdul-Rauf appears throughout Inward To Gethsemane; the possessed narrators of the band's hellish underworld. Eight-minute album closer "Corpus Fractum" manifests a transformative and even experimental side of VASTUM musically and vocally, while sustaining the characteristic merciless power the band is revered for across its five albums.
Between the sporadic but legendary live performances and a worshipped discography of modern era true death metal with five albums in twelve years all released through 20 Buck Spin, VASTUM has become a torchbearer of the grisly and grotesque underground, both within its native Bay Area and well beyond. Inward To Gethsemane carves another notch in the band's totem of deviance.
Inward To Gethsemane was mixed and recorded by Greg Wilkinson at Earhammer Studios (Acephalix, Ulthar, Necrot), mastered by Brad Boatright at Audiosiege (Obituary, Mournful Congregation, Creeping Death), with artwork once again by vocalist Daniel Butler, photography by Chris Johnston, and layout by Dan Fried. All who endure the hammering ways of Bolt Thrower, Undergang, Autopsy, Necrot, Phrenelith, Mortuous, Coffins, Dead Congregation, Grave, and Demigod, do not miss VASTUM's Inward To Gethsemane.
Experience VASTUM's entire suffocating Inward To Gethsemane early now at YouTube RIGHT HERE.
20 Buck Spin will issue Inward To Gethsemane on LP, CD, MC, and digital formats on November 10th. Find preorder options and merch at the label webshop HERE and Bandcamp HERE.
VASTUM will also be featured in the upcoming issue of Decibel Magazine, who has sanctioned an exclusive track, "Befouled in Self-Salvation," for their flexi series. Read more HERE.
Stand by for additional updates from VASTUM to post over the weeks ahead.
"VASTUM are just so mean, so dark, so human. Animated by our own most base impulse – carnal and otherwise – then driven to explore the philosophical implications thereof, they're wired a little different, plugged into an old-school sensibility, but with an ugly sound that never existed in any timeline. They've scarcely sounded uglier. 9/10" – Decibel Magazine
"…VASTUM give it the gas right away, surging ahead like a hellish tank-phalanx, with all corroded pistons firing, guns blazing white phosphorus, and drums inflicting a merciless beating, while Dan Butler savagely roars and Leila Abdul-Rauf maniacally screams… I can think of many places where I'd like to point this demolition machine and let it run riot and ruin what's in front of it." – No Clean Singing
"…ambient, noisy elements to take the record into new, dark directions and plumb the depths. Daniel Butler and Leila Abdul-Rauf keep their joint vocal attacks alive on this album, calling forth the depths of hell… every instrument and vocal line feels super intentional, and everything from the lyrics to the titles to the art creates a definite vibe. 4.5/5" – MetalSucks
"VASTUM's grimmest record to date… Inward To Gethsemane, an allusion to the garden where Jesus supposedly wept after realizing his fate, is blood-curdling — the album is an exploration of 'the limits of purity,' and its seven tracks ricochet between anguish and disgust." – Invisible Oranges
"A VASTUM record never is an easy experience for the uninhibited, and even if you've been along for the entire five-album ride, their psychologically damaged death metal still finds ways to create new mental wounds. Inward to Gethsemane is a penetrating experience, another sojourn into the worst, most warped forces in this world, compounding your suffering with the band's uneasy approach to death metal that can leave you heaving in pain." – Meat Mead Metal
"To boil it down, VASTUM has done it again, unleashing a visceral and challenging album on the world. What I know for sure is that this album will make my list of top releases in 2023." – Echoes And Dust
https://www.facebook.com/vastumofficial
https://vastum.bandcamp.com
https://vastum.storenvy.com
https://www.20buckspin.com
https://listen.20buckspin.com
https://www.facebook.com/20buckspin
https://twitter.com/20buckspinlabel
https://www.instagram.com/20buckspinlabel