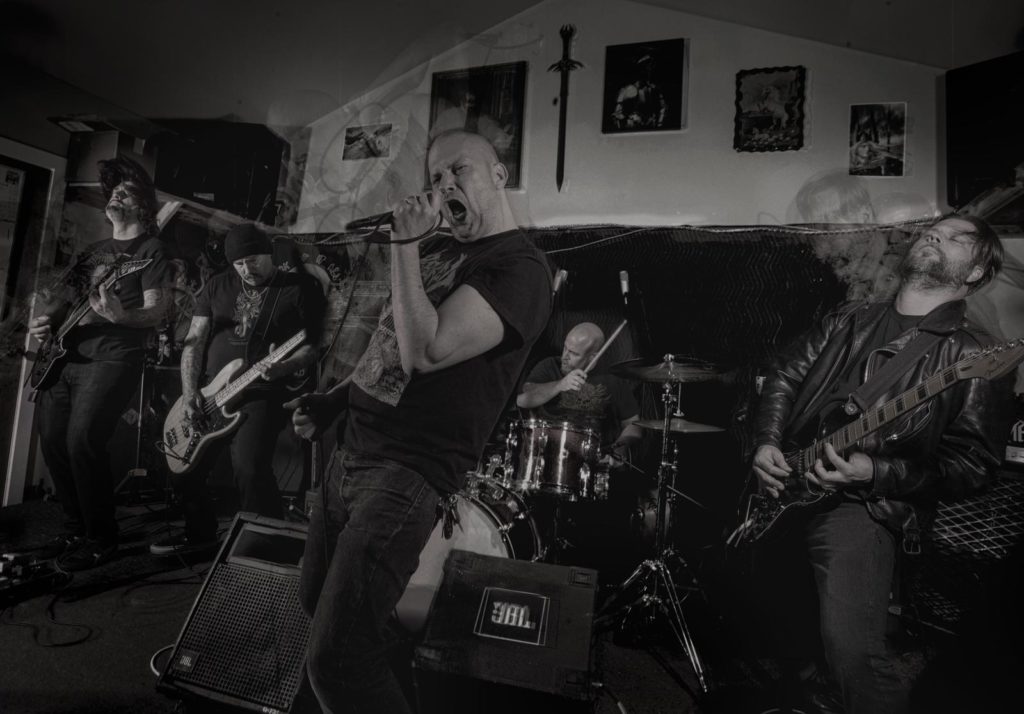 photos by Peter Line
Seattle thrash/traditional metal quintet VANISHMENT presents their first video, created for the ripping track "Dismiss The Warning." The song is found on the band's debut album, No More Torture, which was released early this month on Dead Sage Records.
VANISHMENT is vocalist Rob Ropkins (Deadly Light, North American Bison), guitarists Brian Johnson (Himsa, Trial) and Jeremy McAllister (Heiress, Wizards Of Wor), bassist Nate Baker (Hell Promise, Formula One), and drummer Chris Wozniak (Lair Of The Minotaur, Earthen Grave). The band takes pride in their DIY attitude, relentlessly heavy songs, and face-melting live experience that leaves an indelible mark upon all in its path. Initially formed as Pinned Red in 2019, they refocused their efforts under the new name VANISHMENT, pulling inspiration from classic thrash and heavy metal bands like Metallica, Iron Maiden, Megadeth, and Judas Priest, and released their eponymous debut EP in 2021. The band has since honed their raw energy and aggressive sound live regularly throughout the Pacific Northwest, performing alongside some of the biggest names in the metal scene. In between shows, the band continued to write and record what will be their debut full-length album, No More Torture.
Recorded by the band and mastered by Chris Hanzsek, No More Torture drops forty-two minutes of pummeling metal with all the classic elements fans of old-school Bay Area thrash will appreciate underpinned with more modern metallic hardcore elements and hooks lying just below the surface.
The video for "Dismiss The Warning" was filmed by the band and edited by Jeremy McAllister, who writes, "We just wanted to capture us playing the song as we normally do, straight-forward and rippin'. Let the song do the talkin'. All those other jive turkeys with their fancy cameras and post-production… we did this with a case of beer, candles, and cell phones. Our lifestyle determined our film style."
Tune in to watch VANISHMENT's "Dismiss The Warning" video now at THIS LOCATION.
No More Torture is out now digitally and on CD through Dead Sage, available HERE.
VANISHMENT continues performing regularly, and having recently won the first round of Metal Battle USA in Seattle, the band will now advance to the West Coast regional at Dante's in Portland on April 1st. The national winner goes to Wacken this Summer to battle international winners. The band has also booked a hometown release show for No More Torture on April 7th and a show supporting Accused AD on May 7th. Stand by for additional shows to be announced over the weeks ahead.
VANISHMENT Live:
4/01/2023 Pacific NW Regional Round of Wacken Metal Battle USA @ Dante's – Portland, OR
4/07/2023 Substation – Seattle, WA *Record Release Show w/ Blighted Eye, Goat Sanctuary, Serpent Speech [info]
5/07/2023 The Cherry Pit – Seattle, WA w/ Accused AD, Deathblow
"…rides a chugging South Of Heaven Slayer vibe into a trad metal gallop and solidly hits that sweet spot between old-school U.S. speed metal and full-on thrash. The vocals are more melodic than, say, Tom Araya, but Ropkins ain't a Halford-esque screamer." – Decibel Magazine
"No More Torture makes me long for the glory days of thrash, particularly the Bay Area masters. If VANISHMENT had been around then instead of now, they easily could've held their own with the likes of Testament and Forbidden along with most other acts of the time. But I don't need to be in a nostalgic mood to give this a spin, it's a great album on its own — as you'll now discover for yourselves." – No Clean Singing
"There's a bit of mystery mixed with nostalgia and then, particularly when vocalist Rob Ropkins begins to sing, it is clear that VANISHMENT is harnessing their influences together while establishing an altogether unique identity as a band. While there have been various bands in the last decade that touch on a more classic metal sound, VANISHMENT is a welcome breath of fresh air to me." – No Echo
"…you won't be able to drag your ears away from this for even one second of the album's forty-minute duration, I guarantee. This is genuinely high-quality stuff – world class heavy metal in fact." – Sentinel Daily
https://linktr.ee/vanishment
https://vanishment.bandcamp.com
https://instagram.com/vanishmentseattle
https://www.facebook.com/Vanishment.Seattle
http://deadsage.com
https://deadsage.bandcamp.com
https://www.facebook.com/Deadsagerecords