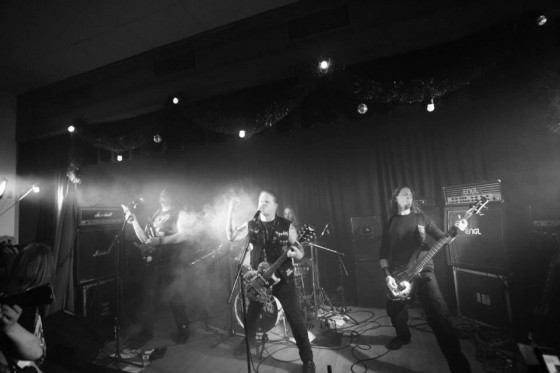 Relics Of Sulphur Salvation, the third LP from Swedish death metal quartet, VANHELGD, is set for Spring release in North America via 20 Buck Spin and internationally via Pulverised Records, and today the first single from the devastating album has been made available.
Following their 2007 formation, VANHELGD's Nuclear War Now! Productions-released Cult Of Lazarus debut LP, Praise The Serpent EP and Church Of Death LP, have cultivated the band a diehard following in the death metal underground, the band's smoldering, riff-fueled, warfare upon the religious sects of the human population in a traditional approach yet still retaining a freshness in their delivery. Relics Of Sulphur Salvation destroys with eight intricate yet memorable songs that strike with an urgent ferocity; pure death, played with relentless and nuanced savagery. VANHELGD's natural skill for crafting monumental songs suggests early At The Gates, Entombed, Dismember and Asphyx, yet on a more modernized standard alongside Miasmal, Morbus Chron and at times, even with the epic ebb of Watain. Relics Of Sulphur Salvation was cavernously recorded and mixed by Joona Hassinen at Studio Underjord and finalized with crushing mastery courtesy of Tore Stjerna at Necromorbus (Repugnant, Watain, Tribulation).
The ominous third track from Relics Of Sulphur Salvation, "Where All Flesh Is Soil," has been released well in advance of the album's street date. Get a sampling of this band's obvious talent for mutilation with the track via Youtube HERE and Bandcamp HERE.
Preorders and additional album info will be released shortly, and Relics Of Sulphur Salvation will see North American release via 20 Buck Spin on May 27th. While Pulverised will handle CD and digital sales internationally, the LP edition will be released worldwide by 20 Buck Spin, including limited colored vinyl for mailorder customers.
Much in the way that the first wave of Swedish death metal bands began to wildly diverge stylistically by the time of their second and third LPs, so too has the current crop of the country's extreme acts, polarizing critics and fans alike. Fortunately, some bands simply proceed logically forward, advancing their sound without abandoning what made them appealing to begin with. VANHELGD stands towering among those few with Relics Of Sulphur Salvation. A thousand records will be released this year for the average death metal fan. Only a handful will warrant more than a spin or two and even less will make it off the shelf and onto the turntable after a year or more. Relics Of Sulphur Salvation is that record; a striking new precedent for real death metal in 2014.
http://www.mattiasfrisk.com/vanhelgd.html
https://www.facebook.com/vanhelgd
http://www.20buckspin.com
http://www.facebook.com/20buckspin
http://twitter.com/20buckspinlabel