While their third full-length, At War With, inundated the masses in 2013, Mammoth Lake, California-based black/death trio VALDUR has remained secluded from band actions for several months, but now the cult confirms their upcoming emergence from their Sierra Nevada catacombs for a special live performance, as well as the penning of new material.
On July 9th, VALDUR will invade Sacramento to provide direct support for the only West Coast appearance of the mighty Sargeist, the bill also including Killgasm and Pale Chalice.
Collectively issues the VALDUR clan of their impending activities, "We chose to step back and remain quiet for a while by not playing live or being active as a band, besides releasing At War With at the end of last year. But we have agreed to play a special Sacramento show set up by our friend Jaime from Killgasm. The plan is to then retreat back into privacy here in our mountain town of the Eastern Sierras and continue to compose some strange music indeed…."
VALDUR Live:
7/09/2014 Starlite Lounge – Sacramento, CA w/ Sargeist, Pale Chalice, Killgasm [info]
Further information on VALDUR will be released later in 2014 upon the completion of their next recorded works. In the meantime, the first run of At War With CDs has already sold out, and the cassettes are already running low, so get em while you can via bloodymountainrecords.com.
Recorded at Earhammer Studio with Greg Wilkinson and mastered by Michael Z. (Secrets of the Moon, Ascension) at Source Studios, At War With douses its listeners with ten punishing hymns of audio abhorrence. A grotesque outpouring of war marches, harrowing riff torrents, possessed vocal tirades, fanatical blastbeats and an all-consuming atmosphere of chaos, apprehension and maniacal discontent, At War With proves VALDUR as one of America's best kept extreme metal secrets. Featuring past and current members of Weverin, Endless Blizzard and Plutocracy, the band was forged at the turn of the century in a small mountain town located in the pulsating heart of the Sierra Mountains where the Death Valley desert lands meet the ascending Mt. Whitney and where the unholy trio dwells without interference of fashionable scenes or rulebooks.
"The music on At War With swarms and whips around the listener, enveloping you like a winter blizzard. At other times, the riffs pummel and crash into you like a landslide. There's no question this band can make heavy music, but there's also emotional depth to be found as well. The vocalist, known only as Samuel, sticks to traditional death metal growls throughout the album, but there's a definite element of tortured emotiveness to his voice that sets it apart from a lot of similar bands." – Metal Injection
"VALDUR's re-emergence is a fantastic late-year treat that serves to fill that void of anger and disengagement with society that may be darkening your heart and probably peaking right about now. This is a massive band that has remained under the radar far too long and is ready to scorch everything in the underground so they can blaze their own hellish trail." – Meat Mead Metal
"There's plenty on this album to ensure it never becomes repetitive or monotonous – cleverly placed samples, atmospheric synths, spoken word segments. It's this variation in sound that appeals most and ensures Valdur's music catches the listener's attention more than many current releases." – The Lair Of Filth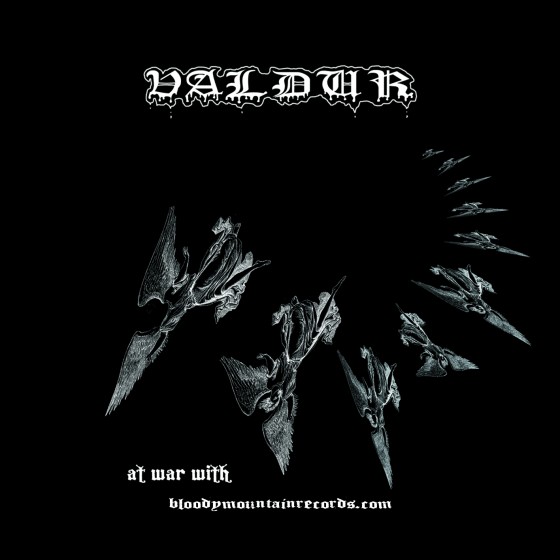 https://www.facebook.com/pages/valdur/54163319709
http://www.bloodymountainrecords.com
http://www.bloodymountainrecords.bandcamp.com