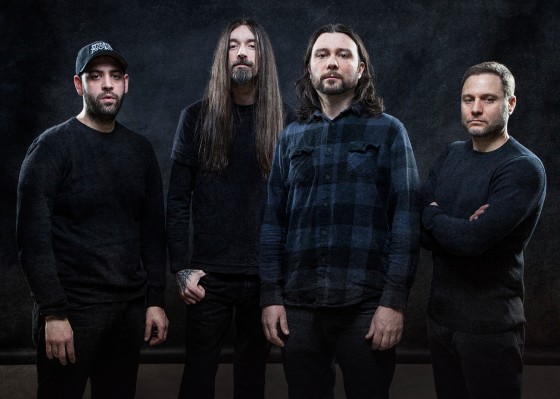 Next week, Relapse Records will release the second LP from NYC's most dismal death/doom metal outfit, SERPENTINE PATH, with the band's bludgeoning Emanations. Killer reactions from the metal media underworld are rolling in over the band's corrosive and potent delivery on the highly anticipated album, as Emanations' disgusting tones and bleak perspective are captured with incredible production.
The latest single to be released in the ongoing propaganda campaign for Emanations has been transmitted via Cvlt Nation, with the LP's next-to-final hymn, "Systematic Extinction." Tune in RIGHT HERE.
Also endure the previously-unveiled tracks "House Of Worship" via Invisible Oranges at THIS LOCATION and "Disfigured Colossus" HERE.
Local hordes are preparing for the upcoming second show ever from SERPENTINE PATH as the band will level Brooklyn in less than a month as a release show for Emanations. Additional live actions from the henchmen will follow later in the year.
SERPENTINE PATH Emanations Release Show:
6/21/2014 The Acheron – Brooklyn, NY w/ Churchburn, Throaat, Dridge [info]
Emanations will see release through Relapse this Tuesday, May 27th. Orders for the physical versions of the album can be placed HERE, and via iTunes HERE.
The follow-up to their self-titled 2012 debut, Emanations is the band's first SERPENTINE PATH studio venture featuring new second guitarist Stephen Flam of NYC doom/death legends, Winter, aligned with founding members Tim Bagshaw (ex-Ramesses, ex-Electric Wizard) and a triad of ex-Unearthly Trance members, bassist Jay Newman, drummer Darren Verni and vocalist Ryan Lipynsky (The Howling Wind). Capturing forty-five minutes of true sludge punishment from this true underground all-star team, Emanations was recorded by Newman, as was their debut, after which it was mastered at Audiosiege. Persevering Emanations and its unfathomable quagmire of low-end riff decay is akin to navigating ones way through a sea of carrion in the dead of night on a makeshift raft fashioned from the remains of your closest family members and acquaintances, every ripple striving to suck you into its fatal current, feeding the demons congregating just below the surface in anticipation.
"New York City's Serpentine Path are often called a doom supergroup. Rightly so. Consisting of all three members of the dearly departed Unearthly Trance, along with ex-Electric Wizard/-Ramesses player Tim Bagshaw and Winter's Stephen Flam, most wouldn't argue with that assessment… A record like Emanations, with its war-march of big, thick, earth-groaning riffs, will appeal to fans of any of the aforementioned. That said, it will also earn new ones – this thing is a monster." – Invisible Oranges
"The result, on this album especially, is almost too good to be true. Fans of the genre or the band's previous efforts should rejoice. A contender for 'future album of choice to be played during the apocalypse' has arrived." – Metal Insider
"…the culmination of years of experience within the genres of stoner, doom and sludge metal. Emanations teases at becoming truly evil, only being held back the uniform nature of doom and its attention sapping run time." – HeavyBlogIsHeavy
"The reverb/sonic parts seem to progress as the record goes on, like you're going deeper into a crevasse of misery and misanthropy. Like Dante's levels of hell, but self-inflicted and with way more weed smoke." – Cvlt Nation
"The album is very well produced. The instruments and vocals are clear and not drowned out, but it does not sound completely fake either. There is some grittiness to the mix, and it does help add atmosphere and feeling to the death/doom sound." – Metal Reviews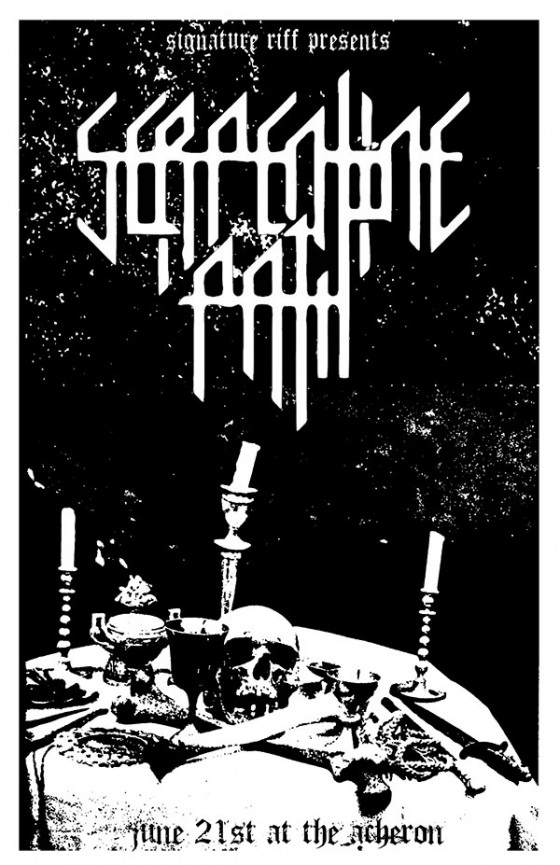 http://serpentinepath.blogspot.com
https://www.facebook.com/serpentinepath
http://serpentinepath.bandcamp.com
http://www.relapse.com
http://relapserecords.bandcamp.com
http://www.facebook.com/RelapseRecords