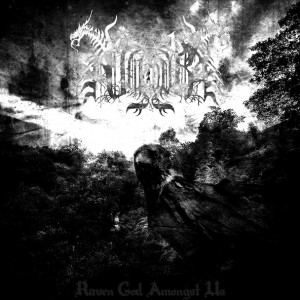 California blackened death horde VALDUR unleashed their long-awaited new full-length Raven God Amongst Us upon unsuspecting masses earlier this summer. Featuring nine tracks of sonic decay, the self-financed long player was recorded at Trench Studios and released via drummer Sxuperion's own BloodyMountain Records.
Check out "Berserrker," taken from Raven God Amongst Us, at Stereogum here:
http://stereogum.com/492621/valdur-berserrker-stereogum-premiere/franchises/haunting-the-chapel/
"Berserrker" is also available in wax form via the "Demon Wisdom"/"Berserrker" 7″ on Satan's Might/Cult Of The Horns and the three-way split with Killgasm and Shitestrom, Burning Your Churches To Ash, Fucking Your God Up Her Ass on ChristHammer.
Words from the converted:
"Speedy and heavy and vicious is the Raven God Amongst Us. Crisp production but deliberate black metal dirtiness. Ugly to the soul and beautiful like Lucifer, Valdur's album is a full frontal attack of spirit crushing BM killingness. " –– Corazine
"…the best black metal band in the United States that you've probably never heard of. " — About.com
"…a shimmering brand of black metal which pierces hearts rather than suffocates lungs." –– Thrash Pit
"The music is brutal, fast and harsh black metal, with a lot of blastbeats and violence. But there's more to Valdur's music then just mindless violence…If you are looking for some harsh yet majestic black metal, this might be for you." — Minacious