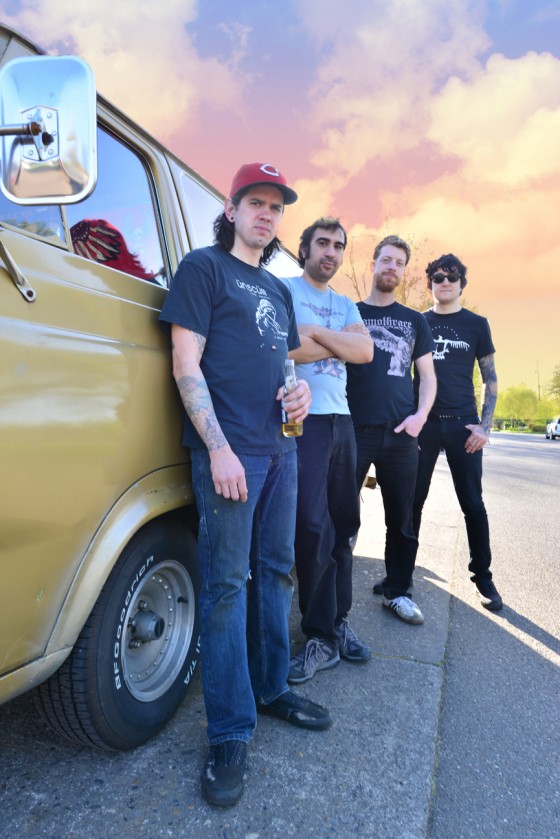 With Relapse Records' official unveiling of Portland, Oregon-based USNEA's sophomore LP, Random Cosmic Violence, having taken place this week, the celestial/funeral doom outfit has released a meticulous track-by-track commentary piece on the album's four movements via Cvlt Nation, as the band also announces a slew of year-end live appearances.
USNEA has confirmed several new live appearances over the coming weeks, leading off with a show at the Wisp House in Salem, Oregon for Wednesday, November 24th with Urzeit and In Thoth. Directly after that, the band will take part in two Red Bull Sound Select Presents shows in both Portland and Seattle! The Portland gig is set for Tuesday, December 2nd, supporting Lesbian and Deavheaven, followed by the Seattle show the next night, Wednesday, December 3rd, also with Deafheaven.
Then on Saturday, December 13th, USNEA will give their hometown a vicious taste of the new album at the official record release show for Random Cosmic Violence at the White Owl Social Club in Portland, the set culminating in a performance of the entire new LP. The free show will also feature two acts the members of USNEA consider close friends, including California-based Cold Blue Mountain providing opening support, and bigtime local doomsters Lord Dying headlining the event. The band has also produced a limited 100-copy run of Random Cosmic Violence cassettes which will be available that evening, in addition to both the standard black and limited colored vinyl.
Check out the track-by-track breakdown of Random Cosmic Violence at Cvlt Nation RIGHT HERE.
Also endure all of Random Cosmic Violence via Stereogum RIGHT HERE.
USNEA Live:
11/24/2014 The Wisp House – Salem, OR w/ Urzeit, In Thoth
12/02/2014 Holocene – Portland, OR w/ Deafheaven, Lesbian [info]
12/03/2014 Chop Suey – Seattle, WA w/ Deafheaven [info]
12/13/2014 White Owl Social Club – Portland, OR *Random Cosmic Violence release show w/ Lord Dying, Cold Blue Mountain [info]
Through their ruthlessly overwhelming style of black/occult metal-influenced funeral doom, USNEA has created a classic of the new millennium with Random Cosmic Violence. Not only an album which more than satisfies the urge diehard cult fans of the band since previous outings, Random Cosmic Violence packs a monumentally damaging and contagious dose of some of 2014's finest metal of the slow-motion doom/death/sludge-influenced variety sucking endless new fans into its fathomless expanses. Recorded and mixed by Jared "Fester" See at Haywire Studios (Stoneburner, Rabbits, Nux Vomica) who supplies additional guitars to the title track, and mastered by Brad Boatright at Audiosiege (Yob, High On Fire, Integrity), the artwork and design was handled by Justin Cory and Orion Landau. The album is available on CD and both colored/limited and standard black 2xLP right HERE and via digital download HERE.
"Random Cosmic Violence has a Floydian vastness that both balances and amplifies the overwhelming, crushing heaviness. Like the night sky itself, Random Cosmic Violence is full of terror and awe and ice and fire. It is a massive, monumental thing." – Stereogum
"…perhaps what really vaults the album high above the average, apart from Usnea's knack for generating titanic power and morbid, minor-key melodies, is the band's skill in creating dynamic changes and salting this heartless sonic landscape with ingenious touches, which come like breaths of air in an atmosphere that's being rapidly sucked into space, or poisoned with the smoke of burning tires in an urban dead zone." – No Clean Singing
"Usnea balance knuckle-dragging rumble with high-minded elegance on this funereal test of endurance… This is what it sounds like to be swallowed by gravity." – About.com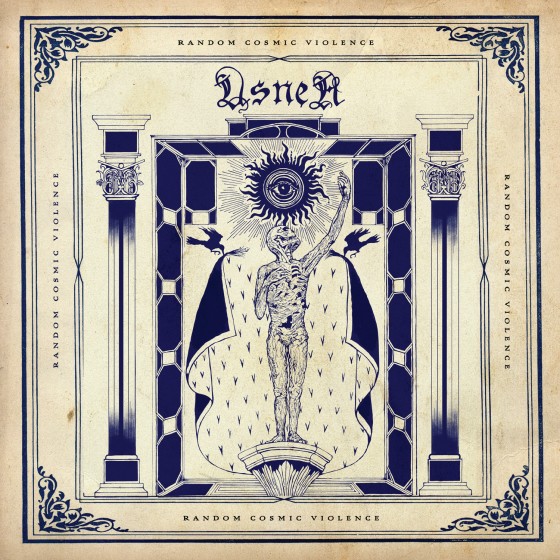 http://www.usneadoom.com
http://www.facebook.com/usneadoom
http://usneadoom.bandcamp.com
http://www.relapse.com
http://relapserecords.bandcamp.com
http://www.facebook.com/RelapseRecords