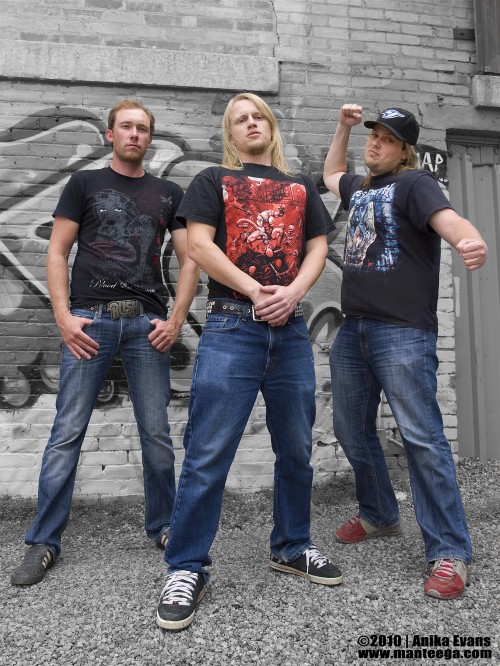 Saskatoon, Saskatchewan-based thrash/death metal trio UNTIMELY DEMISE has signed a worldwide multi-album deal with Sonic Unyon Metal!
The group's self-released debut full-length album, City Of Steel, has already brought UNTIMELY DEMISE incredible praise from international magazines and media outlets, as well as from countless notable and influential metal artists who have heard the album or shared the stage with the band. The blazing seven-track release was produced by ex-Megadeth/King Diamond guitarist Glen Drover, and showcases over 32 minutes of professionally-executed metal supremacy.
The band commented on their recent recording agreement with Sonic Unyon: "We are extremely excited and honored to be on the Sonic Unyon Metal roster! Joining the likes of legendary Canadian thrash originators such as Sacrifice and Voivod, as well as modern rising talents Augury and Suicidal Angels, we realize that we have found a perfect fit for our sophisticated thrash/death metal sound! We had been in talks with about half a dozen labels that had expressed interest in our band, but none of them hit the nail on the head like the one we signed with. Furthermore, this label has been receptive to our music since we first made contact with them in early 2009, so this isn't just some spur of the moment decision. Working with their talented and passionate team of music fanatics assures that our music will reach the right audience, and ultimately the interests of the art will take precedence over everything else. Totally stoked to see where we can take this thing!"
"We are very excited to be working with UNTIMELY DEMISE, as we feel they are one of the best new metal bands in Canada," says Sonic Unyon owner Tim Potocic. "The band is dedicated and diligent towards their craft, they have a work ethic not seen in most bands and is a great fit on our roster next to Voivod and Sacrifice."
Sonic Unyon Metal will re-release City Of Steel in North America on September 13th, with European release dates to be announced shortly.
City Of Steel Track Listing:
1. Virtue in Death
2. Hunting Evil
3. City of Steel
4. Unmaker
5. Forger of Belief
6. Streets of Vice
7. Bloodsoaked Mission
Formed in 2006, UNTIMELY DEMISE has been drawing comparisons to some of the most respected acts in their genre, such as Megadeth, Arch Enemy and Death. The battle-tested group continues to work with the finest acts in metal, playing numerous shows with 3 Inches Of Blood, Into Eternity, Toxic Holocaust, Evile, Gama Bomb and Bonded By Blood.
Having recently returned from a successful headlining tour of Eastern Canada, the band is planning to begin touring the United States and abroad, following the re-release of City Of Steel.
"Untimely Demise have pulled off the impressive trick of making their complex music sound easy." – Metal Hammer UK
"…a culmination of Carcass's whole-note holding patterns and melodic solos, Kreator- and Death Angel-esque vocals, Testament's elongated arpeggios … and Death's hammering mid-tempo onslaught… these guys are diehard enthusiasts with impeccable agility." – Exclaim! Magazine
"Saskatoon's Untimely Demise are destined to be the next to take their name global." – Absolute Underground
"Oh my God…that rules. I love, love, love it. Killer riffs, awesome drums… it's metal. Leads rule." Joe Rico of Sacrifice
"Burned myself out trying to keep up with the tempo of this record on
the stair climber… this what Sabbat's Cautionary Tale should've sounded like." – Todd Kowalski of Propagandhi
http://www.myspace.com/untimelydemisemusic
http://twitter.com/#!/UntimelyDemise1
http://www.facebook.com/pages/Untimely-Demise/118300404870359
http://www.sonicunyon.com/metal
http://www.facebook.com/pages/Sonic-Unyon-Metal/112738455467362