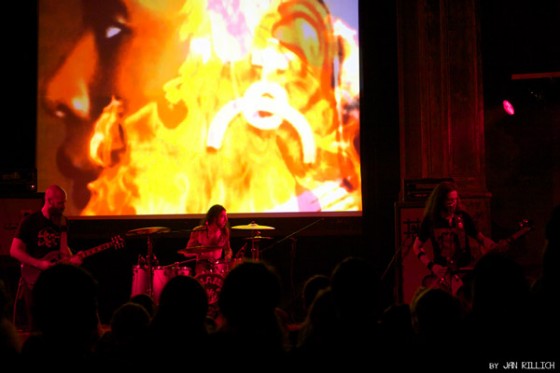 Italian superdoom trio UFOMAMMUT have announced their final days of live performances in support of their most recent album, Eve. After touring on the monstrous album throughout Europe for the past year, the band will play the album live over the coming months on several short tours between July and early October, including a July tour as direct support for Neurosis!
Stated the band about the upcoming July tour supporting Neurosis: "Neurosis are one of the most important and influential entities in heavy music and obviously it'll be great for UFOMAMMUT to play before them during their Summer tour. But sharing the same stage has even a more special meaning for us. We surely grew up in different places, we have different background and different experiences, but we feel like our attitudes are very close and similar, beyond the mere musical aspect. That's why we are honored and pleased by Neurosis invitation."
UFOMAMMUT Summer European Tour Dates:
7/17/2011 Grunspan – Hamburg, Germany w/ Neurosis, Amen Ra
7/18/2011 Conne Island – Leipzig, Germany w/ Neurosis, Amen Ra
7/19/2011 Arena – Wien, Germany w/ Neurosis, Amen Ra
7/20/2011 Spaziale Festival – Torino, Italy w/ Neurosis
7/27/2011 FZW – Dortmund, Germany w/ Neurosis
7/29/2011 Effenaar – Eindhoven, Netherlands w/ Neurosis
7/30/2011 LKA – Stuttgart, Germany w/ Neurosis
8/19/2011 Balla Coi Cinghiali Festival – Bardineto, Italy
9/14/2011 Superkronic – Leipzig, Germany
9/15/2011 Festaal Kreuzberg – Berlin, Germany
9/16/2011 Stengade – Copenaghen, Denmark
9/17/2011 Inkonst – Malmo, Sweden
9/18/2011 Blitz – Oslo, Norway
9/19/2011 Truck Stop Alaska – Goteborg, Sweden
9/21/2011 Nuclear Night Club – Oulu, Finland
9/22/2011 Lutakko – Jyväskylä, Finland
9/23/2011 Yo-talo – Tampere, Finland
9/24/2011 Korjaamo – Helsinki, Finland
9/26/2011 Molotow – Hamburg, Germany
9/27/2011 Underground – Cologne, Germany
9/28/2011 013 – Tilburg, Netherlands
9/29/2011 *TBA – Netherlands
9/30/2011 Baroeg – Rotterdam, Netherlands
10/1/2011 Het Depot – Leuven, Belgium
10/3/2011 The Croft – Bristol, UK
10/4/2011 *TBA – UK
10/5/2011 *TBA – UK
10/6/2011 Purple Turtle – London, UK
10/7/2011 *TBA – France
NME Magazine recently named UFOMAMMUT in a feature on "The Twenty Heaviest (Metal) Records Of All Time" alongside Black Sabbath, Sleep, Sunn O)))., Godflesh and more. Check it out here. Also make sure to scope out some seriously crushing footage of UFOMAMMUT annihilating the audience at this year's Roadburn Festival in Holland:
Stay tuned for more updates on UFOMAMMUT's ongoing activities as more live actions are confirmed, and as the band prepare to enter the studio in July to begin forging their next opus of cerebral, organic doom metal.
Ufomammut – Eve (live, excerpt) Roadburn 2011 from Drunken Monkey on Vimeo.
http://www.ufomammut.com
http://www.facebook.com/pages/UFOMAMMUT/83336386071
http://www.myspace.com/ufomammut
http://www.supernaturalcat.com
http://www.myspace.com/supernaturalcat