Saskatoon, Saskatchewan-based thrash metal gladiators, UNTIMELY DEMISE, are about to release their sophomore full-length on October 28th, delivering some of the most sweltering, legit, classic thrash metal prowess of the year.
Incorporating the influences of genre-leaders Megadeth, Death, Arch Enemy, Testament, Exodus, and so forth into an ambitious package that places a paramount focus on guitar-work and musicianship, and building upon the template forged on their their 2009-released debut EP Full Speed Metal, and subsequent first album City Of Steel, released in 2011 via Sonic Unyon Records, the thrash chemistry UNTIMELY DEMISE concoct on their newly-completed Systematic Eradication boasts the band's most crushingly convincing and persuasively potent material yet. With nearly thirty-five minutes of rabid, ribcrushing old-school metal mayhem boasting killer production courtesy of the engineering, mixing and mastering duties by ex-Megadeth/King Diamond guitarist Glen Drover at Eclipse Studios — also responsible for recording the band's previous EP and LP, and for supplying guest solos on several of the new tracks — Systematic Eradication takes the band's mighty auditory attack to the next level with eight new anthems cloaked in fantasy and sci-fi imagery. Once again UD contracted renowned heavy metal cover artist Ed Repka to bring their vibrant album artwork to fruition.
As Italian label Punishment 18 Records prepares to release Systematic Eradication on October 28th, this week Terrorizer Magazine has unleashed a stream of the album currently uncaged AT THIS LOCATION.
Following the recording of Systematic Eradication, UNTIMELY DEMISE underwent a lineup shift, the recording lineup of Matt Cuthbertson (guitars, vocals), Murray Cuthbertson (bass) and Scott Cross (drums) now reflected with two new members taking the band's longtime trio into quartet status. Their permanent lineup for 2013 is now: Matt Cuthbertson (guitars, vocals), Murray Cuthbertson (bass), Cory Thomas (drums) and Sam Martz (guitars). Having toured Canada extensively over the past four years, the band has built a reputation as being a go-to group for headlining dates, but also as support for acts such as Anvil, Skeletonwitch, Massacre, Suffocation, 3 Inches Of Blood, Into Eternity, Goatwhore, Evile, Toxic Holocaust, Gama Bomb, Bonded By Blood, Obscura, Abysmal Dawn and more.
Eager to release Systematic Eradication, UNTIMELY DEMISE has toured both Eastern and Western Canada so far in 2013, including playing Calgary Metalfest in June, support shows for Skeletonwitch, 3 Inches Of Blood and Goatwhore and a Western Canadian tour with Into Eternity. Watch for new tour dates to be announced in the coming weeks upon the release of Systematic Eradication.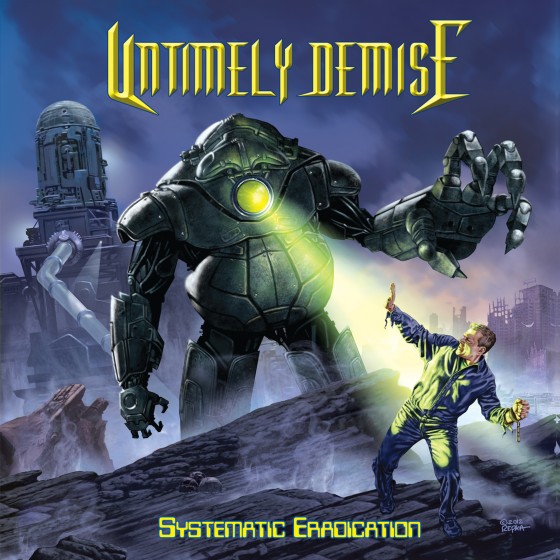 Systematic Eradication Track Listing:
1. Spiritual Embezzlement
2. The Last Guildsman
3. Somali Pirates
4. Redemption
5. Navigator's Choice
6. A Warrior's Blood
7. Revolutions
8. Escape From Supermax
http://www.facebook.com/UntimelyDemiseMetal
http://www.twitter.com/UntimelyDemise1
http://www.youtube.com/UntimelyDemiseMetal
http://www.untimelydemise.bigcartel.com
http://www.punishment18records.com
https://www.facebook.com/punishment18records