Saskatoon's thrash trio UNTIMELY DEMISE have just locked down a Spring tour of the western half of Canada and the United States.
The young crew will take their blazing modernized classic thrash metal to the highways of North America kicking off in their home province of Saskatchewan at the end of March and rage west across the country and down the US West Coast. UNTIMELY DEMISE will share the stage with Excruciator, Hatched, Hemoptysis, Exmortus and labelmates Mares Of Thrace and more along the trek, even including a co-headlining slot at San Jose's Beyond The Realms of Metal Festival.
This brutal trek is being booked in conjunction with the upcoming vinyl edition of UNTIMELY DEMISE's debut full-length City Of Steel, set to be co-released by Sonic Unyon and War On Music. Limited to 1,000 copies worldwide, the 12″ features a full-color insert and a bonus track of the anthem "My Tragedy," from the band's 2009-released Full Speed Metal EP. The wax version of City Of Steel will hit the streets of Canada on March 13th and invade the US on March 27th, with European distribution to be confirmed shortly.
UNTIMELY DEMISE were also nominated as metal band of the year in Canada in the SIRIUS/XM Indie Awards this week. The general public decides the winner of this award by placing their votes at this location.
Anybody attending this the 2012 Manitoba MetalFest in Winnipeg can catch UNTIMELY DEMISE as direct support for NYC death metal gods Suffocation this Saturday, February 25th.
UNTIMELY DEMISE @ Manitoba MetalFest:
2/25/2012 Manitoba MetalFest – Winnipeg, MB w/ Suffocation, Dissolution, Hoarfrost, Alphakill
UNTIMELY DEMISE Western Canada/US Tour:
3/30/2012 The Fez – Saskatoon, SK
4/01/2012 Vern's Pub – Calgary, AB
4/02/2012 The Pawn Shop – Edmonton, AB
4/06/2012 Funky's – Vancouver, BC
4/07/2012 *TBA – Seattle, WA
4/08/2012 Nemesis (house show) – Tacoma, WA
4/09/2012 Plan B – Portland, OR w/ Excruciator, Motorthrone
4/14/2012 The Annex – San Lorenzo, CA w/ Hatchet, Fog Of War, Psychosomatic, Hemoptysis, Syndicon
4/15/2012 Beyond The Realms of Metal Festival – San Jose, CA [info]
4/16/2012 Around The Corner Bar & Grill – West Covina, CA
4/17/2012 *TBA – San Diego, CA
4/19/2012 The Doll Hut – Anaheim, CA
4/20/2012 The Metaphor Cafe – Escondido, CA w/ Exmortus
4/21/2012 Riff Haus – Fullerton, CA w/ Exmortus
4/22/2012 Cheyenne Saloon – Las Vegas, NV
4/23/2012 Burt's Tiki Lounge – Salt Lake City, UT
4/25/2012 *TBA – Phoenix, AZ
5/04/2012 Amigos Cantina – Saskatoon, SK w/ Mares Of Thrace
5/12/2012 The Distillery – Calgary, AB w/ Massacre (*Chuck Schulinder Memorial Birthday Bash)
5/14/2012 *TBA – Calgary, AB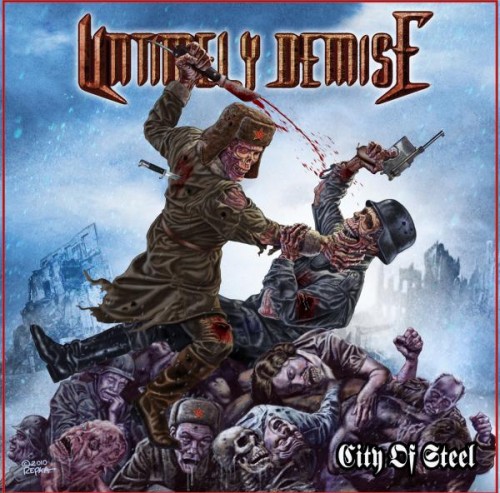 "City of Steel is a confident debut, seven tracks of slick physicality and some mighty impressive shredding.." – Decibel
"…think Annihilator meets Kreator with a touch of Chuck Schuldiner" – Terrorizer
"…diehard enthusiasts with impeccable agility." – Exclaim!
"Untimely Demise have pulled off the impressive trick of making their complex music sound easy." – Metal Hammer
"…seven tracks of decently written and decently played old school thrash metal that reminds most of Kreator and Destruction" – Blabbermouth
http://www.myspace.com/untimelydemisemusic
http://twitter.com/#!/UntimelyDemise1
http://www.sonicunyon.com/metal
https://www.facebook.com/SonicUnyonMetal