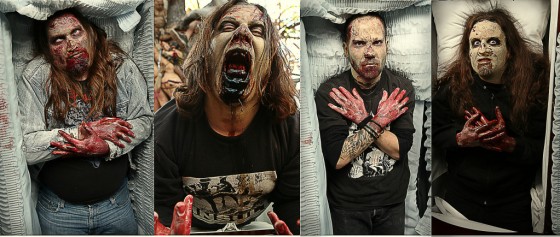 California goregrind maniacs EXHUMED are infinitely pleased to be added to this year's Summer Slaughter Festival lineup! While the festival's full schedule and routing are still to be announced, the band are confirmed to share the stage with headliners Cannibal Corpse as well as Between The Buried And Me, Goatwhore and The Faceless.
Said vocalist/guitarist Matt Harvey of the latest edition to their relentless 2012 tour cycle: "The hits just keep on coming for us this year. We are fully chuffed to be a part of the illustrious Summer Slaughter package. It's going to be awesome to get done playing early so we can concentrate on our true passion — drinking! This hulking monstrosity of a traveling freakshow should be a mandatory thing for all the boils and ghouls out there, so we'll see you on the seemingly never-ending campaign for musical — and just general — destruction that we've been waging all over the planet since last April. Cheers!"
EXHUMED today kick off the 16-date Grind Over Europe Tour with Rotten Sound and Magrudergrind. They'll later join Anaal Nathrakh for a short run of U.K. dates before returning to the states for a handful of headlining shows and a near month-long trek with death metal icons Cannibal Corpse! Joined by labelmates Abysmal Dawn and Arkaik, the live rituals will commence on April 5 in Jacksonville, Florida and include an appearance at the The Cincinnati Metal Fest on April 14 as well as a special show on April 28 where the brutal caravan will merge with the Decibel Magazine tour featuring Behemoth, Watain, The Devil's Blood and In Solitude.
EXHUMED continue to sever souls with the 11-track All Guts, No Glory full-length, issued last year via Relapse Records. To stream All Guts, No Glory in full visit the band's official BANDCAMP PAGE. You can also check out bonus track "To Wake The Dead" available exclusively on the deluxe edition of the record via Metal Injection at THIS LOCATION.
EXHUMED Grind Over Europe Tour 2012 w/ Rotten Sound, Magrudergrind:
2/24/2012 Estraperlo Club – Barcelona, Spain
2/25/2012 TBA Spain
2/26/2012 Sala Jala Jala – Almería, Spain
2/27/2012 Revolver Bar – Lisbon, Portugal
2/28/2012 Hard Club – Porto, Portugal
2/29/2012 Sala Heaven – Santander, Spain
3/01/2012 Salle Des Fêtes De Labège – Toulouse, France
3/02/2012 Kulturwerk 118 – Sursee, Switzerland
3/03/2012 Les Caves Du Manoir – Martigny, Switzerland
3/04/2012 Lo Fi Club – Milano, Italy
3/05/2012 Mochvara – Zagreb, Croatia
3/06/2012 Dürer Kert – Budapest, Hungary
3/07/2012 Euphoria Music Hall – Cluj-Napoca, Romania
3/08/2012 Nova Pekaren – Nitra, Slovakia
3/09/2012 Black Pes – Prague, Czech Rep
3/10/2012 Barrak Music Club – Ostrava, Czech Rep
EXHUMED w/ Anaal Nathrakh:
3/18/2012 Fleece – Bristol, UK
3/19/2012 Bogiez – Cardiff, UK
3/20/2012 Voodoo – Belfast, UK*
3/21/2012 The Pint – Dublin, Ireland *
3/22/2012 Moho – Manchester, UK
3/23/2012 The Garage – London, UK
* – No Anaal Nathrakh
EXHUMED Headlining Dates w/ Abysmal Dawn, Arkaik:
3/30/2012 The Clubhouse – Tempe, AZ
3/31/2012 El Rey Theater – Albuquerque, NM
4/02/2012 Warehouse Live – Houston, TX
4/03/2012 Siberia – New Orleans, LA
4/04/2012 C-Level – Panama City, FL
EXHUMED U.S. Torture Tour 2012 w/ Cannibal Corpse, Abysmal Dawn, Arkaik:
4/05/2012 Freebird Live – Jacksonville, FL
4/06/2012 The Soapbox – Wilmington, NC
4/07/2012 Lincoln Theater – Raleigh, NC
4/08/2012 V Club Live – Huntington, WV
4/09/2012 The Orange Peel – Asheville, NC
4/10/2012 The Canal Club – Richmond, VA
4/12/2012 Higher Ground – South Burlington, VT
4/13/2012 The Club At Water Street – Rochester, NY
4/14/2012 The Cincinnati Metal Fest @ Bogart's – Cincinnati, OH w/ Cannibal Corpse, The Black Dahlia Murder, Nile, Exhumed, Skeletonwitch, Abysmal Dawn, Hour Of Pennance, Arkaik
4/15/2012 The Intersection – Grand Rapids, MI
4/16/2012 People's Court – Des Moines, IA
4/17/2012 Slowdown – Omaha, NE
4/19/2012 The Scene-ary – Wichita, KS
4/20/2012 The Black Sheep – Colorado Springs, CO
4/21/2012 Mesa Theater & Club – Grand Junction, CO
4/22/2012 Top Deck – Farmington, NM
4/23/2012 The Rock –Tucson, AZ
4/24/2012 Tricky Falls – El Paso, TX
4/25/2012 Jake's – Lubbock, TX
4/27/2012 The Blue Note – Columbia, MO
4/28/2012 Diamond Ballroom – Oklahoma City, OK w/ Cannibal Corpse, Behemoth, Watain, Exhumed, The Devil's Blood, In Solitude, Abysmal Dawn, Arkaik
4/29/2012 Newby's – Memphis, TN
4/30/2012 Exit In – Nashville, TN
5/1/2012 Zydeco – Birmingham, AL
5/3/2012 Double Down – Gainesville, FL
"Everything seems more fluid and powerful, though as vicious as it all is, the focus remains on the composition and how it smacks the listener between the eyes." – Decibel
"… fans of dripping blood, gaping autopsies, and ravenous zombies will absolutely adore this record." – Revolver
"EXHUMED are back, hungry, vicious, and unrelenting…" – Metal Underground
"EXHUMED has not only strongly persisted over the last 20 years, but has also managed to simultaneously keep their musical integrity and brutal, gore-filled lyrics fully intact." – Abort
"EXHUMED has aged like corpse putrefaction: that is indeed the highest compliment you can pay to one of 2011's best records." – Brave Words

http://www.facebook.com/ExhumedOfficial
http://www.myspace.com/exhumed
http://www.gorefuckingmetal.blgospot.com
http://www.relapse.com