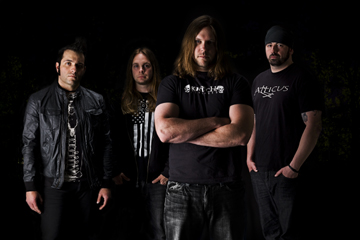 Not wanting to leave out their Canadian fans on the upcoming fall tour, UNEARTH and Chimaira have added five additional shows to the existing U.S. tour routing
11/13/2011 The Opera House – Toronto, ON
11/14/2011 Club Soda – Montreal, QC
12/11/2011 The Republik – Calgary, AB
12/12/2011 Starlite – Edmonton, AB
12/14/2011 Pyramid Cabaret – Winnipeg, MB
Joining the package on all shows will be Skeletonwitch and Molotov Solution. Tickets are currently on sale to the general public through each venue's ticketing outlet. Please check local listings or UNEARTH's website HERE for more details.
UNEARTH will be touring in support of their critically-acclaimed Darkness in the Light full-length, released this summer through Metal Blade Records. Said Kerrang Magazine of the band's explosive offering: "UNEARTH have found the perfect distillation of their sound, and in doing so deliver their defining moment." Added Ultimate-Guitar.com in a 9/10 review: "…this album takes the best elements from every album released so far and pushes them to their limits… UNEARTH's writing at its finest." Metal Hammer called Darkness in the Light, "…crushing, catchy, and exhilarating," while Alternative Press noted: "Darkness in the Light is a maelstrom of melodic riffs, screamy shouts and enough noodling to keep Guitar Hero nerds happy. But it's not chasing maidens and slaying dragons; UNEARTH have enough of the '90s straight-edge hardcore scene still left in their blood to give the lyrics an impassioned warrior cry against corrupt politics and wavering faith."
In related news, the band recently posted additional footage from their spot on the Rockstar Energy Drink Mayhem Fest and Heavy MTL in Montreal, Canada this summer.
http://unearth.tv
http://www.facebook.com/unearthofficial
http://www.youtube.com/unearthofficial
http://twitter.com/unearthofficial
http://www.myspace.com/unearth