ULTHAR
, will unleash their savage
Providence
full-length upon the masses June 12th via 20 Buck Spin. Recorded by Greg Wilkinson (Brainoil, Deathgrave) at Earhammer Studios and mastered by Adam Tucker (False, Thou, Obsequiae) at Signaturetone Recording,
Providence
catapults the band's signature brand of furiously-paced, inverted death metal and scathing angular blackness into new diseased realms of chaos and audio sickness. In advance of the record's release, BrooklynVegan offers up latest single, "Furnace Hibernation," for public feasting.
Issues the band of the track, "Borrowed time and borrowed world and borrowed eyes with which to sorrow it."
Adds BrooklynVegan, "'Furnace Hibernation' finds ULTHAR spreading their wings and mixing together their slower, sludgier side, their whiplash-inducing side, and their more spastic, tech-ier side, and the whole thing is a dose of absolutely bludgeoning filth. Each new song released from this album so far has been noticeably different than the last, and each one continues to suggest that Providence could be shaping up to be one of the year's finest death metal albums."
Stream ULTHAR's "Furnace Hibernation," courtesy of BrooklynVegan, at THIS LOCATION.
Stream previously released tracks "Churn" and "Through Downward Dynasties" below.
Providence, which comes swathed again in the staggering art renderings of renown British fantasy illustrator Ian Miller with layout by Ross Sewage (Exhumed, Impaled), will be released on CD, LP, cassette, and digital formats.
For physical preorder bundles go to THIS LOCATION. For digital orders go HERE.
Featuring members Shelby Lermo (Vastum, Extremity), Justin Ennis (Void Omnia, Vale), and Steve Peacock (Mastery, Pandiscordian Necrogenesis, Pale Chalice), the unyielding ULTHAR attack doubles down on Providence with figures becoming more sickening and shapes more savage. An immensity like spiraling ancient monoliths too tall to comprehend and bending inward upon themselves envelops adherents to this dominion. Duly diabolic voices guide this odyssey through the incongruous caverns of absurdity, obscure texts, and manifold vitriol.
Releasing at a time where our own world has devolved into a surrealistic nightmare of viral trepidation and encased solitude, ULTHAR's Providence becomes a prescient view into the strange paradoxes that only months ago seemed unbelievable but now all too possible. Where horizons cease, where grace is dead, where nothing lives, so be it amen. Fans of Absu, Atrocity, Demilich, Immortal, Gorguts, Krallice, Blood Incantation, Sulphur Aeon, and the like, pay heed.
"Cosmovore had us all pretty blown away in 2018, but Bay Area's bludgeoningest are taking it up a notch… blackened/death/misc/whatziz pot where these guys throw all their influences into is manically frothing over with rabid vocals, crazed flip-of-the-switch trajectories, and general desperate/brutal attack. With a pedigree coming split from so many other active/overachieving bands, you'd think they'd spread it thin, but ULTHAR continues to evolve and mutate into more mighty forms." — Metal Injection
"…fucking monstrous stuff." — BrooklynVegan
"Dissonant riffs and blastbeats tear into the fabric of reality with vicious vocals to create a superbly visceral onslaught from the very onset of the record… a huge sounding piece of Lovecraftian death metal excellence that is packed with oddities and estranged ideas that definitely set ULTHAR apart from the crowd once again." — Nattskog
"…a masterful death metal record and one that I think fans are going to keep coming back to… The high powered riffage and massive bottom end come together to contribute to a sound that shows a deep understanding of oldschool death metal but which feels distinctly modern…" — Two Guys Metal Reviews
"…after a mysterious and menacing overture, which itself grows increasingly intense, the song builds into an electrifying surge, with sharply executed drum work accented by start-stop bursts, wild whirling fret-leaping riff frenzies, and scorching vocals. The song's tempo is in constant flux, and the instrumental performances are constantly head-spinning, and executed with top-shelf technical skill. It popped my eyes wide open and left a bit of drool oozing toward my chin…." — No Clean Singing on "Through Downward Dynasties"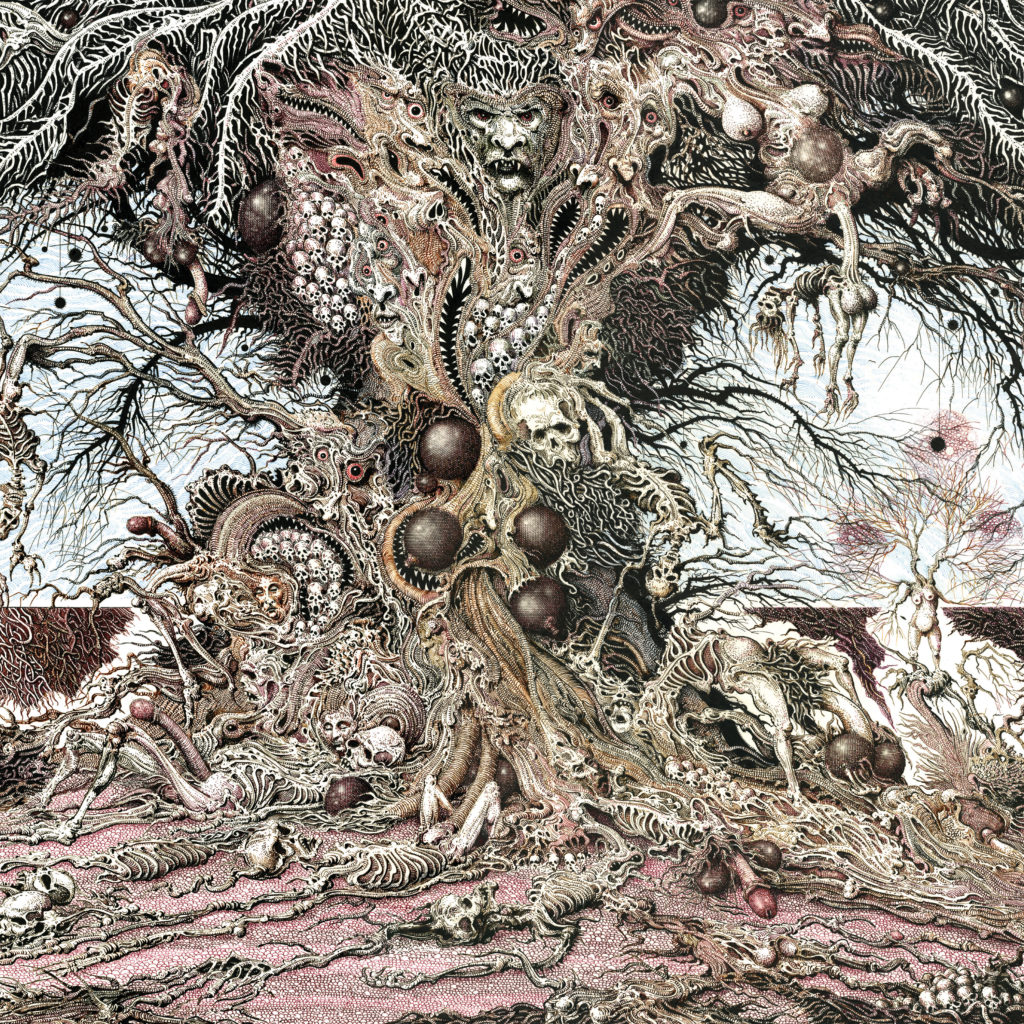 http://www.facebook.com/Ulthar
http://www.instagram.com/ulthar_oakland
http://ulthar666.bandcamp.com
http://www.20buckspin.com
http://www.facebook.com/20buckspin
http://twitter.com/20buckspinlabel
http://www.instagram.com/20buckspinlabel
http://listen.20buckspin.com

Bay Area blackened death trio,